Jumping is one of the most popular international equestrian sports and whether you're entering it at a grassroots level, compete in hunter jumping events, or are just about to make the jump (pardon the pun) into the professional world, getting the right horse is crucial but the level you compete at can also make a difference to the horse you have or use. Yes, all horses can jump but when you're competing, at whatever level, you obviously want the best jumper you can get. Of course, if money was no object everybody would turn up to the jumping ring riding the next Big Star but this isn't the case for most of us so which horses are better suited to jumping well in competition, and more importantly why?
In this article, we'll cover the 12 horse breeds for jumping which are:
| Breed | Country of Origin | Jumping Level |
| --- | --- | --- |
| Quarter Horse | USA | Entry |
| Welsh cob | United Kingdom | Entry |
| Grade Horse | – | Entry |
| Irish Draught | Ireland | Intermediate |
| Trakehner | Germany | Intermediate |
| Thoroughbred | United Kingdom | Intermediate |
| Dutch Warmblood | The Netherlands | Advanced |
| Westphalian | Germany | Advanced |
| Belgian Warmblood | Belgian | Advanced |
| Selle Français | France | Advanced |
| Oldenburg | Germany | Advanced |
| Holsteiner | Germany | Advanced |
Types of horse jumping
When you talk about horses and jumping most people automatically think about show jumping and while this is by far the most popular type of jumping, especially on an international scale, there are other types of jumping such as hunter and cross country.
Hunter jumping
Sometimes called working hunter it's derived from the old English pastime of fox hunting and is designed to show the horse's suitability to hunting as well as to demonstrate their ability to move in a smooth and steady manner. How well a horse jumps is more important than how quickly he does, things such as accuracy, finesse, and elegance are crucial. An ideal hunter-jumper has a good presence, holds himself well but also has a good jump.
Cross-country jumping
As you would expect, this involves the horse and rider jumping a series of fences that have been set up around a country setting. Most cross-country courses use man-made fences that are designed to look natural and can be in the open or in wooded areas. A typical cross-country jumper will have a powerful jump, be able to gallop between jumps, and be nimble.
Show Jumping
In show jumping the idea is too clear a series of fences, known as a round, as quickly as possible without knocking any of the fences over. It's often timed with penalty points being given for every second the horse and rider are outside of the allotted time. The perfect show jumper would have a good powerful jump, be able to turn quickly as well as being able to sprint between fences.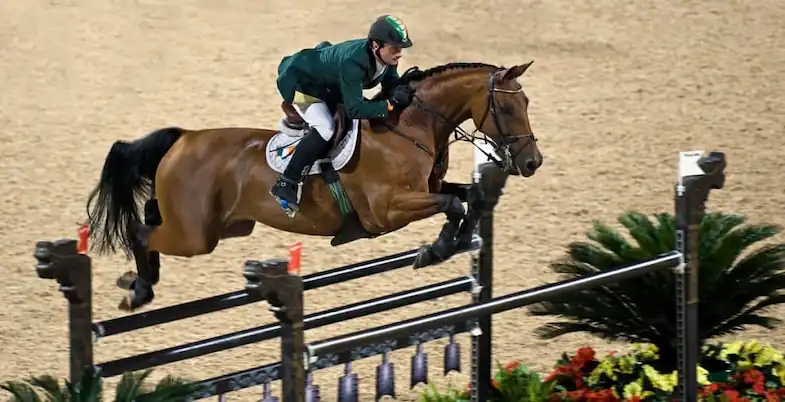 What makes a good jumping horse?
While it's definitely true that all horses can jump it doesn't mean to say that every horse will e able to do it well. There are certain characteristics and traits that make the difference between a mediocre jumper and a top-class one, but what are they?
In order to jump well, a horse will need to have good physical ability as well as the right mental attitude. Not only will they need to be strong enough to lift themselves off of the ground and into the air, but they'll also need to have the speed to get around a course as quickly as possible. On top of this, they'll also need to have the courage to face a scary-looking jump and be careful enough to avoid touching it while jumping.
When looking for a good jumper you should take the following into account:
Temperament – A willingness to learn is key to a good jumping horse, they should want to learn and enjoy jumping. A good jumper will also have a desire to be careful, they should be reluctant to even disrupt the air around the fence when they jump.
Agility – Horses should be quick and nimble, they should be light on their feet and be able to change their stride quickly. They should also have a big, powerful jump.
Bravery – Jumping courses are designed to not only test a horse's ability to jump but also their courage. With their decorative wings and bold fillers, fences can often look very scary but a horse needs to be brave enough to jump them regardless. They also need to be capable of adapting to new places and environments.
Surefootednness – Horses need to retain their balance regardless of how tight a turn is, they need to stay focused and pay attention to the next fence to avoid tripping or having a poor approach.
Entry level breeds
If you're just about to enter your first jumping event, regardless of the type of event it is, the most important thing is to enjoy yourself. To some extent, it doesn't matter what breed of horse you're riding and, as long as your horse is able to jump, there's no reason why you couldn't compete together at this level. That said though, if you don't already have your own horse and are looking for a good horse to get started on then you can't go far wrong with any of these.
Quarter Horse
Height: Most Quarter Horses stand between 14hh (56 inches) and 16hh (64 inches).
Color: Any color is allowed, including spotted.
Character: The Quarter Horse is an extremely giving horse that is happy to please. They're intelligent horses that have kind natures.
Country of origin: USA
Most people think of the Quarter Horse as a typical Western horse rather than as a jumper and while it's certainly the most popular Western breed that doesn't mean to say it wouldn't make a good jumper. In fact what makes the Quarter Horse so good as a Western horse also makes it an ideal choice for jumping. The Quarter Horse is a very muscular horse which gives it a powerful jump but it's also capable of turning on a sixpence which makes it great around a jumping course.
Quarter Horse facts
One of the oldest breeds in America, although its registry was established in 1940 the breed itself has its origins in the horses that English settlers brought to America in the early 17th century. 
The Quarter Horse is an immensely fast horse over a short 'quarter' mile distance which is where it gets its name from. Originally bred to race over that distance it could easily reach speeds of 55 mph.
Welsh cob
Height: They must be at least 13.2hh (53 inches) with no upper limit, although the average height is 15hh (60 inches).
Color: Any solid color including roan.
Character: Like all Welsh Ponies and Cobs they have friendly personalities and even temperaments. They're also known for their endurance.
Country of origin: United Kingdom, Wales in particular
The largest of all of the Welsh breeds, the Welsh Cob (or Welsh Section D), is described as 'the best ride and drive animal in the world' and while I'm sure some people will disagree with this it is testament to the versatility of the breed. Once used by mounted infantry as a heavy gun horse it's now extremely popular as a hunter jumper.
Welsh Cob facts
The breeds cob features along with its jumping capabilities make it a firm favorite on the hunter jumper scene.
Having already been in existence before the Romans invaded Britain it is said that Julius Caesar loved the breed and even set up a stud to cross them with their Oriental horses.
Grade Horse
Height: Any height
Color: Any color
Character: Due to the fact that a Grade Horse is, in reality, a crossbred its character can be varied
I know that a Grade Horse technically isn't a breed, but in my opinion, that's one of the reasons why they can make such good entry level jumping horses. Being defined as any horse whose parentage is unknown, unidentifiable or of too greater mix, it's this mix that can produce a wide range of results. Of course, there are plenty of Grade Horses that aren't suitable for jumping but at the same time, with a bit of research, you can find a great jumping horse at a fraction of the cost of a pure-bred jumper.
Grade Horse facts
In the 1950s a Grade Horse called Snowman who was used as a workhorse was bought for just $80, his new owner trained him as a show jumper and together they had a great deal of success, being inducted into the Show Jumping Hall of Fame in 1992, later he was known as the Cinderella Horse due to his rags to riches story.
If a horse is sold without any registration papers, tattoo, brand or microchip then its breeding can be lost which means that they can, and often are, sold as Grade Horses.
Intermediate breeds
If you've been competing at entry level jumping for a while and want to move up to the next level you might also be thinking about buying a new horse, one that has a proven jumping record that will be able to help you progress through the sport more than an entry level breed.
Irish Draught
Height: The maximum height is 16.3hh (65 inches) although most horses stand at around 15.2hh (61 inches).
Color: Any solid color with dun, chestnut, bay, brown or grey being the most common.
Character: Irish Draughts are easy going and willing horses that enjoy being around people. They're easy to train and intelligent.
Country of origin: Ireland
The Irish Draught is often thought of as the English equivalent to the Quarter Horse and in terms of popularity, it's certainly a good contender. The Irish Draught is an amazing horse that is not only happy in pretty much all disciplines but is also capable of competing at all levels, from beginner to international professional, as such they're ideal for all types of jumping.
Irish Draught facts
The Irish Draught can trace its heritage back to the 12th century when the now extinct Irish Hobby was crossed with the Anglo-Norman.
The Irish Draught has been used in the development of a large number of sport horse breeds, not least due to its tough hooves that allow it to land on hard ground without impacting the horse.
Trakehner
Height: Most Trakehners stand between 15.2hh (61 inches) and 17hh (68 inches)
Color: Any color is allowed but grey, chestnut, bay and black are the most common.
Character: Trakehner are said to be very charming horses that are loyal and eager please, They're energetic and have plenty of stamina.
Country of origin: Germany
Like the Irish Draught, the Trakehner is just as capable of competing at intermediate events as it is on the international stage, the only reason I've included it as an intermediate breed is because its WBFSH ranking for 2019 was 49. Often said to be Germany's most elegant and handsome warmbloods, the Trakehner is loved for its style as well as it's jumping ability.
Trakehner facts
Lloyds bank, the UK bank known as the 'black horse bank', always use Trakehners in their commercials.
The Trakehner has the oldest studbook of all European warmblood breeds, while the breed's history can be traced back even further its studbook was established in 1732.
Thoroughbred
Height: Anything between 15.2hh (61 inches) and 17hh (68 inches)
Color: Chestnut, grey, bay, brown and black are the most common.
Character: Being hot-blooded, Thoroughbreds are spirited horses, they're also known for their speed and intelligence.
Country of origin: United Kingdom
A lot of people will think of the Thoroughbred purely as a racehorse rather than a riding or jumping horse but, while there's no doubt it is immensely popular as a racehorse it is also very popular in other disciplines. Their speed and power make them a great choice for jumping events, especially show jumping and cross-country.
Thoroughbred facts
Thoroughbreds have a huge amount of stamina and are often able to keep going long after many other breeds aren't able to.
Due to their racing pedigree, a lot of Thoroughbreds are described as OTTB which is short for off-the-track Thoroughbred. This just means that they were registered with the Jockey Club and have either been raced or were in training to race. 
Top level breeds
Everybody has their own opinion about what breed is suitable for jumping but when it comes to competing at an International level you can't argue with the facts and the World Breeding Federation for Sports Horses (or WBFSH for short) provide those facts in their annual rankings of the top competitor horses. With this in mind, all of the breeds listed below were ranked within the top 10 of last year's (2020) results.
Dutch Warmblood
Height: The average is around 16hh (64 inches).
Color: Any solid color is allowed although chestnut, grey, bay, black and brown are the most common.
Character: Like most warmblood breeds the Dutch Warmblood is famous for its friendly nature and its intelligence.
Country of origin: The Netherlands
WBFSH Ranking: 1st
One of the newest warmblood breeds, the Dutch Warmblood hasn't taken long to rise to the top of not only the jumping world but also in a lot of other equestrian disciplines, regularly featuring in the top three of the WBFSH's annual rankings. Thoroughbreds along with both French and German warmbloods have, at various times in the breed's history, been crossed with Groningen and Gelderland horses to create the breed we all know today. 
Dutch Warmblood facts
The first horse outside of the racing world to win a $1,000,000 in prize money was a Dutch Warmblood x Irish Draught cross called Milton, ridden by British show jumper John Whitaker, they had a long and successful career together.
In the past, all horses registered with the Royal studbook were branded with the official KWPN (the Royal Dutch Warmblood Studbook) seal, which is a roaring lion on his hind legs. Branding is now illegal in the Netherlands so will only be seen on older horses.
Westphalian
Height: While most horses stand between 15.2hh (60 inches) and 16.2hh (65 inches) they're typically around 16hh (64 inches).
Color: Any solid color although darker colors are more prevalent.
Character: The Westphalian is an intelligent horse that has a gentle nature, making them ideal for all riders.
Country of origin: Germany
WBFSH Ranking: 2nd
The Westphalian was originally bred as a draft horse and later evolved into an elegant carriage horse but when the popularity of carriage driving started to dwindle, Trakehner and Thoroughbred blood was used to transform it into the athletic sports horse it is today.
Later infusions of Oldenburg and Anglo-Norman blood have only helped to improve the breed, helping to give them the incredibly powerful hindquarters that makes them a world-class jumper.
Westphalian facts
Although its studbook was set up in 1888 the breed itself can be traced back to 1713 when the first King of Prussia, Frederick William I, established a state stud.
Since the 1980s the Westphalian has won medals at most of the summer Olympics, not just for show jumping but also for dressage and eventing. 
Belgian Warmblood
Height: The average height is 17hh (68 inches)
Color: Any color is allowed but chestnut, bay, brown and black are the most common.
Character: Belgian Warmbloods are versatile horses that are loyal and kind. They're also very strong and athletic.
Country of origin: Belgium
WBFSH Ranking: Joint 3rd
The Belgian Warmblood is one of those breeds that, despite its success, is vastly underrated, often being thought of as a crossbreed rather than a breed in its own right. Like so many other European warmblood breeds, Hanoverians and Holsteiners where bred with local horses (in this case Belgian's draft Brabant) to create a powerful light competition horse. Unlike most other warmblood breeds though, with the exception of the Dutch Warmblood, the Belgian Warmblood is relatively new, being less than 75 years old. This is due to the Belgian government wanting to protect the bloodlines of the Brabant. In an attempt to do this they wouldn't let the Brabant be crossed with any other breed for many centuries.
Belgian Warmblood facts
The famous show jumper, Big Ben, was a Belgian Warmblood. Ridden by Canadian Ian Millar, together they won over 40 Grand Prix titles and were the first team to win back to back World Cup Finals. 
The slogan of Belgian Warmblood breeders is 'bred to perform' which suits the breed and reflects the aim of all of its breeders.
Selle Français
Height: Typically anything between 15.2hh (61 inches) and 17hh (68 inches)
Color: Chestnut is by far the most common color but any color is allowed.
Character: Selle Français' are kind, willing horses that are patient. They love being around people and are suitable for all riders.
Country of origin: France
WBFSH Ranking: 5th
Until the late 1950s, the Selle Français was regarded as a type rather than as a breed due to the fact that most regions in France bred their own version. Most of these 'versions' were similar in nature, build and performance, as well as in bloodline, so it made sense for them to be unified as a single breed. The French government did this and in 1958 the Selle Français was officially recognized as a breed. The fact that it was always bred as a saddle/riding horse has meant that it's ideally suited to the role of a top-quality competition horse.
Selle Français facts
The Selle Français is official known as Le Cheval de Selle Français which translates to mean French Saddle Horse.
Some Selle Français' are bred purely for racing and are known as Autres que pur sang association which translates literally to mean 'other than Thoroughbred'.
Oldenburg
Height: Anything over 16.2hh (65 inches) although most Oldenburgs stand at well over 17hh (68 inches).
Color: Occasionally grey can be found but bay, brown and black are the most common colors, although any solid color is allowed.
Character: Oldenburgs have a kind nature and are often referred to as gentle giants. They're highly intelligent and are eager to please.
Country of origin: Germany
WBFSH Ranking: 6th
The largest and heaviest of all warmblood breeds, it's easy to see that the Oldenburg was originally bred as a heavy draft horse. It was with the invention of the motorized vehicle that lead to the demise of the breed as a workhorse, luckily though it wasn't the end of the Oldenburg which was, in an attempt to create a lighter breed, crossed with Thoroughbreds, Hanoverians and Trakehners. This resulted in a strong sports horse that is now a world-class contender.
Oldenburg facts
A lot of Oldenburgs can trace their lineage back to the famous racehorse Eclipse who never lost a race in his whole career.
The Oldenburg takes its name from Count von Oldenburg who first began breeding them over three hundred years ago.
Holsteiner
Height: Most Holsteiners stand between 16hh (64 inches) and 17hh (68 inches) although the minimum height for stallions is 16hh (64 inches) while 15.2hh (62 inches) is the minimum for mares.
Color: Any solid color is allowed but chestnut isn't that common.
Character: Holsteiners are hard-working horses that have gentle natures. They're easy to train and are very happy to please.
Country of origin: Germany
WBFSH Ranking: 8th
The Holsteiner's studbook was established in the 1890s but the breed itself can be traced as far back as the mounted knights of the Middle Ages. The Holsteiner then was a much heavier horse but thanks to the inclusion of breeds such as the Thoroughbred, Anglo-Arabian and Selle Français it has become a much lighter horse that is far better suited to competitive sports. 
The breed's popularity is relatively small, only around 5% of horses in Europe are Holsteiners, but despite that its success and popularity is show jumping is far higher, having been featured in the WBSFH rankings every year since 2004. 
Holsteiner facts
Compared to a lot of other breeds the Holsteiner is very long-lived, the average lifespan is between 35 and 40 years – almost double that of other breeds.
In the 1976 Montreal Olympics, the Holsteiner won gold, silver and bronze in all sports, a feat that hasn't been repeated by any breed since.
---
I hope you found this article helpful. If you did I'd be grateful if you could share it please as it would really help me.
Recommended products 
Over the years I have tried hundreds of different horsey products, from various blankets and halters to different treats. Some I've loved, others I've hated but I thought I'd share with you my top all-time favorite products, the ones I never leave the yard without. I've included links to the products (which are in no particular order) that I really think are great.
Shopping lists
I've also put together a few shopping lists of essential items that I've found helpful over the years. I've broken the lists down into different categories rather than put everything in one massive list 😉