If you're in the market for a new pair of riding gloves it can be difficult to know where to start, after all, there are literally hundreds (if not thousands) of different gloves to choose from.
Why do you need to wear gloves for horse riding?
Not every rider likes to wear gloves and many think that they'll get in the way and hinder your ability to feel the reins, therefore reducing your communication with the horse but this isn't the case. A well-fitting pair of riding gloves will actually help you when riding, not only will they protect your hands from the elements (whether is the scorching heat or the biting cold) but they'll also help you to grip the reins better without your hands blistering and chaffing. This is even more beneficial if you're riding a headstrong horse that pulls on the reins a lot.
Gloves
Suitable For
Best For
Where To Buy
Roeckl Madrid Summer
Summer
All-round use
Horse.com
Dublin Meshback
Summer
Everyday
Amazon
Mark Todd Super Riding Gloves
Summer
Value
Amazon
Mark Todd winter with Thinsulate™
Winter
Warmth
Amazon
Roeckl Polartec® Touch
Winter
Tech
Amazon
Shires Cotton Pimple Gloves Adults
Winter
Value
Amazon
Shires Aubrion All Purpose Yard Gloves
Everything
Value
Amazon
Harry Hall Softshell Riding Gloves
Year-round
Being seen in the dark
Amazon
Heritage Performance Gloves
Year-round
Value
Rods.com
Amazon
What should you look for when buying horse riding gloves?
To some extent, the type of gloves you choose will be down to your personal preference but there are some things that are important. Probably the most crucial is the grip, after all, you don't want to be riding in gloves that reduce your level of grip on the reins. Properly dressed leather is a very grippy material but gloves made of other materials such as cotton often have silicone grips added to the palms and fingers.
Other factors that you need to consider are:
Material
In the past riding gloves were mainly made from high-quality leather but, while that is still the preferred choice of many, they're now available in a range of other materials, all with their own benefits (and of course drawbacks).
Leather – Leather is the most popular material because it's durable and adapts to the contours of your hands. It's also great for keeping your hands warm in the winter. The disadvantage of leather though is that it can be expensive.
Synthetic leather – In recent years synthetic leather gloves have improved a lot, some of them are just a good as leather these days. To some extent, these gloves have all of the benefits of leather without the price tag.
Spandex or Lycra – Many people are turning to spandex or lycra gloves these days because they are close-fitting, almost as if you're not wearing any gloves at all. The problem with these gloves though is that they're not at all breathable which makes them difficult to use in the summer.
Polyester mesh – Like spandex or lycra gloves these are very thin and comfortable to wear, unlike them though polyester mesh gloves are breathable so your hands won't become slippery with sweat.
Cotton – One of the advantages of cotton is its breathability as well as how thin the material is. The drawback to cotton though is their durability, the thinness of the material means they will wear quite quickly.
Wool – This is a more popular material for children but the drawback to wool gloves is that if they get wet your hands will get extremely cold very quickly. Like many other gloves, wool gloves will have rubber or silicone grip dots on the palm.
Comfort
It's important that the gloves are not only comfortable to wear but won't inhibit your ability to ride or control your horse. If a comfortable pair of gloves are the wrong size they will soon become uncomfortable too, either because they're loose and will pinch your hands or because they too tight and will stop the blood flowing properly.
Breathability
Even in the winter, your hands will sweat, although obviously not as much as during the summer, which is why it's a good idea to have breathable gloves. If your hands are too sweaty then not only will you not be able to grip the reins as well but your gloves probably won't last as long either.
Features
Gone are the days when a pair of gloves was just a pair of gloves and nothing else, these days many of them will have extra features. While some of these features will be just gimmicks designed to make them stand out from the competition there are some features that do make a difference.
Grip dots – This is a must for gloves that aren't made of leather or synthetic leather. Typically made of rubber or silicone they cover the palm (and sometimes the fingers too) and give the gloves the grip they wouldn't otherwise have. Unless the leather has been dressed properly then it'll be naturally grippy so won't need grip dots.
Waterproof – If you get a lot of rain then waterproof gloves can be great but, unless they're made from a naturally waterproof material such as leather, most waterproof gloves won't be breathable.
Extra patches – Some gloves will have extra padding on high use areas such as those between the ring and little finger as well as around the thumb and index finger. The extra layer means that the gloves will last much longer, up to twice as long in some cases.
Wrist closure – While you can buy gloves without any wrist closure many people prefer them to be secure around their wrists, this will help to keep them in place. There are a number of different types of closures though and which one you opt for will be down to your personal tastes:



Velcro
Buckle
Poppers
Elastic
String/Ribbon
Buttons
Durability
Horse riding gloves will wear over time with natural use so you ideally want a pair that are tough enough to withstand the movement of the reins through your fingers but without restricting your movement or grip. Some gloves will have extra padding in areas that will see the most wear.
What do you want a pair of gloves for?
This might sound like a silly question to ask but do you want the gloves to keep your hands warm in the winter, cool in the summer, or are you looking for a pair that you can wear all year round? What you'll be using the gloves for is also a consideration, a new pair of gloves for the show ring will be very different to a pair you use for chores around the yard.
How to measure your hands for horse riding gloves
While you don't need your everyday gloves to fit you properly it's vital that your horse riding gloves do so you need to make sure you get the right size. You might think that you can just look at the size of your current gloves but this won't always work – especially not if your new gloves are made by a different company. In order to get the right gloves for you you need to measure your hands, you don't need to do this though every time you buy a new pair of gloves but it doesn't hurt to do so once a year.
To get the right size gloves measure around the knuckles on your dominant hand, this measurement should be done in inches and rounded up to the nearest half-inch, for example, if your hand is 8.3 then you'd round it up to 8.5.
When it comes to buying gloves you'll find that they'll either be sized in inches or use a universal sizing chart. If the gloves are in inches then you simply need to find the right size but if they're using universal sizing then you'll need to check the manufacturer's sizing chart to see which size matches the measurement of your hand.
Looking after for your horse riding gloves
You may be surprised to know that you can wash must horse riding gloves, even leather ones. Ideally, though you should wash your gloves by hand but if not make sure you wash them on a light or delicate wash at a low temperature and low spin speed. Once your gloves are clean you should straighten then out so there are no wrinkles then leave them to dry naturally. Unless your gloves say otherwise you shouldn't tumble dry or iron them because this can damage the leather or the elastic if they're not made of leather.
Best horse riding gloves for summer
The best summer gloves should be breathable and lightweight without compromising on grip or quality. As you can imagine there's hundreds of different gloves to choose from but below are the three that I think are the best.
Best all-round summer riding gloves:
Roeckl Madrid Summer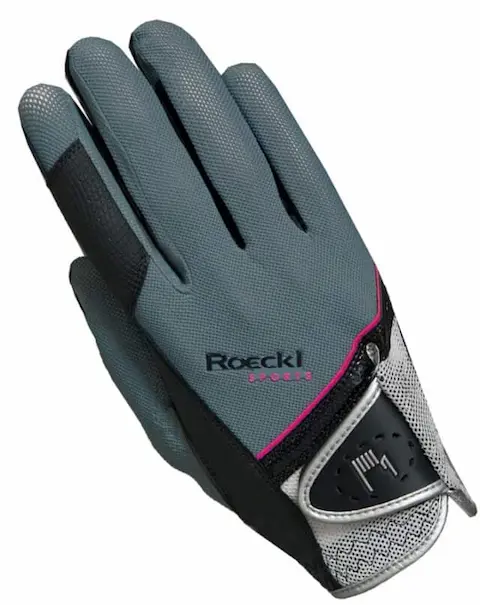 As you can guess from the name these gloves are designed especially with summer riding in mind but are warm enough to wear during the spring and fall too. They're extremely lightweight and have a soft micro-mesh on the back while the palm uses Drytec G5 with Slip Stop to give the rider extra comfort and sensitivity that allow for a perfect grip on the reins.
As you'd expect from the Munich based company, these gloves are excellent quality and certainly wouldn't look out of place in the show ring, they even have strategically reinforced trimming that supports curb bit handling.
Comfort: The soft micro mesh makes them feel like a second skin, what more could you ask for in a pair of riding gloves!
Why you should buy them: They're stylish, comfortable, hardware, and have touch sensors so you can still use your phone without needing to take them off.
Colors: Black, white, black & gold, black & red, mocha, grey or navy.
Where to buy: Horse.com
Best everyday summer riding gloves:
Dublin Meshback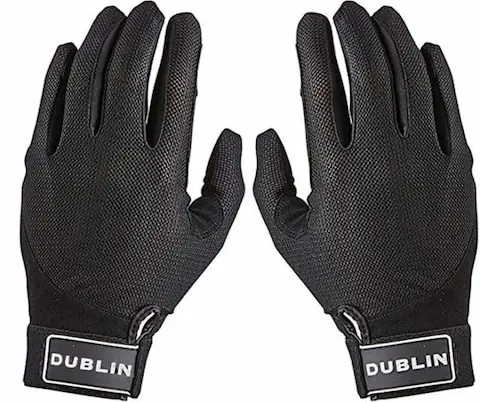 If you're looking for a great pair of summer riding gloves that you can wear any time (even when you're not in the saddle) then you can't go far wrong with these Dublin Meshback gloves. They have a stylish synthetic suede palm for added grip while the back of them is made from a lightweight, breathable mesh.
They have a reinforced trim between the thumb and index finger that makes them much more hardwearing than you might think.
Comfort: They have a snug fit that allows you to move freely, the elastic wrist with velcro closure means they'll stay in place.
Why you should buy them: They'll keep your hand cool, look great and are machine washable.
Colors: Black, navy or purple
Where to buy: Amazon
Best value summer riding gloves:
Mark Todd Super Riding Gloves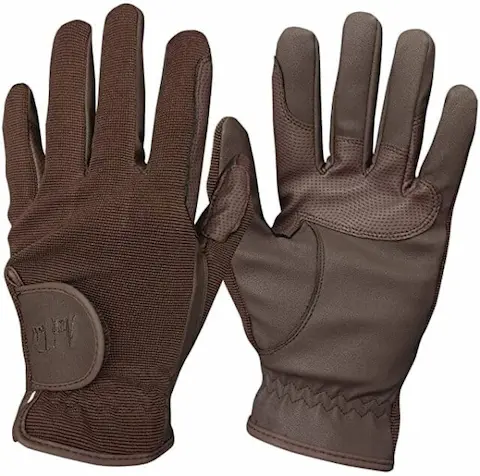 You know that with Mark Todd you're getting quality but you're also getting a classy pair of gloves. The palms of the gloves are made from faux leather which looks great while the knitted back allows your hands to breathe and the sweat to evaporate.
Despite their thin nature (as you'd expect from summer gloves) they're actually extremely durable and will last a lot longer than you expect.
Comfort: The velcro closure means that they'll stay in place while the faux leather gives a comfortable soft feel.
Why you should buy them: They're comfortable, are ideal for competition and are 100% vegan.
Colors: Black, navy, brown or white
Where to buy: Amazon
Best horse riding gloves for winter
When it comes to winter horse riding gloves they need to be thick enough to keep your hands from getting too cold but thin enough so that you still have proper contact with the reins as well as allowing you to move your hands and fingers freely. I've picked what I think are three of the best, each with their own features.
Best winter riding gloves for warmth:
Mark Todd winter with Thinsulate™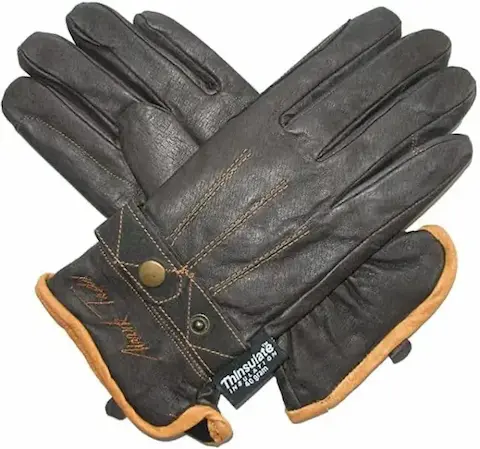 If you get a lot of snow in the winter then these gloves are an absolute must, not only will they keep your hands lovely and toasty but they're really stylish too. The gloves are lined with 3M's fantastic Thinsulate™ material which is renowned for its ability to allow your sweat to evaporate and keep your hands cool and warm at the same time.
With a leather outer shell, the gloves have an elasticated wrist with an adjustable popper closure that means they'll fit you snugly whatever size your wrist is. On top of this, they're all very hardwearing.
Comfort: They might look like they bulky gloves but they'll fit your hands perfectly (like a glove even!) and won't restrict you in any way.
Why you should buy them: They're stylish, hardwearing and will keep your hands warm on the coldest of days.
Colors: Black or brown
Where to buy: Amazon
Best winter riding gloves for tech:
Roeckl Polartec® Touch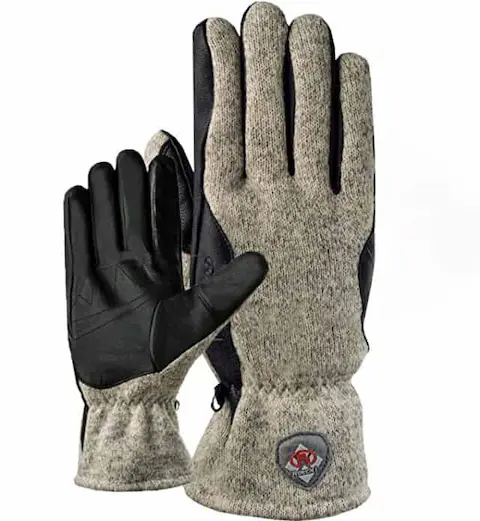 If you're into your tech then you can't go wrong with a pair of these gloves, not only do they have a silicone-grip coating on the palm that makes them perfect for riding but they're also 'touch' gloves which means you don't have to get cold hands just to check where you are on your phone.
They're made with Polartec® Thermal Pro® which is a versatile synthetic fleece that will keep your hands warm while also allowing them to breathe. With all the technology these gloves have its incredible that they're still lightweight and comfortable to wear too.
Comfort: These gloves were designed with comfort in mind and it definitely shows, you'll soon forget you're wearing them.
Why you should buy them: You don't need to take them off to use your phone, they're machine washable (up to 30°), they're also very lightweight for winter gloves.
Colors: Black or anthracite
Where to buy: Amazon
Best value winter riding gloves:
Shires Cotton Pimple Gloves Adults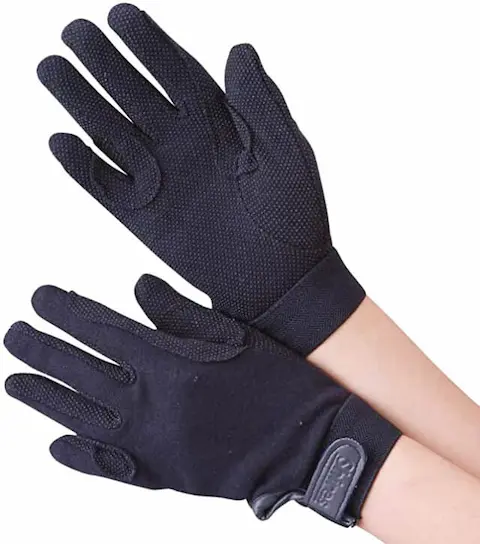 I don't know about you but I'm forever losing gloves which is why I think these are so good, they keep your hands warm, have a good grip and are very comfortable but, at just a few bucks, won't break the bank either. They're made from 100% cotton so will allow your hands to breathe while still keeping them warm, that said though I don't think they'd keep you so warm when it gets really cold.
They're reinforced in all the right places and have rubber grip dots on the palms. The wrist is elasticated with a velcro closure so they're super comfortable too. The only drawback to these gloves is that they don't last long, but when you consider how little they cost it doesn't really matter.
Comfort: The reinforced palms and fingers can make them feel a little bit bulky but you soon get used to that, in every other respect they're very comfortable.
Why you should buy them: They're cheap, have a good grip, can be used in the show ring and come in a selection of colors.
Colors: Black, brown, pink, white, navy, blue or purple
Where to buy: Amazon
The best of the rest
There are some gloves don't fall into the summer or winter category, but are still great gloves to have which is why I've included a few below.
Best value riding gloves:
Shires Aubrion All Purpose Yard Gloves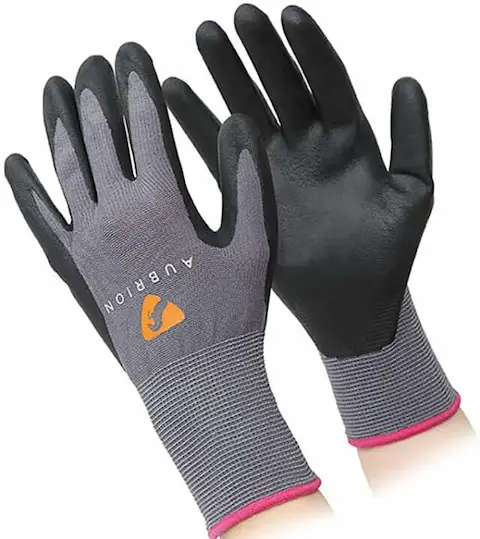 Okay so these aren't really riding gloves but they're excellent for everything else at the yard. They have incredible grip, regardless of whether they're wet or dry. Made from a seamless knitted nylon they offer an unprecedented level of comfort while the nitrile rubber foam palms help you to lift awkward items.
Comfort: Yard gloves are never going to feel like a second skin but despite that, they offer a lot of dexterity which makes them much more comfortable than you might think.
Why you should buy them: They're much thinner than most yard gloves but just as strong and grippy.
Colors: Black, brown, white, purple, pink, navy or blue
Where to buy: Amazon
Best riding gloves for being seen:
Harry Hall Softshell Riding Gloves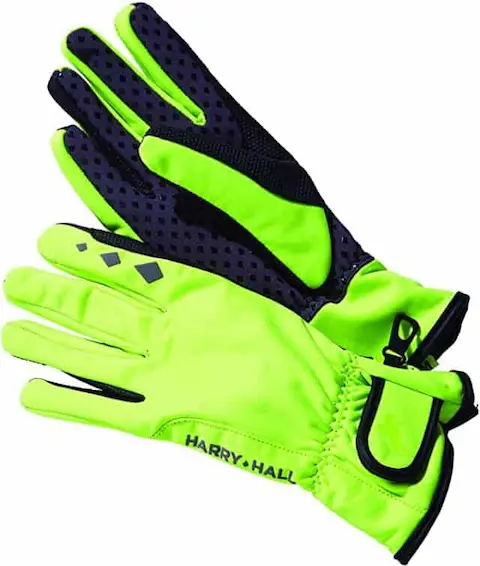 If you ride a lot at night and spend time riding on the roads you'll know how important it is to be seen, especially when you're giving signals, which is exactly what these gloves are designed for. The back of the gloves are made from a highly visible fluorescent yellow polyester mix and have reflective elements so you're guaranteed to be noticed. They also have rubberized palm for extra grip and a velcro fastener.
Comfort: They're not the most comfortable gloves in the world but definitely aren't uncomfortable to wear. They're also breathable so your hands won't get all sweaty.
Why you should buy them: They're waterproof, highly visible, and machine washable. The bright color also means you'll never lose them either!
Colors: Fluorescent yellow
Where to buy: Amazon
All-round great riding gloves:
Heritage Performance Gloves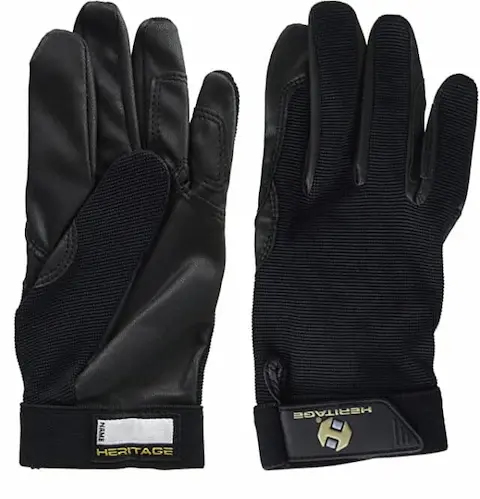 Every now and then a pair of gloves come along that offers everything, from great comfort and design to versatilely all year round and these gloves are just that. The palms are made from synthetic leather that gives them a superb grip. They also come in a range of colors and are perfect for any occasion, regardless of whether you're in the saddle or downtown.
Comfort: The back of the gloves are made from spandex which gives incredible comfort while the synthetic palms are breathable so your hands won't get hot and sweaty.
Why you should buy them: They have incredible grip, are versatile and look good too.
Colors: Black, brown, navy, purple, dark grey, pink, leopard print, horseshoe print or galloping horses print
Where to buy: Rods.com or Amazon
Further reading
---
I hope you found this article helpful. If you did I'd be grateful if you could share it please as it would really help me.
Recommended products 
Over the years I have tried hundreds of different horsey products, from various blankets and halters to different treats. Some I've loved, others I've hated but I thought I'd share with you my top all-time favorite products, the ones I never leave the yard without. I've included links to the products (which are in no particular order) that I really think are great.
Shopping lists
I've also put together a few shopping lists of essential items that I've found helpful over the years. I've broken the lists down into different categories rather than put everything in one massive list 😉