Like a lot of riders, I live with a long-term back injury that, while wasn't solely caused by a fall, was certainly exacerbated by one. An injury that sadly wouldn't have been so bad if I'd been wearing a body protector at the time. We can all be wise after the event but not everybody gets the chance to do that which is why I wanted to write this article, not to tell you to wear a body protector but to highlight the benefits and then allow you to make your own decision.
Do I need to wear a body protector when horse riding? You don't need to wear a body protector when riding and in fact, unless you're competing there are no regulations on wearing them when riding or working with horses but that doesn't mean you shouldn't. By wearing a body protector you could reduce your chance of serious injury by around 60%.
We've all heard the saying that 'you're not a good rider until you've fallen off 7 times' but while this is obviously complete nonsense it does indicate that there's a certain amount of risk involved in horse riding and while you can't completely eradicate the risk of injury there are certain things that you can do to reduce this risk. Many riding schools (and authorities) will insist you wear a riding helmet but the same can't be said for body protectors which leads some people to think they're not necessary or don't work. 
A recent study carried out by the British Medical Journal found that, when wearing a body protector (sometimes referred to as a vest or safety vest) during cross country, the risk of injury was reduced by an incredible 56% regardless of the rider's experience.
What does a body protector do?
A body protector is designed to reduce the risk of injury, not just in the event of a fall but also from kicks and even being trodden on by a horse. In particular, it'll reduce the severity of injuries to joints, bones, and even internal organs.
Any sudden impact, whether from a fall or being kicked, will produce a certain amount of energy that has to go somewhere, this is where a body protector really comes into its own. If you're not wearing a vest then the energy from that impact will be dispersed through your body, possibly damaging your internal organs too. If, however, you are wearing a body protector it will absorb the impact and spread it across a wider area and therefore reduce the amount of energy that's transferred to you. 
Most body protectors contain two layers of heat-sensitive PVC Nitrile foam that have been made to compress on impact which is how they absorb the energy and absorb the impact. The foam is designed to soften and mold to the rider, giving them extra comfort when riding but also offering better protection when needed.
How much protection do body protectors offer?
You might be thinking that a protective vest will prevent all injuries but this just isn't possible. No one protector (or any safety item for that matter) will ever be 100% effective 100% of the time. There's a great deal of energy involved in a fall or kick and that energy has to go somewhere, it can't simply disappear, which is why body protectors can't prevent all injuries, they can only minimize the effects.
With this in mind, it's important to know what safety vests (as well as shoulder protectors and air jackets) can offer your protection against and what they can't.
| | | | |
| --- | --- | --- | --- |
| | Body Protector | Shoulder Protectors | Air Jacket |
| Neck | ✘ | ✘ | ✔ |
| Shoulders | ✘ | ✔ | ✔ |
| Collar Bone | ✘ | ✔ | ✔ |
| Chest & Ribs | ✔ | ✘ | ✔ |
| Spine | ✘ | ✘ | ✔ |
| Abdomen | ✔ | ✘ | ✔ |
| Hips | ✘ | ✘ | ✔ |
| Pelvis | ✘ | ✘ | ✔ |
| Internal Organs | ✔ | ✔ | ✘ |
| Soft Tissue | ✔ | ✔ | ✘ |
| Lacerations | ✔ | ✔ | ✔ |
| Abrasions | ✔ | ✔ | ✔ |
| Crushing | ✘ | ✘ | ✘ |
| Severe Torsion | ✘ | ✘ | ✘ |
| Severe Flexion | ✘ | ✘ | ✘ |
| Severe Extension | ✘ | ✘ | ✘ |
Do I need to wear a body protector?
It would be great if a body protector could prevent all injuries all of the time but just because it can't doesn't mean you shouldn't be wearing one. Body protectors are designed to minimize your risk of serious injury as well as increase your chances of staying alive after a fall, kick, or even being trodden on.
Nobody gets on a horse thinking they're going to fall off but horses are living creatures with their own minds and whilst we may know them extremely well they can, on occasions, be unpredictable. Just because you're wearing one it doesn't mean you think you're going to fall off, after all, you don't put your safety belt on in the car because you think you're going to have an accident. You put it on because there's always that 'just in case' thought and body protectors are no different. Wearing one gives you, and your loved ones, peace of mind and reassurance that should something go wrong you'll be more protected.
With this in mind, I personally see body protectors as a no-brainer, after all, they're lightweight, comfortable if fitted properly, and could possibly save your life!
Which body protector should I wear?
There's an argument that says you should always wear the body protector that gives you the most protection but while this does make sense its not always possible for a variety of reasons, you may not have the budget, a higher level of protection may not always be comfortable or you may simply not want that amount of protection. 
Depending on what sort of riding you're doing a body protector with a BETA or EN13158 level 2 or ASTM/SEI F2681 certificate (which is suitable for pleasure riding) may be enough. That said many event organizers require level 3 protection, while some (mainly in eventing) insist on shoulder protectors too. With this in mind, the table below should help you to decide which level of protection is most suitable for you and your needs and requirements.
| | | | | | |
| --- | --- | --- | --- | --- | --- |
| Certificate  | Type of Protection | Protection Level | Protects | Suitable For | Not Suitable For |
| EN13158 (BETA:2009 / BETA:2018) Level 1 | Impact & shock absorption | Low | Abdomen, Thorax, Internal organs | Licensed jockeys only | Horse riding Working with horses |
| EN13158 (BETA:2009 / BETA:2018) Level 2 | Impact & shock absorption | Normal | Abdomen, Thorax, Internal organs | General low risk riding Professional jockeys | Riding on roads Jumping Young/excitable horses Inexperienced riders |
| EN13158 (BETA:2009 / BETA:2018) Level 3 | Impact & shock absorption | High | Abdomen, Thorax, Internal organs | All levels of riding Working with horses | – |
| EN13158 (BETA:2009 / BETA:2018) Level 3 (Shoulder) | Impact & shock absorption | High | Shoulders, Collar bone | All levels of riding Working with horses | – |
| EN13158 (BETA:2009 / BETA:2018) Level 3 (Driving) | Impact & shock absorption | High | Abdomen, Thorax, Internal organs | Horse drivers only | Horse riding Working with horses |
| ASTM/SEI F2681 | Impact & shock absorption | High | Abdomen, Thorax, Internal organs | | |
| Satra M38:Issue 3 February 2015 | Cushioning | Low | Neck, Chest, Spine, Hips, Pelvis | Use with body protector | Use without body protector |
Air jackets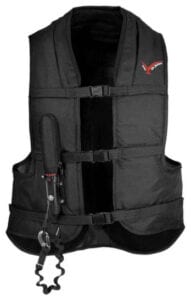 Air jackets work in a similar way to your car's airbag, they're attached to the saddle with a lanyard that is broken when you fall. When this happens the airbag inflates which helps to cushion you as you fall, which protects you from your neck down to your pelvis. This cushioning effect is why many people wear them over the top of their body protector, for an extra layer of protection. Some people choose to wear only an air jacket and while this may be okay for very low risk riding its not really suitable for most occasions, this is one of the reasons why the FEI insist that if you do wear one it MUST be worn over the top of a standard body protector.
One of the biggest drawbacks to wearing an air jacket on its own though (in my opinion anyway) is that because they're designed to inflate when the lanyard is broken they can only protect you if you fall. This means that if you're working around horses the lanyard won't be attached to the saddle and therefore won't be broken.
Certified or non-certified?
Whether you opt for a certified vest or not is really down to personal preference and budget, but before you decide which is best for you it's important to understand what they both mean. 
Certified
These are the most popular body protectors because they guarantee a certain level of protection, this is also why they're often more expensive. If you choose to go with a certified vest them you need to make sure it carries one of the logos below.
Non-certified
You might be surprised that there's no legal requirement for testing body protectors so it doesn't mean that a vest without a safety certificate is inferior, it simply means that its safety hasn't been tested.
What should I look for when buying a body protector?
When looking for a body protector how well it fits is the most important factor, if it doesn't fit you properly then it could ride up and cause more injuries than it can prevent. Comfort should also be taken into account but more because if it's uncomfortable to wear then you're less likely to wear it.
Measuring for your body protector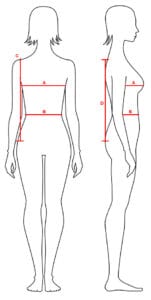 Most body protectors require three measurements, the largest dimension around your chest (A), the narrow measurement around your waist (B), and from the front of your waist over your shoulder to the back of your waist (C). Some will also ask for the distance between the prominent bone at the base of your neck to a point approximately 12cm above the saddle (D). 
Once you have these measurements you're ready to order a body protector but when it arrives it's still important to make sure it fits correctly and that you've adjusted it properly.
How to fit your body protector correctly
When fitting your new body protector for the first time it's a good idea to wear it for at least five minutes first. This will allow the foam to warm up, it'll then soften a little and mold to your body shape better. Once it's done you can then adjust the fastening accordingly. It's also worth noting that, when fitting, you should wear the vest exactly how you intend to use it, for example, if you plan on wearing it over your jacket then do so now. Likewise, if you're only going to wear it over your shirt don't put your jacket on too.
A correctly fitted body protector should always:
Be secure and be tight enough so that it doesn't move freely while you're wearing it, this ensures it stays in place in the event of an accident.
The top of the vest should reach the top of the sternum at the front and the prominent bone at the base of the neck at the back.
The front of the body protector should be no less than 25mm below the ribcage, the bottom shouldn't touch the saddle when mounted and the whole thing should fit right around the torso.
If you're wearing shoulder protectors they should, along with the vest, cover the collar bone.
Some body protectors have colored velcro along with the fastenings, this helps with fitting because if any of this coloring is showing when you're wearing it the vest isn't fitted properly. If this happens then check the adjustments to make sure they're all correct and if necessary try a bigger sized protector.
How often should you replace your body protector?
As a general rule of thumb, you should replace your vest every three to five years regardless of whether or not there's any damage to it. This isn't just a clever ploy by the manufacturers and retailers to get us to part with our money, there is actually a serious reason behind this. The main reason is that, over time with normal wear, the foam will start to degrade and therefore make it less effective so replacing it regularly will ensure your body protector will always be up to the job. Another reason for changing it regularly is that there are always new developments in technology so while your old vest was fine five years ago a new one may give you even greater protection.
Unlike riding helmets, you don't need to replace your body protector after every single fall, while the foam is designed to compress it will also return to its original shape, in most cases at least. That said though, if after 60 minutes it hasn't regained its shape then you should replace it straight away. The reason for this is because it will no longer be able to absorb any impact.
Related questions
Can I use a motorcycle body protector for horse riding?
While motorcycle body protectors do offer a great deal of protection they're not suitable to use when horse riding or working with horses because they're not tested in the same way equestrian body protectors are. This means that they don't offer the level of protection that specialist vests do.
Am I okay buying a secondhand body protector?
If you don't have the budget for a brand new body protector you can get some good deals buying secondhand but need to be very careful and only buy from reputable sellers or from somebody you know. Unlike riding helmets, you don't need to replace a body protector after every impact but you should still check them very thoroughly for damage and only buy them if they're a few years old.
Further reading
---
I hope you found this article helpful. If you did I'd be grateful if you could share it please as it would really help me.
Recommended products 
Over the years I have tried hundreds of different horsey products, from various blankets and halters to different treats. Some I've loved, others I've hated but I thought I'd share with you my top all-time favorite products, the ones I never leave the yard without. I've included links to the products (which are in no particular order) that I really think are great.
Shopping lists
I've also put together a few shopping lists of essential items that I've found helpful over the years. I've broken the lists down into different categories rather than put everything in one massive list 😉