Most horse owners know that it can be dangerous to go horseback riding alone, but if you don't have anyone to ride with it is important to know the dangers and what precautions to take to stay safe. So, how do you stay safe when horseback riding by yourself? 
There are plenty of precautions to take before you head out with your horse to avoid any precarious situations. Read on to discover how to stay safe while horseback riding alone and how to avoid dangerous situations. 
Evaluate Your Horse and Your Skills Before You Go
If you plan on going out riding by yourself, it's best to only go with a horse that you trust and that has a great temperament. Evaluate your horse before you go to ensure that you will have a safe ride. 
While evaluating a horse for a solo ride, use the following to make sure your horse is: 
Calm, relaxed
Not started easily

Test this by riding around and brushing items across different parts of their body

Trained to stop if you fall
Free of injuries
A calm and relaxed horse will guarantee that your ride will be free of any challenges. If your horse is rambunctious and young, it could be may dangerous while riding alone because they have more energy and could throw you off. 
Another key to staying safe is evaluating the fight or flight response in your horse. If you're horseback riding alone, it's best to take a horse that you trust that isn't startled easily or is accustomed to being touched. 
Prepare your horse beforehand by taking them in the arena and rubbing items across different parts of their body as they ride. These objects simulate various branches, trees, or leaves that may touch them during your ride. If your horse reacts excitedly, it may be best to take a different one because you never know what you will encounter on the trail. 
Your horse should also be trained to stop if you fall off or lose your balance. Some horses continue on their journey without their riders, leaving them on the trail without a way to return, so make sure you trust your horse and know they will stop if anything happens to you. 
Not sure which horses are suited to riding alone? Best breeds for trail riding.
Although evaluating your horse is extremely important to do before you leave, you should also evaluate your skills.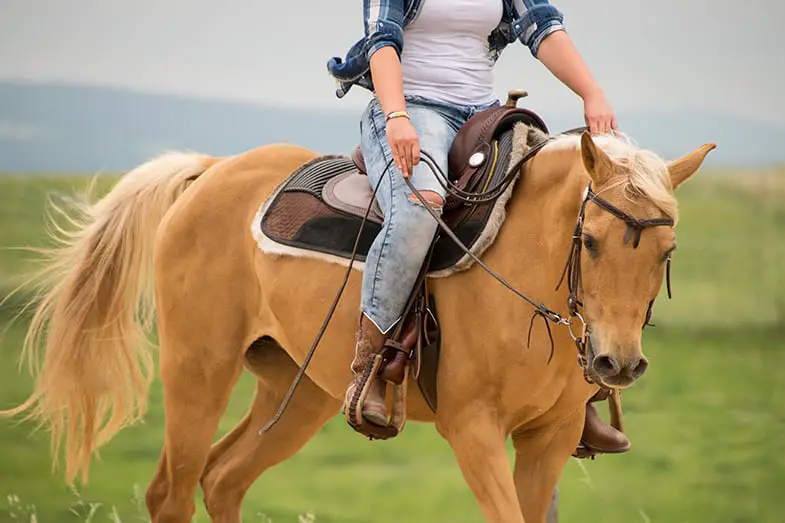 You may be a confident rider, but don't ride solo while challenging yourself and trying new things. Be sure you know how to:
Mount and dismount without assistance
Control your horse and maintain various paces
Hold a firm seat
Having complete control and confidence with your horse is essential in riding, especially when you go alone. Do not test your abilities and be sure your horse is comfortable with you before going on a solo journey. 
Walk The Trail and Pack a Map of The Area 
If riding alone, you want to be the safest as possible. Therefore, it's best to plan your trip ahead of time by walking the trail, mapping it out, and keeping or GPS map with you.
Walking the trail will allow you to become more comfortable with the environment and the wildlife that you may encounter. Plus, it ensures that you won't get lost! 
Yet, whether or not you walk your ride beforehand, be sure to bring a map of the area you plan to ride in or a GPS just in case.
Tell Someone Your Destination and When You Should Arrive
One of the most crucial steps to stay safe during a solo ride is to inform others of where you are going, the route you are taking, and when you should arrive. 
Communication is the best way to stay safe while riding alone. Others should know when to expect you and when to look for you in case you don't arrive.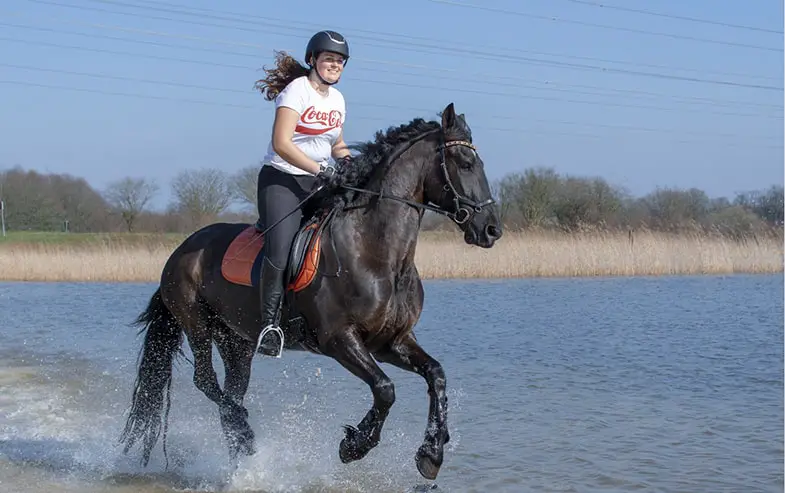 Use Proper Riding Gear
You may want to ride solo bareback but, it is considered extremely dangerous, especially if you are on your own. To stay safe while riding alone, use the proper riding gear and know how to use each item correctly. 
Equestrians recommend using the following gear while riding alone to stay safe: 
Boots with a heel
Long Sleeves
Long Pants
Saddle
Make sure you have all of the appropriate gear before hitting the trails. Helmets should have a chin strap, and boots should have a small heel and should be easy to remove in case of an emergency. 
Protective vests and long shirts/pants are also highly recommended for solo riders in case their horse gets startled and throws them from their horse. 
You should also only ride alone while using a saddle to prevent any unwanted injuries. You may be an expert at riding bareback, but saddles help keep riders secure and comfortable on the trails. 
Bring a Survival Kit
Although it is unlikely that anything will happen, it is best to be prepared for any situation while on the trails alone. Make sure to bring a wilderness first aid kit along with you! 
The following items should be in your kit:
Bandaids
Alcohol
Matches
Gauze
Antibiotic ointment
Medical ID
Survival whistle
Cell phone
GPS
Portable Charger
Flashlight
Pocket Knife
Food and Water
Insect Repellent
Hoof pick
The best way to stay safe while horseback riding alone is to be proactive and prepared! Bring your wilderness survival kit along in your saddle bag. Make sure you have packed a first aid kit in case you get any cuts or abrasions. You should also always have a cell phone, survival whistle, pocketknife, flashlight, and hoof pick. 
You should also bring along small snacks and water with you as well as matches, in case anything happens. 
If you are riding in the forest or woods, don't forget to bring your insect repellent, as the mosquitos and flies can be quite the pests while you're trotting along. 
Regardless of your destination or the duration of the ride, make sure you are prepared for the worst to ensure you will have everything necessary in case of an emergency. 
Check The Weather
Last but not least, be sure to check the weather before you head out to the trails. Sunny and cloudy days are perfect for riding, but if you see rain in the forecast, it's best to stay home. 
If staying home isn't an option, and it is necessary to ride in bad weather, make sure to bring a raincoat and rainproof gloves, boots, and covers for your belongings. 
If it has recently stopped raining, wait as long as you can so that the trails can dry before you start trotting. This can prevent any slips or falls from your horse and will keep you safe on your journey. 
Final Thoughts
The best way to stay safe while horseback riding alone is to be prepared, evaluate the area and weather, and inform others of your intended destination. It is recommended to always to riding with a partner, but you can go alone as long as you are confident and comfortable with your horse. 
Sources
---
I hope you found this article helpful. If you did I'd be grateful if you could share it please as it would really help me.
Recommended products 
Over the years I have tried hundreds of different horsey products, from various blankets and halters to different treats. Some I've loved, others I've hated but I thought I'd share with you my top all-time favorite products, the ones I never leave the yard without. I've included links to the products (which are in no particular order) that I really think are great.
Shopping lists
I've also put together a few shopping lists of essential items that I've found helpful over the years. I've broken the lists down into different categories rather than put everything in one massive list 😉