Not every barn has the luxury of an enclosed riding area or arena and you may be forced to ride in the open but that doesn't have to be a problem. While you might feel safer with a fence around you, riding in open country can be just as safe which is why I decided to write this article.
Riding a horse in the open is no different from riding in an enclosed space, if you have control of your horse and can stop them when necessary you shouldn't have any problems.
It can be exhilarating galloping across open country but your horse will undoubtedly be more playful and energetic so you'll need to learn to ride safely in open spaces. Doing so will not only boost your confidence and the partnership you have with your horse but it will also open up a whole new world of possibilities.
Stay safe while riding in the open
We all know how important it is to check your horse's tack regularly but when you're riding in the open this is even more crucial. As well as checking the tack fits properly and that none of the stitching is coming loose you should also check the stirrups still fit you, especially if you have new boots.
When riding in open spaces there are more obstacles for your horse to injure himself on so you should also make sure you have brushing boots or exercise bandages too and that they fit correctly.
Prefer bandages to boots? How to bandage your horse's legs for exercise.
As well as checking your horse's tack you should also ensure your equipment is in good working order. You should check your riding helmet to make sure it's okay and isn't damaged at all, you should also check your body protector and boots too. Some people also like to use a neck strap while riding in the open as it gives them something to hold onto if they need a little bit of extra security.
Regardless of whether you're riding on your own or with others, you should also carry a fully charged cell phone with you, rather than in a saddle bag, you should also take a first aid kit too.
One thing that's often overlooked is the horse's hooves but if you know the terrain is going to be uneven or particularly rough you should also think about having your horse's hooves checked and shod if necessary. 
What should you do if your horse loses a shoe? Coping with a lost shoe while riding.
Not all horses need shoes Do horses really need shoes?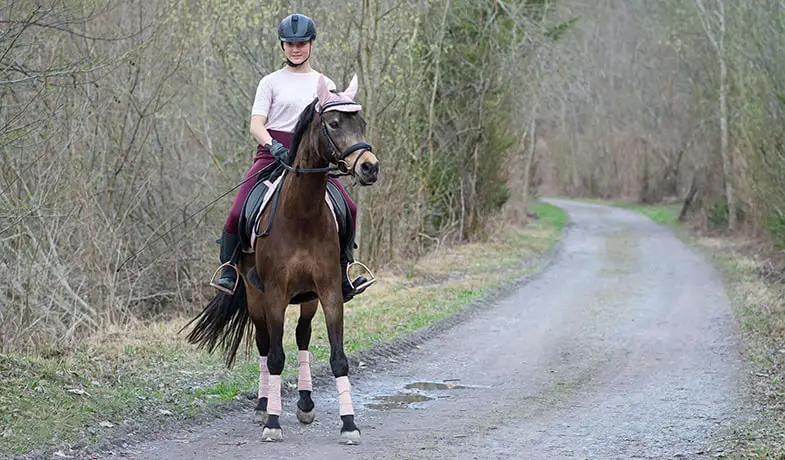 Keep a straight line
You might be wondering why you need to keep a straight line when you're riding in the open but doing so will help you (and your horse) to know where you're going. Having a clear focus and direction to your riding will also help your horse to know what's expected of him which, in turn, will help to boost the connection between the two of you.
Of course, when you're riding in an arena it's easy to keep to a straight line because you can simply follow the fence but this obviously isn't possible when you're in the open but that doesn't mean you can't keep your horse straight. Looking for objects such as trees, gates, or even tuffs of grass and then riding in a straight line toward them will help you to do this.
Riding straight can also help to control some of your horse's extra energy as it'll give in something to focus on and think about rather than just randomly wandering wherever he wants to go.
While it's good to keep in a straight line as much as possible you should also make deliberate, accurate turns too. Again this might not seem necessary but it will help to keep your horse paying attention and thinking about what you're asking.
Think about your speed
If you've ever watched a horse that's just been turned out into a field you'll have noticed how much energy they suddenly get when faced with open spaces. This is why it's important to control your horse's speed, at least until they settle down. To start with you should stick to walking and trotting and make sure you can easily stop your horse (or slow them down) if you need to. Once you're happy with this and feel that your horse has settled down you can start to pick up the pace if you want to.
While it might be great fun to gallop at full speed across an open field it's worth pointing out that trotting is the most effective way for horses to cover ground, after all, you don't often see wild horses galloping (unless of course, they're escaping danger). That said though, regardless of the pace you should still slow to a walk at key points, such as when you're rounding unknown corners or exiting an open field, especially if you don't know what's in the next one.
If you find that your horse's excitement is getting the better of them and they're becoming harder to control you can do some circles (in both directions). This will get them thinking about what they're doing and will return their focus to you, backing them up will also help.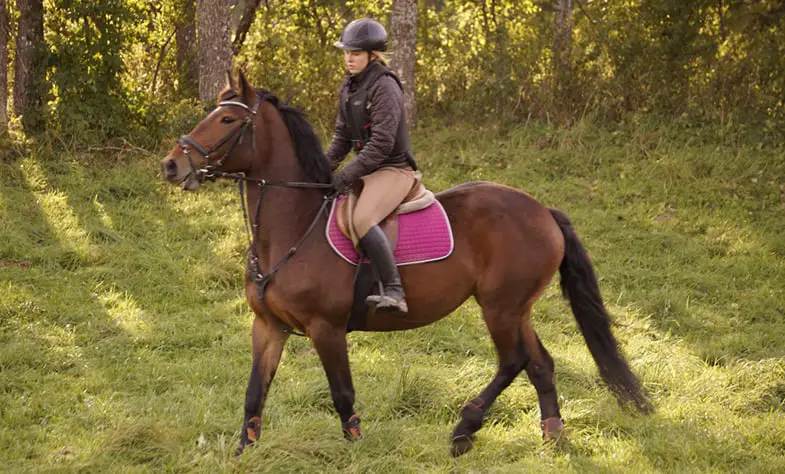 Understand the terrain
Riding in the open is very different from riding in a level arena where you already know there are no holes or muddy spots and that there aren't any slipping or tripping hazards but you obviously can't be sure of this if you're in the open.
If you know the area where you're going to be riding then you should already have an understanding of what the terrain is like, what to expect, and where you need to be extra careful, but if you don't then there are still a few things you can look out for. For example, certain plants grow in damper, boggier conditions so if you see marsh marigolds or horsetail growing in clusters then you should ride around them. 
Likewise, if you see areas of raised grass it could indicate old molehills or termite mounds and therefore uneven ground. If you're riding in the open during the fall and see a higher concentration of fallen leaves in certain places then it's a good sign there are holes or dips in the ground.
Are you heading away from home or towards it?
You might not realize it but horses have an incredible instinct for home and while riding away from home at speed isn't likely to be a problem, cantering on the homeward stretch can prove troublesome for some overexcited or headstrong horses. 
With this in mind, I always walk or jog when I'm heading back, even if I'm riding in a new place that my horses don't know. I've also found that it has an added bonus of helping me and my horse to cool down after an energetic ride.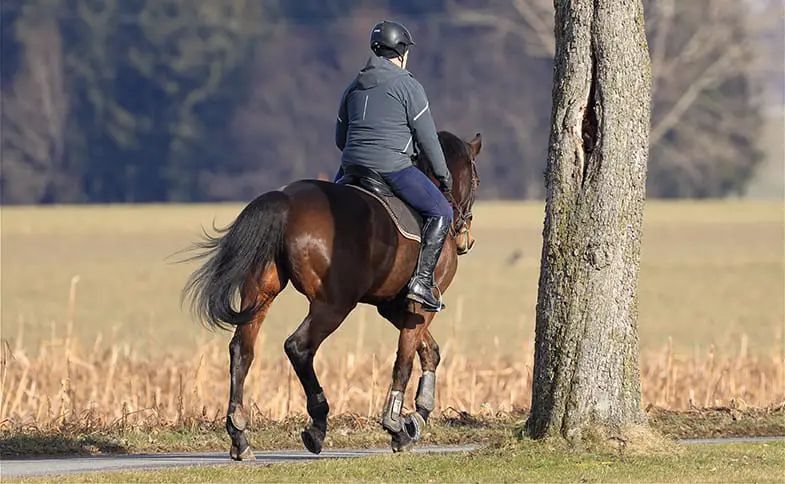 What about meeting other riders?
If you're riding on your own it can be a little nerve-racking when you meet other riders (or dog walkers, hikers, and bikers for that matter) but if you're calm, respectful, and let them know you're there you shouldn't have any problems.
If you need to pass another rider don't just charge past and expect them to move out of your way. Let them know you're approaching and ask them if you're okay to ride past. Their horse may be nervous so informing the rider of your intentions is always a good idea.
Is it better to ride on your own or with others?
Whether you ride on your own or with others is largely down to personal preference and both have their advantages and disadvantages. 
Riding in a group gives you more security if you're nervous, in part because you're not on your own but you can also let the leader control the group (and the pace). You then don't need to worry about where to go or how your horse will behave, you can just follow. Riding in a group also gives you the opportunity to chat with other riders, although you should still pay attention to what you're doing.
If you do choose to ride in a group then the only caveat I would add is to not ride side by side, at least at faster speeds. It might seem like a nice idea to ride and chat with your friends at the same time but horses have a very strong survival instinct that can kick in at higher speeds such as a canter or gallop. This means that they could easily end up racing each other rather than paying attention to your commands.

That said riding on your own in open country can be just as pleasurable, it gives you a chance to enjoy nature and spend quality time with just you and your horse. It also allows you to train your horse at your own pace (and that of your horse), rather than at somebody else's pace.
Don't panic
I know this is probably the dumbest thing I could ever say and that you already know that by panicking and tensing up you're only making things worse for yourself. After all the tenser you get the more nervous and anxious your horse will become but if you can learn to relax and not panic I can guarantee you'll have a better and more enjoyable ride.
As I always think though, it's one thing to say don't panic, but what's more important (and helpful) is to offer tips to help you stop panicking, or at least reduce the amount you do. Everybody's different and responds to things differently but over the years I've found that there are certain things that will help to relax you and stop the panic setting in.
Start in a field
If you have access to a big field or paddock then riding in there can help to get you used to riding in open spaces. Especially if the field is big enough to allow you to ride without going near a fence (typically at least 1000 sq. ft). This will allow you to 'practice' riding in the open while in the safety of an enclosed space.
Focus on your breathing
So often you hear people say that focusing on your breathing will help but when it comes to keeping you calm, reducing your anxiety, and stopping you from panicking it really can help. This works for two reasons, one because you're taking in extra oxygen which will help you to think clearer but also because your heart rate will come down and sync with your breathing. This slower heart rate will automatically help to relax you and put you more at ease. Most smartphones and watches have apps that will help you to do this if you're having trouble focusing on your breathing.
Learn to fall
Nobody wants to fall off a horse and we certainly don't get on a horse expecting to fall off, after all, it doesn't half hurt when you do! That said though, by learning how to fall properly will help you to be prepared if you and your horse do happen to part ways. It will also help to reduce the chances of you being hurt seriously. 
What happens when you and your horse go separate ways? How to safely fall from a horse.
Plan for the worst
Of course, we all want every ride to go well and without any hiccups but in the real world this isn't always possible which is why it's always good to plan for the worst happening. Learning how to fall can help but letting people know when you expect to be back as well as the route you'll take will mean that if something does happen help will be with you soon.
What are the benefits of riding in open spaces?
We all know horseback riding has a huge amount of benefits, both physical and mental, but riding in open spaces can be a lot more beneficial than you might realize, for both you and your horse. To start with the unevenness of the ground means that you'll both need to keep correcting your balance, something that will help to improve your core (as well as your horse's).
| Benefits you'll get from riding in open spaces | Benefits you're horse will get from riding in open spaces | Benefits you'll both get from riding in open spaces |
| --- | --- | --- |
| Boosts confidence | Strengthens tendons & ligaments | Improves core muscles |
| Improves relaxation | Helps improves sure-footedness | Increases your bond |
| You get to enjoy nature | Reduces boredom | |
Benefits of horseback riding in open spaces

---
I hope you found this article helpful. If you did I'd be grateful if you could share it please as it would really help me.
Recommended products 
Over the years I have tried hundreds of different horsey products, from various blankets and halters to different treats. Some I've loved, others I've hated but I thought I'd share with you my top all-time favorite products, the ones I never leave the yard without. I've included links to the products (which are in no particular order) that I really think are great.
Shopping lists
I've also put together a few shopping lists of essential items that I've found helpful over the years. I've broken the lists down into different categories rather than put everything in one massive list 😉