Having owned horses for more years than I like to admit to (just in case I give my age away), and enjoyed a lot of different activities and disciplines the one thing that I come back to time after time is trail riding. I only trail for pleasure but in my opinion, it's one of the best feelings in the world, the breeze on your face as you and your horse explore the area. While trail riding is great fun it's still important to be prepared which is why I thought I'd share with you the five essential saddle accessories you should never leave your yard without.
When trail riding it's a bad idea to weigh your horse down with unnecessary kit that you won't need or probably use. Your horse's comfort should be your number one concern so a good quality saddle pad is a must, closely followed by a seat pad for your comfort! After that a lightweight saddle bag is crucial, otherwise where else are you going to put your first aid kit?
Ask any trail rider and they'll tell you how important a good tough pair of full-length chaps are (especially if you're riding through thick brush or dense woods, but what most people neglect to mention is the crucial accessories you should attach to your saddle while out riding. You don't need to overload your horse with everything except the kitchen sink, after all, trail riding is supposed to be fun for both of you and if your horse struggling with what he's carrying then it's not going to be fun for him. Unless you're planning on camping out overnight you probably only need one small saddle bag with a few items in it so why take more.
When I'm out riding safety is always my number one priority which is why I always carry a first aid kit and snake bite kit (I know we only have the Western and Prairie Rattlesnakes in Idaho but I like to be safe). After that, though I like to turn my attention to comfort, not just for me but for my horse, but that doesn't mean I need to take a lot.
Saddle Pad
While it's true that a proper fitting Western pleasure saddle doesn't really need padding sadly many of us don't have the luxury of a custom saddle or have to use the same saddle for multiple horses. This means that a lot of saddles are a little on the wider side so a pad is essential for narrower horses. I also personally like to use a saddle pad when I'm on a long ride, just to give the horse a little bit of cushioning.
What to look for when buying a saddle pad
These saddle pads can be found in a range of materials all with their own benefits and disadvantages so there's a great deal of personal preference involved, that said if you're not sure what would suit you best the table below should help.
Material
Pros
Cons
Wool Fleece
Very cushioning
Breathable/Evaporative
Machine Washable
Flattens over time
Can be expensive
Not as durable as synthetic
Synthetic Fleece
Durable
Breathable/Evaporative
Machine Washable
Not as cushioning as wool
Often has a wool base
Felt
Gives a lot of padding
Retains its shape well
Cheaper than fleece
Not as breathable as fleece
Neoprene
Easy to maintain
Stays in place
Lightweight
Not breathable
Causes the horse to sweat
Won't mold to your horse
Foam or Gel
Distributes weight evenly
Stays in place
For horses with topline issues
Causes the horse to sweat
Personally, I prefer to use a saddle pad that's 100% wool fleece because it gives a lot of padding, is durable, and is breathable so the sweat can evaporate and help to dissipate the heat. They can also be washed in a washing machine which is always a bonus for me!
My personal choice of saddle pad
As I say I prefer to use a saddle pad made completely of wool which is why I like the All Wool Montana by Southwestern. It's 100% extra fine wool so is comfortable, natural, and will keep your horse cooler. It's also extremely hardwearing, I've had mine for years and with an occasional wash, it looks as good as it did the day I bought it. The only downside to this saddle pad though is that it's 27″ x 27″ which means it's not so good if you prefer a larger saddle pad.
I've hunted around for the best price for the Montana and while you can buy it directly from Southwestern it's actually cheaper on Amazon.
If however, you don't have the budget for 100% wool or you prefer not to use it then you can't go far wrong with the Contoured Felt Saddle Pad by Weaver Leather. At 32″ x 32″, it's slightly bigger than the Montana but because it's wool felt it's a lot cheaper too. Again the best price for the Weaver is on Amazon.
---
Seat Pad
Now that you've sorted out your horse's comfort it's time to think about yours and you can't go far wrong with a good quality seat pad.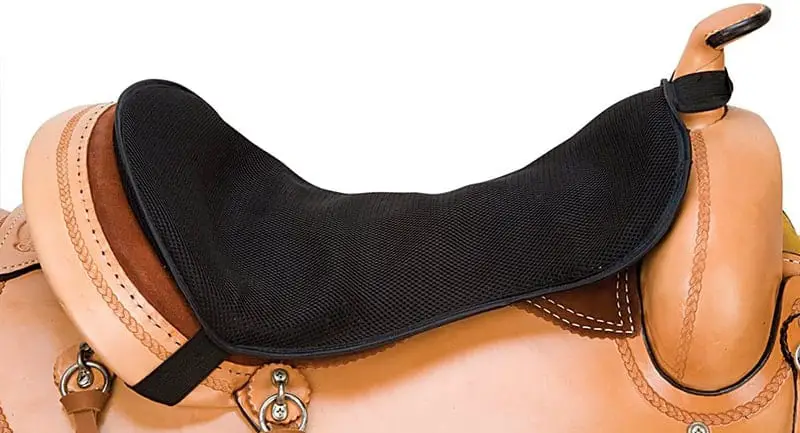 Why is a seat pad so important when trail riding
Even the most comfortable of Western trail saddles will start to become uncomfortable if you spend all day in it which is why I think a seat pad is such a good idea. It'll help to give your seat bones extra cushioning as well as prevent numbness which can make riding unpleasant.
What to look for when buying a seat pad
Before buying a seat pad you need to think about when you're going to be using it, after all, there's no point buying a thick memory foam pad for use in the summer when it'll only make you feel hotter. The ideal pad will be thick enough to give you plenty of padding all day but also breathable so that you won't get too hot.
My personal choice of seat pad
I've tried a number of different seat pads in my time and while I did find the Mocohana Shock Absorbing Memory Foam Cushion to be very comfortable I didn't like the fact that it wasn't very breathable and made me rather hot. My personal favorite is the Western Gel Seat Pad by Weaver Leather. It does slip a tiny little bit but is so unbelievably comfortable and is washable too. Like memory foam it keeps its shape but because it also has a mesh cover you don't get hot. I love it so much that I actually have two, just in case! While many tack shops sell them I find Amazon to be the cheapest.
---
Saddle Bag
If you only take one thing with you (other than your horse of course) when you're out riding it should be a saddle bag. I know I said earlier about traveling light but there are still a handful of things (such as a cell phone, pocket knife, first aid kit, hoof pick, etc) that you really should always carry with you and a saddle bag is the perfect place to put them.
What to look for when buying a saddle bag
A saddle bag is just a general term used to describe any bag that's attached to or hanging from your saddle. There are a few different styles of saddle bag on the market and which one you use will depend, to a large extent, on where you'll be riding and how long you'll be out for.
Bag
Used For
Suitable For
Horn / Pommel Bag
Water
First Aid Kit
Flashlight
All trail rides
Horn / Pommel Pouch
Hoof Pick
Treats
Sunscreen
All trail rides
In-Pad Pouch
Cell Phone
Map
All trail rides 
Cantle Bag
Lightweight sleeping bag
When you're camping out overnight
There is a general rule of thumb that says when it comes to saddle bags smaller is better, the reason for this is that you don't want your horse to carry too much weight, especially not behind the saddle because this will affect his center of gravity. With this in mind, it's always better to put the majority (if not all of it) in front of you.
What you should include in your saddle bag
You don't want to cram your saddle bag full of things you don't need or won't use but there are a few things that you should carry with you.
First aid kit – A small travel kit with a few essential items is enough.
Snake bite kit – Depending on the time of year and where you live.
Cell phone – Hopefully you'll never need one but it could save your life if you do.
Multi-purpose tool – You never know when you'll need to cut any branches or repair any tack.
Whistle – In an emergency you can use it to get attention/help and let people know where you are.
Large trash bag – It can be used as an emergency poncho if you're caught out in the rain but it can also double as a rubbish bag.
Tissues – A small pack of tissues can be used for so many things and doesn't take up much space.
Water – Make sure you have enough for both you and your horse.
Energy food – You don't need to take much, just a few energy bars or gel for you and something for your horse too.
Sunscreen / Lip balm – This is especially important if you're riding during the summer, take a horse safe sunblock and you can use it on your horse too.
Topographical map – This will help you to navigate the terrain better and to avoid areas that aren't horse-friendly.
Hoof pick – You never know when you'll need to remove something from your horse's hoof so should always carry a hoof pick with you. Personally, I carry a foldable one because it saves a little bit of space.
Windup flashlight – If you're out in the dark you'll be grateful you've got a flashlight but using a windup one will save on batteries.
Reflective vest & bands – Like a flashlight, a reflective vest can be really helpful if you're riding at night, especially if you're riding on the road.. You can also place reflective bands around your horse's tail or hocks.
Long leather bootlaces – A couple of extra long leather bootlaces take up virtually no space at all yet can be used for emergency tack repairs or for tying things to the saddle.
My personal choice of saddle bag
I very rarely camp out while riding so don't use a cantle bag, although that said I did buy one a few years ago but don't feel I can recommend one to you. It's another matter when it comes to horn and pommel bags and pouches though. Over the years I've used so many different ones that I feel I can really speak with experience.
In terms of a horn (or pommel) bag, I like the Cashel Quality Deluxe Horn Bag, it's lightweight, strong, and is deceptively big in terms of storage. It can easily hold a decent-sized water bottle as well as your first aid kit and flashlight along with a selection of other items. I especially like the fact that it's insulated so will keep your water cool (or hot if you're taking that instead). 
When it comes to horn pouch I love the TrailMax 500 Pommel Pocket. It's great in all weather conditions (it's waterproof and heat resistant), easy to use, and ideal for smaller items such as your keys, hoof picks, pocket knife, and even a decent-sized pack of tissues. Both the horn bag and punch are very reasonably priced on Amazon.
If, however, you like your kit to match then I'd recommend the TrailMax Original Pommel Combo (again available on Amazon). You get both bags/pouches and, while the bag doesn't have quite as much storage space as the Cashel it's certainly not lacking in space, and they're available in a range of colors.
---
Tapaderos
You might think that tapaderos are simply for decoration and have no trace on a trail ride but I personally think they're essential, especially if you'll be out for many hours. While I don't ride with them all the time I'll never leave the yard without them.
Why are tapaderos so important when trail riding
I don't know about you but when I'm tired I start to relax my legs a little (I know I shouldn't but it's easy to do) and while this can be extremely comfortable it does increase the risk of your feet slipping through the stirrups which is where tapaderos come in. Often called hooded stirrups they cover the front of your stirrups and make it impossible for your feet to slip through. If you're mounting from the ground they can also make it easier to get on the horse.
What to look for when buying tapaderos
Often used for show and parade horses, tapaderos can be highly decorative but when it comes to trail riding the plainer the better. There's no need to choose a pair with elaborate tooling, decoration, or even tassels, especially if you're riding through thick brush that could scratch and damage them.
My personal choice of tapaderos
Plain tapaderos can be difficult to find sometimes but a few years ago I came across Royal King and haven't looked back. Their leather tapadero stirrups are amazing, they're so comfortable and are available in youth, adult, and wide sizes and as an added bonus they're pretty cheap too. I used to buy them on Amazon but recently found them much cheaper on State Line Tack so now buy them there.
---
Foldable Water Bucket
While horses don't drink a huge amount in one go they need to drink between 5 and 15 gallons a day so it's essential you take something with you for them to drink from. If you know there's fresh stream water that's safe to drink you won't need to take a water bucket with you but I personally like to carry one anyway, at least that way I know my horse will be able to drink.
Why are foldable water buckets so important when trail riding
It's important that your horse is able to drink while you're out riding, regardless of what the weather is like, but it can be difficult to get your horse to drink from a water bottle which is why I think it's important to carry a water bucket with you. Of course, carrying a regular bucket with you is impractical and will just irritate your horse (and you) but a foldable one is ideal. 
My personal choice of foldable water buckets
I know it's not been designed with horses in mind but I recently came across a generic 5-gallon bucket on Amazon that is absolutely perfect. It's strong, has reinforced handles, and can easily be folded up enough to fit in your horn or in-pad pouch, the only downside is it's bright blue but if your horse doesn't mind that there's no problem!
---
Further reading
---
I hope you found this article helpful. If you did I'd be grateful if you could share it please as it would really help me.
Recommended products 
Over the years I have tried hundreds of different horsey products, from various blankets and halters to different treats. Some I've loved, others I've hated but I thought I'd share with you my top all-time favorite products, the ones I never leave the yard without. I've included links to the products (which are in no particular order) that I really think are great.
Shopping lists
I've also put together a few shopping lists of essential items that I've found helpful over the years. I've broken the lists down into different categories rather than put everything in one massive list 😉