As a riding instructor I've taught thousands of people to ride, and over that time I've also learned that, as experienced riders, it can be hard for us to remember that we were once beginners. At one point we didn't know our stirrups from our fetlocks or our frogs from our diagonals which is why I decided to write this article.
When you start learning to trot one of the first things your instructor will tell you to do is make sure you're on the right diagonal, but what does that mean? In this article, we'll look at what diagonals are, why they're important, and what you can do if they're wrong.
What are diagonals?
To understand what diagonals are you need to understand how a horse moves when it's trotting, after all the term refers to the movement of the horse's legs.
The trot is a smooth two-beat gait where the horse's legs move in diagonals, for example, the left foreleg and right hind leg move together while the right foreleg and left hind leg will also move in unison. This isn't always so obvious to see when you're looking at a horse, but if you ever watch dressage you'll see it very clearly.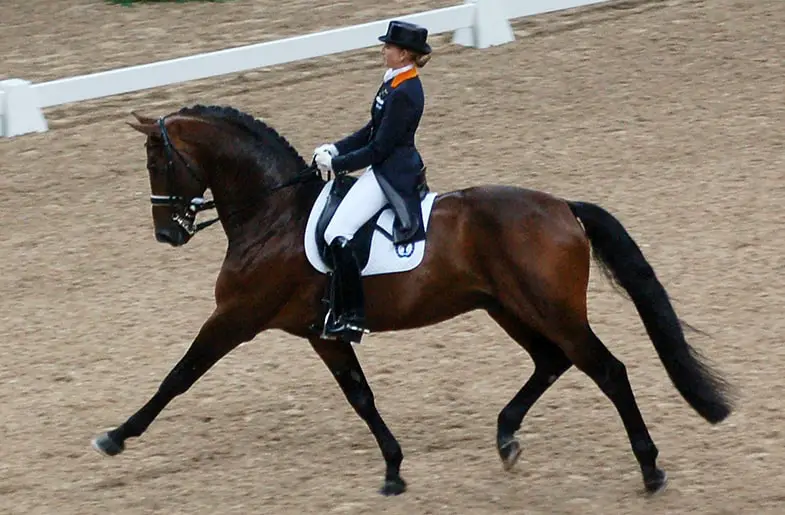 Why is it important to ride on the correct diagonal?
You might think that you can post on any diagonal, especially if you're riding in the open, but it's important for both you and your horse's balance that your post on the correct diagonal. This is due to the muscles that horses use when turning.
The reason for this is due to the way a horse's muscles move when they're turning or going in a circle, their inside muscles (in particular those on their ribcage and back) contract, while the muscles on the outside of their body stretch. While this might seem irrelevant what it means though is that the outside leg will stretch more while the inside leg takes more of the horse's weight (as well as yours).
Likewise, if you're riding in a straight line for a prolonged period of time it's a good idea to change diagonals regularly to ensure all of your horse's muscles get an even workout.
Which diagonal should you post on?
When you're new to horse riding and are just learning to trot it can be very difficult to know when you should post (or rise) and when you should sit but as a general rule if you feel you're bouncing around a lot then you're probably on the wrong diagonal. That said though, how do you know when you're not bouncing around?
The simple answer is that you should always post when the horse's outside leg is forward and sit when their inside leg is forward. If you're not riding in an arena then you should change diagonals regularly and make sure you're rising when the outside is forward if you're turning.
You can also use the phrase 'rise and fall with the leg on the wall' to help you remember when to post and when to sit.
How can you tell if you're on the wrong diagonal?
A lot of riding instructors will tell you to look down to see which of the horse's legs you're posting to but I personally don't think this is a good idea. After all, if you're looking down you can't see where you're going (even if you only glance down) and you will have a tendency to tip forward, even if only a little bit.
Instead, I tell my students to feel when they're on the right diagonal. I know that may sound silly to say, after all, if you're new to riding you probably haven't learned to 'feel' the horse just yet but hear me out first. Of course, you're going to bounce around if you're a new rider but if you feel that you're bouncing way more than you should be then you're probably on the wrong diagonal.
Relaxing and opening your hips can also help you to tell when you're on the wrong diagonal but that's something that will come with experience, and something for another article.
How do you correct the wrong diagonal?
As we've already discovered it's important to make sure you're on the correct diagonal but what do you do if you're on the wrong one? Or if you're riding in an arena and decide to change direction? The answer, which is surprisingly simple, is to sit!
Okay, I admit that is oversimplifying things as there is a little bit more to it than that, although not much more. Instead of posting on one beat and sitting on another, you need to rise, sit for two beats and then rise again. This will mean that you're now posting on the opposite diagonal to the one you were on before.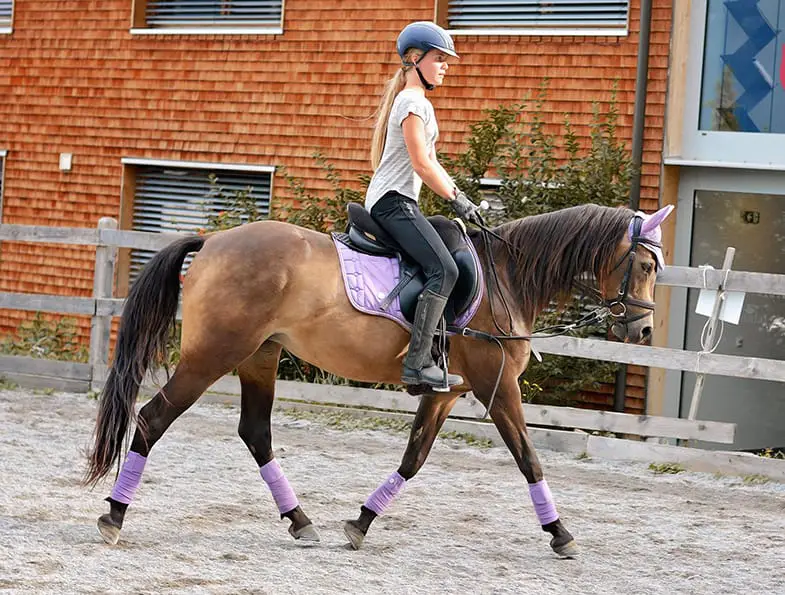 ---
Want to know more about how to trot? Learn how to ride a horse at a trot.
Related questions
What's the purpose of posting the trot?
While posting is more comfortable for the horse over longer distances there are a number of reasons why you might want to post the trot. It's good for warming a horse up (and cooling them down again) and can be helpful in improving their suppleness. It can also be used to help control the tempo of the horse's trot, for example, if he's a little slow you can speed him up by increasing the speed with which you post.
Where does the term posting come from?
In a lot of other countries they refer to posting as rising which is understandable but why do we call it posting though?
While nobody knows the exact origins of the word it's a commonly held belief (and highly plausible one) that it originated from the postmen who worked for the United States Delivery Service. These postmen discovered that if they were to rise out of the saddle it was easier on the horse's back which meant that both horse and rider could travel for longer distances without tiring. And as they were doing all of the posting (both in terms of mail and horse riding) the term stuck which is why we still refer to posting the trot.
---
I hope you found this article helpful. If you did I'd be grateful if you could share it please as it would really help me.
Recommended products 
Over the years I have tried hundreds of different horsey products, from various blankets and halters to different treats. Some I've loved, others I've hated but I thought I'd share with you my top all-time favorite products, the ones I never leave the yard without. I've included links to the products (which are in no particular order) that I really think are great.
Shopping lists
I've also put together a few shopping lists of essential items that I've found helpful over the years. I've broken the lists down into different categories rather than put everything in one massive list 😉