Horse riding can be great fun but if the horse you're riding isn't right for your height and/or your weight then it's not going to be much for the horse at all. Not only that but it could also cause the horse a lot of damage. And likewise, if you ride a horse that is way too big for you then you may find that they're much stronger than you and therefore aren't in full control.
What size horse should I be riding? An ideal-sized horse for any rider would be one that weighs at least 7 times that of the rider. This will mean that the horse can comfortably carry the rider as well as the heaviest of western saddles and trail accessories.
Am I too heavy to ride a horse?
There's still a lot of debate and discussion about how much weight is too much for a horse to carry with some people arguing that the heavier the horse the more weight they can carry. While there is a certain amount of truth in that it's not quite as simple as 'the more that a horse weighs the more they are able to carry'. If you go by that rule then an overweight horse would be able to carry a heavier load just because they were overweight, which is where that argument falls down.
Every breed will be slightly different but the general rule is that a horse can carry between 15% and 20% of their ideal weight. The reason that their ideal weight is used instead of their actual weight is that the horse's bones and their muscle structure are more important than their weight. A horse with stronger bones will be able to carry more weight than a horse of the same weight but with lighter thinner bones will be able to.
That doesn't mean though that if a horse weighs 600Kg (1322lbs) they can carry a rider that's 120Kg (264Kg/19st), what it actually means is that they can carry a maximum of 120Kg (264Kg/19st) but that weight needs to include everything! And when I say everything I literally mean everything, from the tack and any other equipment to the rider. Personally, I always prefer to say the rider shouldn't be more than 15% of the horse's weight, that way even the world's heaviest Western saddle still wouldn't take the weight over the horse's limit.
If you take my rule that a rider shouldn't weigh more than 15% of a horse's ideal weight, then unless you were to weigh in excess of 150Kg (330lbs/23st) you would still be able to ride, albeit a strong sturdy breed such as the Shire.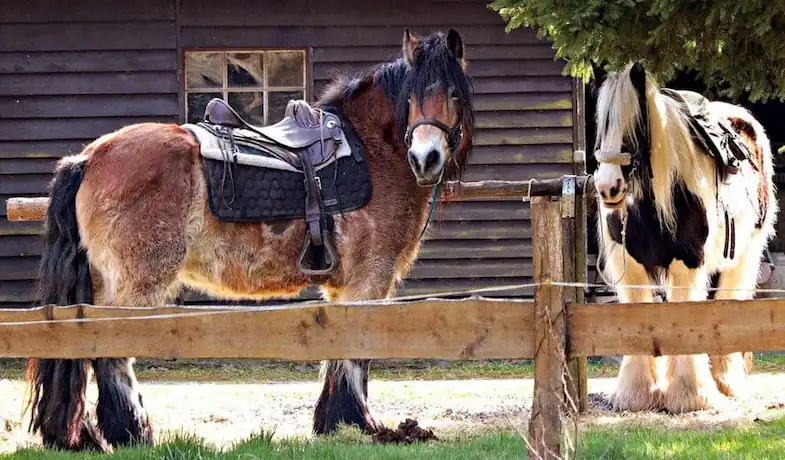 Am I too tall to ride a horse?
You might not think that your height matters at all when it comes to riding but in fact, it makes a lot more difference than you might think. If you're very tall then, depending on the breed, you would probably find that the horse is unbalanced. The taller you are the more offset the horse's center of gravity becomes and therefore the more unbalanced they'll be. This is more dependant on the build of the horse though as stockier more solidly built horses will be able to deal with this better than a lighter more delicate horse could.
While height is important, what's more important is the proportions of the rider. A group of riders may be the same height but have different leg lengths, and vice versa, two different riders may have the same leg length but be very different heights. When seated on a horse the rider's legs, while in the stirrups, shouldn't fall much under the horse's stomach, and nor should they be so tall that the horse becomes top-heavy. Being top-heavy will mean that not only will the rider not be seated properly it also means that the horse will have to adjust their footing to make sure they can still carry their rider without tripping or losing their footing. This isn't natural for the horse.
What size horse should I be riding for my weight?
The ideal size horse for your weight should be one that weighs at least 7 times more than you; that way, the horse can carry you and all of their tack too. It's not really possible to say if you weigh a certain weight then you need a horse that is a particular height. For example, a 16hh Thoroughbred isn't going to be able to carry as much weight as a similar-sized Quarter Horse would be able to.
As a general guide, the table below should help to give you an idea of the weight of horse you would ideally need for your weight.
Rider Weight
(Kg/lbs/St)
Minimum Horse Weight
(Kg/lbs)
32 / 70 / 5
100 / 220
38 / 84 / 6
150 / 330
44 / 98 / 7
200 / 440
50 / 112 / 8
250 / 551
57 / 126 / 9
300 / 661
63 / 140 / 10
350 / 772
70 / 154 / 11
400 / 882
76 / 168 / 12
450 / 992
82 / 182 / 13
500 / 1102
89 / 196 / 14
550 / 1212
95 / 210 / 15
600 / 1322
101 / 224 / 16
650 / 1433
108 / 238 / 17
700 / 1543
114 / 252 / 18
750 / 1653
120 / 266 / 19
800 / 1763
127 / 280 / 20
850 / 1873
133 / 294 / 21
900 / 1984
139 / 308 / 22
950 / 2094
150 / 330 / 23
1000 / 2204
If you're still not sure whether a horse is the right size for you can always use the below equation to work out if they're right. It's important to note though that, because of their bone structure, this will only work for horses and not for ponies.
Calculate which horses can comfortably carry you:

Horse weight + Rider weight + tack weight ÷ Cannon bone (The leg bone between the knee and fetlock or ankle) circumference ÷ 2 = suitability 
This will give you a double-digit number, if that number's below 75 then the horse is perfect, but if it's between 75-80 the horse is okay but if the number is higher than 80 then it's not advisable to ride that particular horse.
What size horse should I be riding for my height?
The only real way to determine if your height is a good match for a horse is to sit on it. I know that may sound like a silly thing to say but while your height is important what's more important is your proportions. You might be very tall but have long legs but a shorter torso and while this might look right, once your feet are in the stirrups properly, it almost certainly won't feel right and if you're not sitting properly you'll unbalance the horse. Rather than your full height what's more important is the measurement of your inseam or inside leg. To get this measurement simply use a tape measure to measure from the floor to the inside top of your leg, this will give you your inseam.
Inseam
(inch / cm)
Minimum Horse Height
(hands / inches / cm)
24 / 61
10 / 40 / 101
26 / 66
10.3 / 41 / 104
28 / 71
11.2 / 45 / 114
30 / 76
12.2 / 49 / 124
32 / 81
13.1 / 52 / 132
34 / 86
14 / 56 / 142
36 / 91
15 / 60 / 152
38 / 96
15.3 / 61 / 155
40 / 101
16.2 / 64 / 162
Summary
Horse riding is great fun and now that you know how to find the right horse for you there's no reason why you shouldn't have many hours of fun in the saddle. There is pretty much a different horse out there for everybody, so what are you waiting for? Enjoy!
Further reading
---
I hope you found this article helpful. If you did I'd be grateful if you could share it please as it would really help me.
Recommended products 
Over the years I have tried hundreds of different horsey products, from various blankets and halters to different treats. Some I've loved, others I've hated but I thought I'd share with you my top all-time favorite products, the ones I never leave the yard without. I've included links to the products (which are in no particular order) that I really think are great.
Shopping lists
I've also put together a few shopping lists of essential items that I've found helpful over the years. I've broken the lists down into different categories rather than put everything in one massive list 😉