If you're thinking about learning to horseback ride then it can be difficult to know what to wear, especially if you're not sure if the sport is right for you. And then of course there's the expense of buying all that new kit, but do you really need to? In this guide, we'll look at what you need to wear for riding and what options you have if you don't want to pay for specialist horseback riding clothing.
Why is it important to have the right attire when horseback riding? Wearing the right clothing and attire when horseback riding will help to keep you comfortable, regulate your temperature, make you a more effective rider, and more importantly help to keep you safe.
We all know that horseback riding can be expensive and while there are a few things that you should invest in the good news is that you don't need to spend a huge amount of money to start with. If, however, you decide you want to compete at a later stage then this is another issue and something we'll cover in a future article.
Why does it matter what you wear when horseback riding?
You might think that what you wear when horseback riding is all about fitting in and looking the part but there's a lot more to it than that. Not only will the right clothing make sure you're comfortable, but it'll also have a bearing on how effective and how safe you are.
The right clothing will help to reduce saddle sores, stop the tack from pinching you, and help to keep you cool (or warm in the winter). Most importantly of all though, wearing the right clothing when horseback riding will go a long way to reducing your chances of falling, and protecting you if you do happen to fall.
Worried you might fall off? How to fall from a horse safely.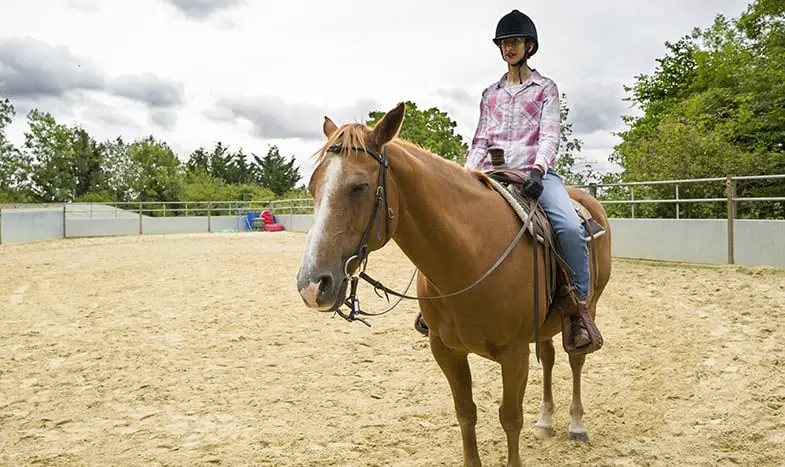 What you NEED to wear when horseback riding
When it comes to horseback riding for pleasure there are only a handful of things you need really, a suitable riding helmet, long pants, boots, and a comfortable shirt or sweater, but what those items look like will be different depending on whether you're riding English or Western.
Helmet
It might not feel very comfortable at first and certainly won't win any fashion award but riding with a helmet is an absolute must, regardless of whether you're having riding lessons, trail riding, riding at home, or competing. I know I'm probably sounding overly dramatic but wearing a riding helmet could literally be the difference between life and death in some cases. Don't believe me? Check out this article on why horseback riding helmets are so important.
Many riding centers will provide helmets if you don't have one but if you can afford it then you really should buy your own. Doing so will mean that it fits you perfectly and that it conforms to the latest ASTM/SEI standards. You can pay more for additional features such as air vents and a washable lining, but one thing I would recommend is to go for a helmet that offers multi-directional impact protection. Known as MIPS, this uses the same technology as motorbike helmets and offers more all round protection.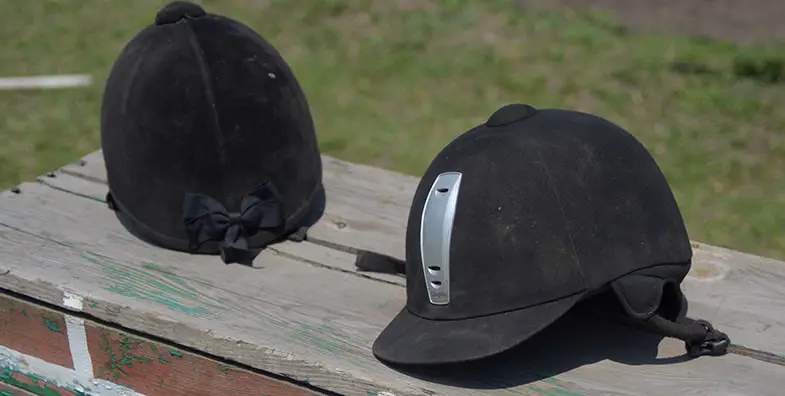 Pants
When you first start horseback riding you don't need to worry too much about what sort of pants you're wearing, as long as they cover your legs, aren't so tight that you can't move properly, and aren't so baggy that they'll get caught in the stirrups.
Ideally, you should also opt for pants that don't have an inner seam as this will rub against your leg and cause a great deal of soreness, especially if you're riding with English tack. If you're riding with Western tack then jeans are perfect (and the norm).
Boots
It doesn't matter if you ride in long or short boots but whatever you choose it should have a small heel that's between 1 and 1 1/2 inches.  This is important because it will prevent your feet from slipping through the stirrups if you happen to fall.
Ideally, you should also have a flat but slightly rough sole to your footwear too, this will help you to keep your foot still in the stirrup while you're learning.
Still not sure what you can ride in? A guide to the correct horseback riding footwear.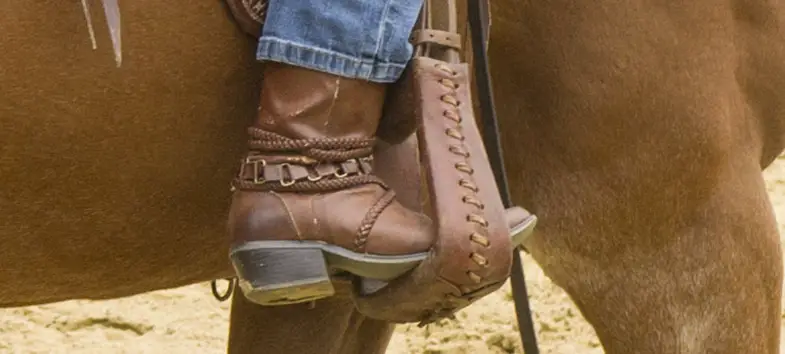 Shirt or sweater
Generally, it's up to you what sort of shirt or sweater you wear but it shouldn't restrict your movement, nor should it be so baggy that it gets caught in the tack. Plain shirts are the best as decorative attachments and embellishments (such as tassels and fringes) can easily get caught.
While it's not crucial, wearing a long-sleeved shirt when horseback riding will help to protect your arms a little bit if you do happen to fall.
What else should I wear when horseback riding?
While the items mentioned above are absolute musts there are also some items of clothing (and accessories) that are a good idea but not essential.
Body protector
A body protector tends to be something people consider after they're been riding for a little while but investing in (or even borrowing) one when you first start learning is a good idea. Not only will it help to protect you and your vital organs if you fall but it will also help to boost your confidence.
The biggest fear most people have about horseback riding is falling off and hurting themselves, but if you're wearing a body protector then you'll greatly reduce the chances of being injured. With this in mind it helps to take that worry out of your mind and allows you to relax more in the saddle.
Not sure if a body protector is worth it? Why it's a good idea to wear one when riding.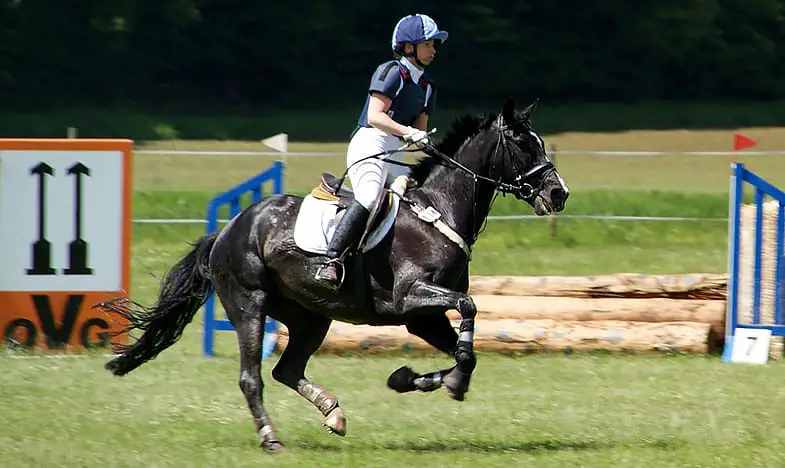 Jacket
Whether a jacket is essential or not will depend on when and where you're riding. After all, if you're riding in a Californian summer then there's no way you'd want a coat, but if you're in Montana and it's the middle of winter you would consider leaving home without it.
With this in mind, I'd say that a jacket is an option but if you do choose to wear one you should make sure it allows your arms to move freely and won't get tangled up in the tack. In terms of material, it doesn't really matter although you should avoid anything that makes a lot of noise. A 'loud' jacket could scare a nervous horse so is best not to wear.
Gloves
Some people aren't keen on wearing gloves when horseback riding but I personally wouldn't ride without them. They'll keep your hands warm in the winter and cool in the summer but more importantly, they give you a better grip on the reins.
The reason I always wear them when horseback riding is because they help to protect my hands if the horse pulls a lot, something I've learned from experience!
Not sure if gloves are right for you? The pros and cons of wearing gloves when riding.
Crop or whip
I know that this isn't an essential item and that you don't actually wear it but some riding schools insist all riders (including first-timers) carry a whip or crop with them, even if they don't use it. If you do choose to ride with one though it's important that you keep your hands still and aren't accidentally using it on the horse.
Not sure about riding with a crop? The pros and cons of using a crop when riding.
What not to wear when horseback riding
We always talk about what you must, or at least should, wear when horseback riding but we often skip over what you should never wear. Which, if you ask me, is a little bit silly after all when we say that your boots should have a heel it's easy to think that riding in stilettos is okay. With this in mind, I thought it made sense to list a few things that you absolutely must avoid when horseback riding.
Big or pointed heels
Footwear with chains
Sneakers
Flip flops
Open-toed shoes
Barefeet
Shorts
Skirts
Dresses
Fashion jewelry such as bangles
Takehome message
When it comes to what to wear when horseback riding there are some things, such as a riding helmet, that are absolute essentials but other items like pants and boots don't need specialist clothing when you're first getting into the sport. As long as they're similar to regular horseback riding attire then they're okay.
While comfort is definitely a consideration when deciding what to wear for your lessons, the most important factor is safety, and shouldn't be compromised.
---
I hope you found this article helpful. If you did I'd be grateful if you could share it please as it would really help me.
Recommended products 
Over the years I have tried hundreds of different horsey products, from various blankets and halters to different treats. Some I've loved, others I've hated but I thought I'd share with you my top all-time favorite products, the ones I never leave the yard without. I've included links to the products (which are in no particular order) that I really think are great.
Shopping lists
I've also put together a few shopping lists of essential items that I've found helpful over the years. I've broken the lists down into different categories rather than put everything in one massive list 😉