Finding a boarding yard (or moving yards) can be one of the most stressful aspects of horse ownership, akin to your kid first starting daycare. Yet it doesn't need to be this stressful, with a little bit of planning and understanding you'll find the perfect yard in no time.
How do you find the right boarding yard? The three most important things to look for in a potential boarding yard are safety, happy horses, and facilities. Is the yard safe, do the horses (and owners) appear to be happy, and does the yard have all of the facilities you want?
Finding the right boarding yard for your horse can, to some extent, make or break your ownership experience. After all, if you board your horse at a yard with like-minded people you'll enjoy every visit, whereas if you don't get on with the other owners you'll start to look for reasons to not go. The same can be said for how well run a yard is too, if you're confident in the ability of the yard then you'll sleep better at night and be able to focus on spending quality time with your horse.
Not all yards are equal and while you may be lucky enough to stumble across your perfect yard straightaway this, in my experience, is an exception. Instead, take your time, do your homework and you'll have many happy years at YOUR perfect yard.
1) List what is important for you and your horse
Boarding yards are as different and varied as our horses so why would you not put the same effort into finding the right yard and start by making a list of what you're looking for? It might sound like a pointless exercise and not worth doing but it will help save you a lot of time in the short term, and a lot of possible heartache in the long run.
You should make a list of all of the features, amenities, and services you'd like your ideal boarding yard to have and that you feel are important to you and your horse's comfort and happiness. Of course, the safety of your horse is of paramount importance and should be a given at every yard so doesn't need to be listed but if you're a pleasure rider your needs and requirements will be very different from that of a competitive rider which is why the list can be so useful.
If you're not sure what your needs are, or those of your horse, you might find speaking to your trainer or vet helpful. They'll be able to give you some advice and help you to establish what you should be looking for. 
As I say everybody is different and every horse has different needs but some things to consider when making your list might be:
Does your horse prefer to be outside with other horses or are they happier in a stall on their own?
How does your horse feel about non-horsey animals? Do they like cats, are they nervous around dogs?
What are your priorities as a rider? Are you looking for a laidback yard or a highly competitive one?
Are you looking for a yard that specialises in a particular discipline?
Do you want to have a secure place to leave your tack?
Do you have a trailer that you'd like to park at the yard?
As part of that list, you should also include any riding facilities that you feel are important, for example, if you enjoy pleasure riding then trails will be more beneficial to you than a jumping ring. Likewise, if you regularly show your horse a dedicated washing and grooming area would be advantageous.
Another thing that is often overlooked is the demographic of the yard, while many yards have a range of people some are more child-oriented with others being mainly adult-focused. Consider this when making your list, do you really want to be the only adult in a yard mainly comprising of kids?
Once you've got your list you should divide it into two separate lists, one that you consider essential must-haves and one that are added bonuses but not crucial. This will help you to quickly decide if a particular yard is worth visiting or if you can count it out immediately.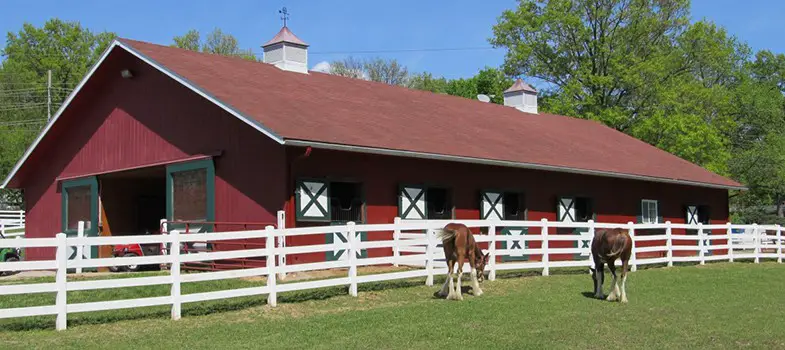 2) What level of boarding do you need?
There's a wide range of different boarding options available and not all yards will be able to provide every option but it's important to know what level of board you're looking for before shortlisting any yards. The type of board you opt for will depend on a number of facts such as your budget, how much time you have, and whether or not you're able to do any of the work yourself.
For a detailed look at the different boarding options available, you should read the article I wrote recently on the subject, but as a brief summary the most popular options are:
Self-care
With self-care board, you are essentially renting a stall and access to a pasture but have to do all of the work yourself. Being the cheapest of all options, it's great for owners that are on a budget but that have time to visit their horse a few times every day.
Pasture board
As the name suggests your horse will be kept at grass and won't have access to a stall, although they will be able to share a shelter when they want to get out of the sun or rain. Most yards will expect you to care for your horse yourself but this isn't always the case. One downside to pasture board though is that it's not always available all year round.
Partial board
Probably the most popular option, partial board is perfect if you don't have the time to care for your horse completely but still want to be involved. Every yard will offer different services but generally, they will deal with the day-to-day care of your horse but you'll be in charge of grooming and exercising them.
Full board
The most expensive boarding option, full board means that the yard is in charge of every aspect of your horse's care and exercise. While it's not for everybody it can be the perfect choice if you're looking for a trainer to work with your competition horse.
Custom board
While not every yard will offer this, it will give you the chance to pick and choose the exact services you and your horse will need (and want). For example, you might want your horse to be turned out during the week but stalled at the weekends, or you might prefer your horse to be exercised for you but like to clean the stall yourself (okay so this might be unlikely but you never know!).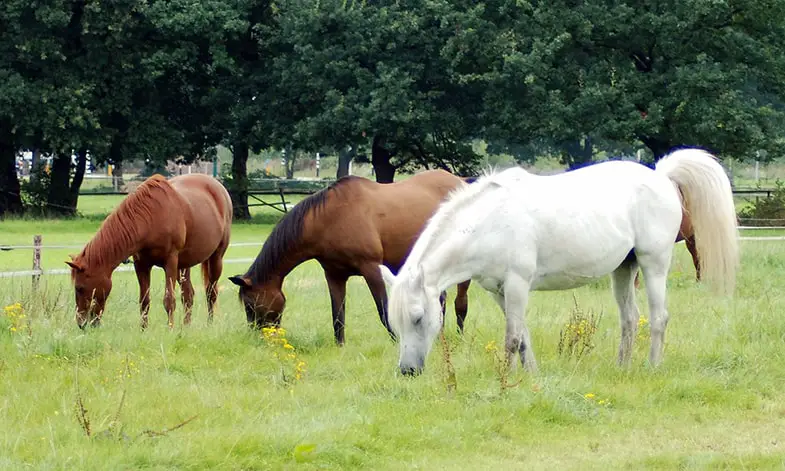 3) What are your riding goals and requirements?
While you might not think your riding goals will play any role in the type of yard you look for, especially if you're a casual / pleasure rider but it can have a bigger impact than you might realize. After all, if you compete at an intermediate level or higher then a yard open to all disciplines probably isn't going to be the one for you.
With this in mind, it's worth taking the time to decide what is going to be helpful to you in realizing your goals.
Advanced competition
A yard that specializes in your chosen discipline with professional, like-minded, trainers is going to be better for you than one that offers a range of training in different disciplines. A high-competition yard will also have the facilities to help you better accomplish your goals. 
Novice competition
While a highly competition-oriented yard might not be quite right for you, you'll certainly benefit from one that does have the facilities to help you improve. Yards like this can often be closer to showgrounds and may even organize local events where you can compete and meet like-minded riders.
Pleasure (casual)
If all you want to do with your horse is have fun then the facilities and discipline of the yard aren't going to be so important. In this case, you'll be better off looking for a yard that has a similar approach to horses to you. Both you and your horse will have a more enjoyable experience and you'll make a ton of friends too.
4) Establish your maximum budget
How much you're able to pay for the board will have an impact on where you're able to keep your horse so it's crucial to establish the maximum you're able to pay, without fail, every month. You don't need to spend all of your budget but at least you know how much you can afford. 
Being honest about how much you can really afford now will save you a lot of trouble later down the road; not only is it embarrassing asking for more time to pay the board but in most states, the yard is legally allowed to sell your horse in order to settle any debts you owe. They can put a claim on the horse (known as a lien) until you've settled the debt, but in some cases are allowed to sell the horse to recover any monies owed.
Once you've established your budget you can begin looking for yards that offer as many of your 'must-haves' as possible for your budget. It's important to keep in mind though that the advertised cost and the real cost aren't always the same thing. Many yards will charge extra for things you might consider to be essential, such as unlimited hay or turnout and blanket changing). 
The cost of boarding can vary drastically from state to state and even from one city to another but as a rough guide, the average cost of boarding a horse will range from $350 to $400 a month. This is for partial board though, with no added extras.
5) Ask other people for recommendations 
While it's easy to find a large list of yards in many local equestrian publications, not every yard will advertise so it's always a good idea to ask people if they can recommend any yards. This can have an added bonus of weeding out some of the not-so-good ones, after all, nobody is going to endorse a yard that they've had a bad experience with.
Veterinarians, farriers, and even tack shops can be helpful at finding hidden gems, as can speaking to other horse owners at local shows and events. You can also ask online but in my opinion, this may not necessarily be that fruitful, while most people are helpful there are always some who use it as an excuse to vent their frustrations or personal grievances and it doesn't always mean that the yards they say are bad really are.
6) How long does it take you to get to the yard?
If the yard is literally just down the road from you then it doesn't really matter how long it takes you to get there but if it's not then you should consider what the traveling time might be at various times of the day. You should also make a note of what the roads are like, after all a short journey on main roads may not take long at off-peak times but could easily take much longer during busier times of the day.
You might not think this really matters but if you've got to spend a long time driving then it could well eat into the time you spend with your horse, especially after a busy day when you're tired. It's also good to know how long it might take you to get to the yard in an emergency.
You can easily work out travel times by driving to suitable yards or by using Google maps (or other route planners) to plan a route for you. While this might not be completely accurate it'll give you an idea of how long various routes might take. Don't just plan one route though, make sure you do this to and from every place you're likely to travel from, ie work, home, gym, etc. Doing this will really help to finalize your shortlist.
7) Visit your shortlist
Now that you've got your shortlist together it's time to start calling around, arranging to visit them, and speak to the owners/managers. Ideally, it's better to visit unannounced but this isn't always possible to be prepared to make an appointment. You should always visit a yard with an open mind, regardless of what you may or may not have heard before. Give them a chance to demonstrate to you what the yard is like and what it can offer you and your horse.
Personally, I like to visit a prospective yard with a friend (as they say two heads are better than one and they might notice something I'd missed) but this is down to personal preference so don't worry if you'd prefer to go on your own.
Be prepared to ask questions and don't be afraid of making notes, if the owners/managers aren't happy for you to do that then that particular yard isn't for you and you should walk away. You should tailor the questions to your needs and requirements but some of the 'standard' questions you might want to ask are:
Is there one person in charge of the daily horse care or multiple people and is there a backup?
Can you easily get hold of somebody if there are any problems?
What's the security like, does somebody live onsite or are they close by?
What's included in the boarding fee, are there any extras that you need to pay for?
Can you use your own instructor, farrier, veterinarian, etc?
How much storage space does each boarder have, is it secure?
Who supplies the bedding, feed, hay and supplements?
How are new horses introduced, is there a quarantine program, do they need a health certificate?
What does turnout mean when the ground is muddy or if the weather is really hot?
Is there space to park (and leave) a trailer?
Is there a set turnout schedule or is it tailored to every horse and their needs?
Is the horse's weight monitored and their diet adjusted if their weight changes too much?
8) Ask for a tour of the whole yard 
While you're visiting a yard ask if you can have a tour of the whole place including all of the facilities and outbuildings as well as the pasture. Some yards will allow you to do this on your own while others will accompany you but you should be looking out for a few things in particular.
How do the other horses look?
If they look happy this is a good indication that the yard is well managed and the horses are properly cared for. There will always be a few horses that may look unhappy but this is normal as they may be under the weather, the most important thing is that the majority of the horses look happy.
It might sound daft, and you might feel silly doing so, but try and have a look at the hooves of the other horses too. If most of the horses have healthy-looking hooves that are in good condition then it's a sign there's a proper farriery program in place.
What are the barns and stalls like?
The barns should be clean, dry, and well ventilated while the stalls should have level floors and smooth walls that are free of splinters and nails. If the floors have rubber mats you should look to see if they're fitted properly, poorly fitted mats could prove a tripping hazard for your horse (as well as for you).
While you're in the barn take a deep breath through your nose, is there a strong smell of ammonia? If there is it's a sure sign that it's not that clean (despite how it might look) or that it doesn't have sufficient ventilation. It doesn't necessarily mean the yard is unsuitable but you should certainly question the manager about it.
Look at the size of the stalls, are they big enough for your horse? As a rough guide, a stall should be at least 12 x 12 feet, although the bigger the horse the more space they'll need. This article will help you to know how what size stall your horse needs.
Do the pastures look well maintained and suitable?
You might not be able to walk around and look at all of the fencing, especially if it's a big yard, but does it look secure and in a good state of repair? What's the other side of the fence, if a horse was to escape would they be safe there or could it be dangerous for them?
The pastures themselves should have enough sheltering for all of the horses and should be relatively free of toxic plants. While the manure might not be picked up every day and an excessive amount indicates it's not done very often, or at all.
If you're visiting the yard in the spring, summer, or fall you should ask about how they deal with the rain in the winter. Is there suitable drainage, does it get excessively muddy, or is there a lot of standing water?
Are the arenas well maintained?
The condition of the arenas, particularly the indoor ones, is often overlooked but it's worth taking the time to have a look at them. You should especially pay attention to what the flooring is like and if it's suitable for your horse. If the footing isn't very good (or is too thin) the repetitive impact sustained from jumping or traveling at faster paces can lead to limb damage.
Is the yard, and store rooms, secure?
Security is an important issue these days whether we like it or not so it's worth taking the time to investigate how secure the yard and all of the storerooms are. They should be secure from would-be thieves but the feed room (or the bins inside at least) should also be rodent-proof. The tack room should be lockable, ideally with individual secure spaces inside, although this isn't essential.
All of the parameter fences should be double fenced and well maintained with all gates leading onto public areas locked. Check this article out for a more detailed look at some of the security features you should expect to see.
What happens in an emergency?
If there was a fire, flood, hurricane, or another natural disaster what's the procedure for getting all of the horses to safety? Are there enough fire extinguishers, meeting point signs, is there a clear escape strategy and does everybody know what to do in these circumstances? Hopefully, this is something that will never be put to the test but it's always better to be safe rather than sorry.
Are the owners/managers horsey people?
You'd expect them to be riders or at least involved with horses in some way (other than owning or managing a boarding yard) but it's worth checking. While it might not seem important, if they're not horsey-minded it may lead to unintentional shortcuts being taken. Not because they mean to but because they don't fully understand the needs of a horse. I know you probably think this doesn't happen but sadly I know from experience it does. I had a friend who boarded her Appendix Quarter Horse at a yard close to where she worked and while everything was good for a long time it all changed while she was away on vacation for a couple of weeks. At some point during that time, her horse hurt his left knee but nobody noticed, and what would have been a minor injury to sort out turned into a fully infected leg that many months to completely heal with a lot of stall rest (which is never a good thing for reiner). Thankfully they've moved yards now and the horse is back to full strength (and speed).
9) Make sure you both have a contract
Once you've found the right yard and are happy with what they provide and what they expect from you it's time to sign a contract. 
You may have found the perfect yard and don't think you need a contract but things can and do change (riding goals change, personal situation change, injuries occur, personality clashes, yard owners sell, etc) but with a contract, it'll be clearly set out what your responsibilities are as well as those of the yard.
A basic contract should state how much money you should pay and what you're getting for that fee as well as what is expected from both parties. Most yards will happily sign a contract (many will even insist on it) but if your yard won't sign it then walk away, no matter how good you think the yard is. Any decent, reputable yard will never object to signing a reasonable contract.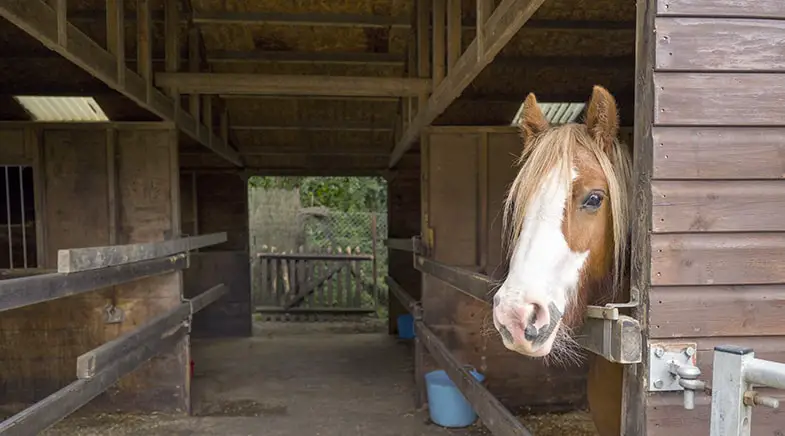 Further reading
---
I hope you found this article helpful. If you did I'd be grateful if you could share it please as it would really help me.
Recommended products 
Over the years I have tried hundreds of different horsey products, from various blankets and halters to different treats. Some I've loved, others I've hated but I thought I'd share with you my top all-time favorite products, the ones I never leave the yard without. I've included links to the products (which are in no particular order) that I really think are great.
Shopping lists
I've also put together a few shopping lists of essential items that I've found helpful over the years. I've broken the lists down into different categories rather than put everything in one massive list 😉