It's a sad fact of modern life that one of the things you need to consider when owning a horse is security, especially if your horse is stabled away from your home. More and more people are installing some kind of CCTV at their barn but in an ever-growing and evolving market, it can be difficult to know which is the best option for you.
Is it better to have a security camera with or without a data connection?
If you're after a camera that will allow you to look at the footage any time, even if you're in another country, then the best option for you is a camera with a data connection. This will allow the camera to send you an alert when it detects movement but will also allow it to upload the footage it's recorded to a remote server where it's stored securely. You can then view that footage any time you want to, or even view the camera live. The drawback to this is that you need to have either a wifi connection or a cellular data plan.
If, however, you don't have a connection or don't want to use it then you can use a camera that allows you to store the footage on an SD card. This means that you won't be able to remotely view anything the camera has recorded but at the same time, you won't have to worry about any possible fees that you may incur with a 'connected' camera.
If you don't like the idea of an SD card or want to have multiple cameras then the best option for you is a wireless security camera system with a wifi network video recorder (or NVR). This is a complete multi-camera solution that allows multiple cameras to 'talk' to the recorder. The NVR is then connected to a TV or monitor, allowing for 24 hours monitoring.  
I don't have wifi but still want to use a security camera, is this possible?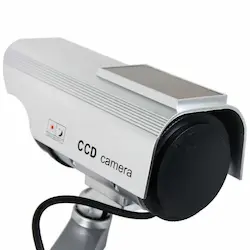 While many security cameras offer you the ability to upload and view the camera's footage online this can sometimes be a problem, especially if you don't have wifi at your barn. If your barn doesn't have a phone line or its own power source then a camera with a wifi connection isn't going to be right for you. Instead, you'll need either a cellular security camera, one that allows you to store the footage to an SD card, or a wireless system that allows you to wireless connect to a recorder.
A cellular security camera means that instead of using your broadband to upload the footage it's using your cellular data instead. Most network providers offer a data-only SIM card that won't allow you to make calls but will give you the ability to upload the footage instead. Prices range from company to company but can be as low as $10 a month for 2GB.
If you don't want to go down the path of uploading footage then you'll need a camera that allows you to store the footage on an SD card. You can then plug the card into most computers and view anything the camera has captured like that.
If you want to have a number of cameras then a wireless security camera system is probably going to be the best solution for you. It enables you to set up any number of cameras and have them all connect to a recorder that you can then connect to a TV or monitor.
Am I able to use a security camera even if I don't have network coverage?
If your barn doesn't have a wifi connection or is in a network blackspot where it's just not possible to get a phone signal don't worry you can use a security camera that allows you to save the footage to an SD card that can later be plugged into a computer to allow you to view the footage. Or if you want to use multiple cameras then you can use a wireless security camera system, this works with its own wireless network video recorder to record and store the footage.
These options both work in exactly the same way as a camera that uses a data connection except for the fact that you're not uploading any footage.
I have a slow internet connection can I still use a security camera?
This should only be a problem if you want to view the camera live, otherwise, unless you have dial-up speeds your connection speed shouldn't matter. Most security cameras only need a 2 Mbps connection which these days isn't a fast speed at all. If you are worried about your connection speed though then you could opt for either a wireless security camera system or a camera that allows for the use of an SD card, both of these options are explained above.
I'm worried that a security camera will use up all of my data or bandwidth.
It's a common misconception that a camera uses a lot of data because it's always on. The camera is actually on standby rather than being permanently on. Instead, when it detects motion is switches on, uploads what it's recorded and sends you an alert then goes back to standby. It actually uses very little data and most cameras can be set up to only be active during certain hours, ie at night or while you're not there.
My barn doesn't have electricity but I want to use a security camera, is this a problem?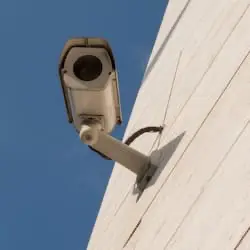 If your barn doesn't have its own power supply and you don't have an option to install it don't worry you can still use security cameras. In the past, if you were completely off-grid then there was no way you could use a camera but things have come a long way since then. Batteries have gotten a lot smaller and much more powerful and solar power is so good these days that it can even power entire homes!
If you decide to go down the route of a battery-operated camera then you'll ideally want to use rechargeable batteries (you'll end up spending a small fortune otherwise). With this in mind, it's worth thinking about how you're going to keep the batteries charged. You could, of course, take them home with you and charge them there but then you'll need to have a spare set to use while you're charging that set. The other option is to charge them in situ, I know you haven't got any power so can't do this. Well, that's where solar power comes in! Many companies offer a solar charger for their cameras so that the battery remains fully topped up.
Instead of batteries there are a handful of security cameras that are powered solely by solar panels. These are often supplied with a long cable that plugs into the camera so you can place the camera where you want it and then move the solar panel to a location where it'll get the most amount of sunlight.
Some of you may say that solar is no good because it won't work at nighttime or when the sun isn't very bright but in fact, neither of these are true. Despite being promoted as solar-powered, most cameras also have a reserve battery that will keep it working during the night when there's no sun. The technology behind solar power has come on a great deal since its inception back in 1876 and no longer needs bright sunlight – just daylight is enough to keep them working.
Do I need a night vision security camera?
Unless you have security lighting you'll probably want to use cameras that have night vision built-in. This is a relatively common feature of cameras these days. The footage isn't as clear as it is during the day but it is clear enough to see anything that happens.
Conclusion
In recent years security camera systems have dropped drastically in price and are now widely available to everybody regardless of your budget. With this in mind having security cameras set up can give you peace of mind and in some cases will even result in lower insurance premiums. The presence of cameras can also act as a deterrent to possible thieves.
---
I hope you found this article helpful. If you did I'd be grateful if you could share it please as it would really help me.
Recommended products 
Over the years I have tried hundreds of different horsey products, from various blankets and halters to different treats. Some I've loved, others I've hated but I thought I'd share with you my top all-time favorite products, the ones I never leave the yard without. I've included links to the products (which are in no particular order) that I really think are great.
Shopping lists
I've also put together a few shopping lists of essential items that I've found helpful over the years. I've broken the lists down into different categories rather than put everything in one massive list 😉