We all know that horses are expensive to keep, even if you're not spending a fortune purchasing one. The trouble with this though is that saying they're expensive doesn't help you to plan your budget before you take the plunge and buy your very first horse which is why I decided to write this article. While the cost of owning a horse can vary from country to country, most online resources tend to focus on the cost if you're in the States (or if not the UK) which is helpful if you live there but not so helpful if you're keeping a horse in Canada.
How much does a horse cost in Canada? Typically a horse will cost you around $5000 to buy with an average monthly cost of $900, depending on where you keep your horse. Then on top of that, you'll also have to pay for riding lessons. Of course, there is a wide range of factors that can affect this price.
Having spoken to dozens of horse owners around Canada I've compiled a helpful table of the average monthly costs associated with all aspects of horse ownership (all costs are in Canadian dollars). 
| | | | | | | | | | |
| --- | --- | --- | --- | --- | --- | --- | --- | --- | --- |
| Area | Board | Feed | Hay | Lessons | Farrier | Worming | Vaccines | Teeth | Vet |
| Atlantic Region | $175 (outdoor) $450 (indoor) | $55 | | $160 ($40 per hour) | $20* (trim) $12* (shoes) | $4* | $6* | $17* (float) | $40* (vet wellness plan) |
| Central Canada | $340 (outside) $600 (indoor) | $60 | $25 | $160 ($40 per hour) | $20 – $32* (trim) | $5* | $5* | $15* (float) | $40* (vet wellness plan) |
| Praire Provinces | $100 (outside) $220 (indoor) | $70 | | $200 ($50 per hour) | $23* (trim) | $4* | $5* | $20* (check up & float) | $40* (vet wellness plan) |
| West Coast | $500 (outdoor) $900 (indoor) | $50 | $90 | $240 ($60 per hour) | $5* (trim) $12* (shoes) | $3* | $8* | $17* (float) | $40* (vet wellness plan) |
| Northern Territories | $150 (outdoor) $320 (indoor) | $100 | $28 | $180 ($45 per hour) | $15* (trim) $13* (shoes) | $4* | $5* | $15* (float) | $40* (vet wellness plan) |
*Annual cost divided by twelve to give the average cost per month.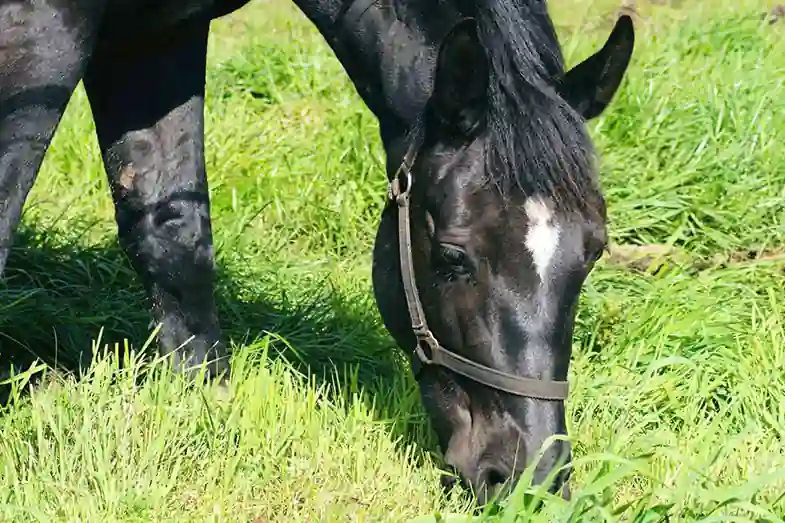 How much does it cost to buy a horse in Canada?
The cost of actually buying a horse can vary wildly depending on a number of factors, not least the horse's age, pedigree, and potential, etc. With this in mind, it's a good idea to ask yourself what sort of horse you really need rather than the type of horse you want. That might sound like a strange way of thinking but I'm sure that there's a big difference between what we think of as our dream horse and those that meet our needs. After all, you might dream of owning a world-class competition horse with a bloodline as long as your arm but will only be riding for pleasure.
The age of a horse should also be taken into account and will make a difference to the price. For example, a young horse may be a cheaper option but do you really have the experience (or the time) to train them properly? This is one of the reasons why horses that have already been trained are much for expensive. This is why there's such a big range in pricing and why it's practically impossible to say exactly how much you should be paying for a horse. 
Another often overlooked factor in the cost of a horse is where you buy it from, if you're buying a horse from the meat sales then chances are you won't pay more than a few hundred dollars. On the other hand, if you're buying a horse from a champion trainer then that figure could very quickly grow to hundreds of thousands instead.
The most honest way of answering the question of how much it costs to buy a horse in Canada is to say that the average pleasure horse will cost around $3000 to $5000 although anything above $10,000 and you're heading into the territory of professional riders. It's also worth noting that, like most things, the cost of buying a horse does fluctuate and in a world affected by a pandemic the cost of buying a horse (as with all animals) has increased, just as the demand has. 
If you're looking to buy a horse but have a limited budget then why not check out one of these cheaper breeds. You may also find these articles on what you need to know when buying a horse as well as what the best time of year to buy a horse is helpful.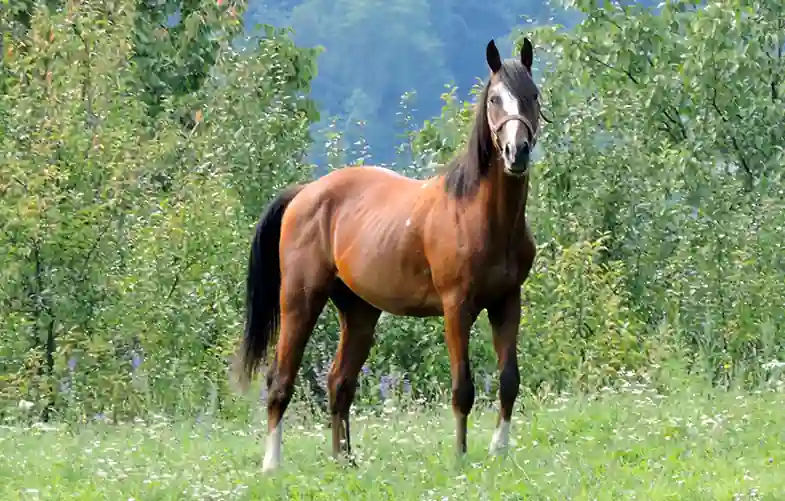 How much does it cost to board a horse in Canada?
If you're not lucky enough to be able to keep a horse in your backyard or on land you already own then you'll have to factor boarding costs into your monthly budget. The costs of boarding a horse can vary from around $100 a month for purely pasture board to an eye-watering $3000 for full livery with everything included. The services provided as well as where you live will make a big difference to the cost you actually pay. For example, if you live in Vancouver you'll be hard pushed to find anything for less than $1000, whereas if you live in the remote town of Tahsis then it's not unheard of to pay around $150 a month.
I spoke to a large number of owners (in a variety of different areas and with different boarding 'add ons') about how much they spend, purely on board, each month to get a rough idea of how much it would cost to keep a single horse at board in Canada and was surprised at the results. On average it costs $428.76 a month to board a single horse in Canada, it also turned out that the most popular type of board was partial board with 4 hour turnout, hay, feed, bedding, and access to both indoor and outdoor arenas.
I recently wrote a couple of articles on the different types of boarding options and what to look out for that you might find helpful.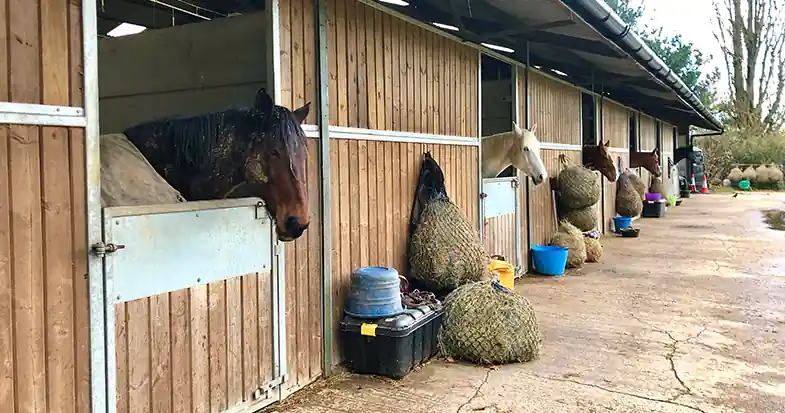 How much does it cost to feed a horse in Canada?
The amount you spend on horse feed every month will, to a large extent depend on what you're feeding your horse, how much hay he has as well as the time of year. For example, during the summer when the pasture has more nutrients, you won't be feeding your horse as much hay as you would during the winter. Likewise, during the competition season, you may well give your horse a higher energy food than you would do while he's at rest. Then of course there are the treats that you know your horse just can't live without.
The cost of some feeds may also change throughout the year as they're in higher demand. Like all plants, horse feed, is at the mercy of the weather and this can have a massive impact on the cost too, for example in a good season hay can cost as little as $5 a bale but when the crop has been bad this can increase to $15 or more.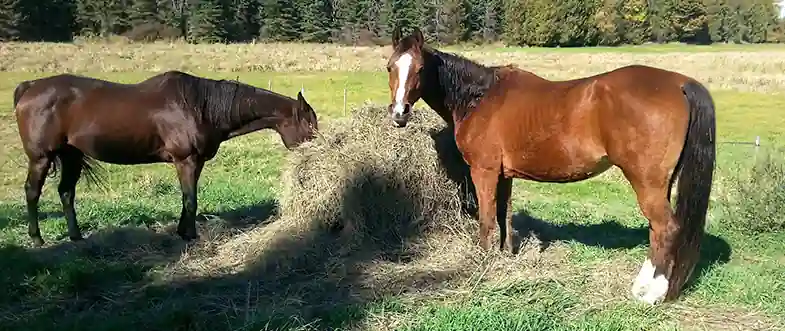 Where you live can also play a role in the cost of some foodstuffs (especially forage). Hay, for example, tends to be cheaper in rural areas because it's generally produced locally. In urban the hay needs to be shipped in from farms which will increase the price, even if only slightly.
Having spoken to a large number of feed merchants I was able to put together the table below which should help to give you an idea of the minimum and maximum costs of the most popular foodstuffs.
| | | |
| --- | --- | --- |
| Feed | Lowest Cost | Highest Cost |
| Grain | $20 | $100 |
| Oats | $15 | $30 |
| Barley | $15 | $25 |
| Beet | $15 | $25 |
| Performance feed | $10 | $50 |
| Complete feed | $17 | $41 |
| Alfalfa | $10 | $25 |
| Hay (60lb bale) | $5 | $20 |
| Hay (1500lb round) | $60 | $200 |
| Hay cubes | $10 | $15 |
In addition to your horse's regular feed, you may need to top it up with supplements or balancers which, unlike some foodstuffs don't fluctuate so much in price. Different horses need different supplements and each company will charge a different price for their product but, depending on what your horse needs, you can pay somewhere between $30 and $130 a month for supplements. When it comes to balancers though you can, on average, expect to pay around $25 to $60 a month.
If you're not sure what you should be feeding your horse then you may find this article on what, and how much, you should be feeding useful.
How much does bedding cost for a horse in Canada?
Depending on how your board your horse and what's included in the price you may not need to worry about how much bedding costs but if not then you'll need to factor this into your budget as well, but it's not as simple as saying bedding will cost xxx amount a month.
The monthly cost of your horse's bedding will depend on what type of bedding you use, how thick it's laid and how often it's changed as well as how frequently your horse uses the stall, and of course whether or not they use the bedding or if they go in the field.
Which bedding you opt for will, to some extent, be determined by whether or not your horse has any respiratory issues as well as your personal preference. That said though the table below will give you an idea of how much some bedding options might cost for the 'average' horse (using a 12 x 12 stall with 4 or 5 hours turn out) each month.
If your horse has respiratory issues or you want to know how absorbent various bedding materials are then you should check out this article on the best bedding for horses with allergies.
| | |
| --- | --- |
| Bedding | Cost |
| Cardboard | $100 |
| Shredded Paper | $85 |
| Wood Flakes | $120 |
| Wood Pellets | $145 |
| Wood Shavings | $170 |
| Wood Chip/Fibre | $105 |
| Sawdust | $250 |
| Hemp | $125 |
| Peat Moss | $40 |
| Flax | $20 |
| Miscanthus Straw | $95 |
| Oil Seed Rape Straw | $80 |
| Treated Straw | $80 |
| Straw | $30 |
| Shells | $80 |
| Sand | $4 |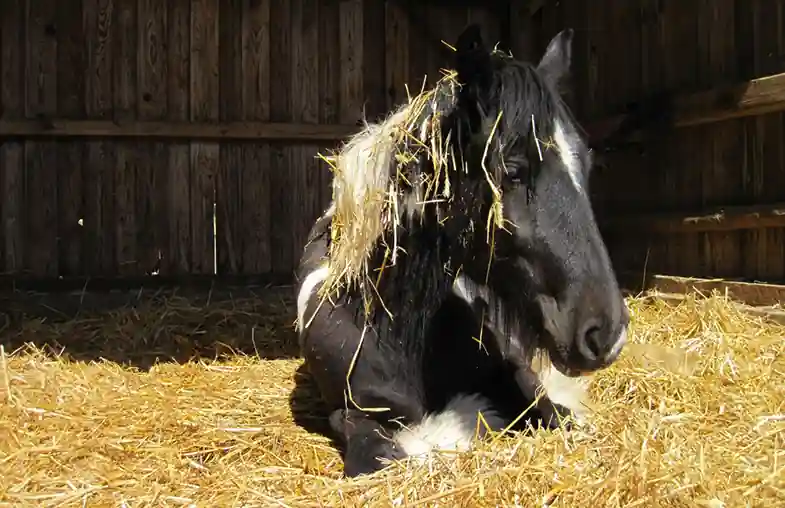 How much does it cost to buy tack for a horse in Canada?
With the birth of online shopping, the price of buying tack has thankfully evened out a lot so that it no longer matters whereabouts in the country you live (although some companies may charge a high shipping fee for more remote regions). Local tack stores may charge a bit more because not only do they have the overheads of a physical store they also have the knowledge and expertise that online stores rarely have.
With this in mind, you can expect to pay around $1000 for a good quality Western set (bridle, reins, bit, saddle, and tie-down) and in the region of $500 for a similar English set. Halters and lead lines are another matter altogether and can cost anywhere from $9 for a rope halter to $50 for a leather halter while lead ropes can be picked up for anywhere between $10 and $20. These prices are, however, just a guide and you can pay much, much more.
A lot of first-time owners think they need to buy every single item of tack straightaway but thankfully that's not the case. This article tells you everything you need to be able to ride your horse.
How much do horse riding lessons cost in Canada?
The cost of riding lessons is pretty consistent throughout the country with a half-hour lesson costing approximately $25 and an hour's lesson generally being between $40 and $45. If, however, you're a more advanced rider and require a specialist trainer then the lessons are likely to be more expensive and can go up to $100, although it's rare for them to exceed $75 a session.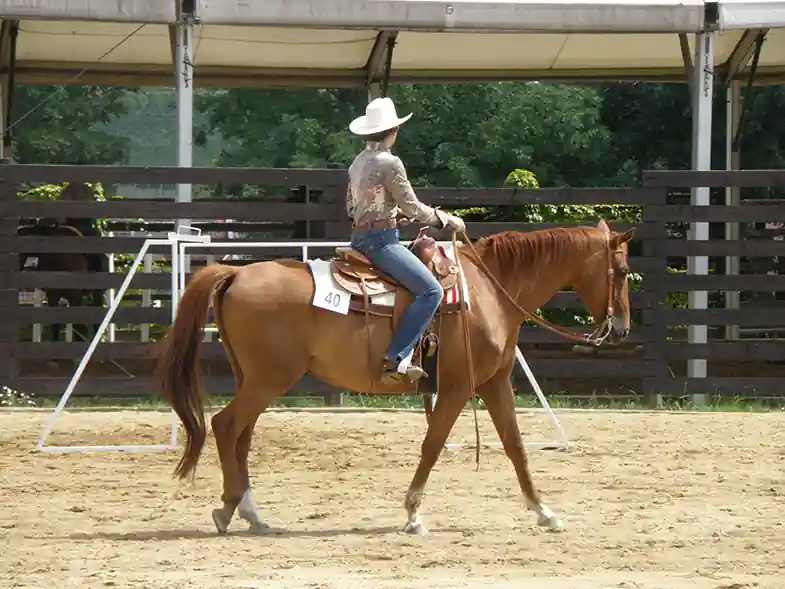 What are the veterinary and farrier costs in Canada?
In an ideal world, our horses would never suffer any illness, injury, or other ailments that might require medical treatment but back in the real world, there are enough reasons why horses may need some sort of medical treatment, from colic to laminitis and from injuries to toxicities. All of these are before you even start to think about regular checkups, vaccines, and even teeth floating.
Many veterinarians offer an equine wellness plan where you pay a fixed price that covers a range of services such as vaccines, floats, Coggins tests, and examinations. The price of these can vary depending on the package you opt for but in general, will cost somewhere between $350 and $650 per year.
Some insurance policies will also cover emergencies such as colic and injuries but if you don't have medical cover (or a wellness plan) then you'll be looking at around $2500 for simple colic surgery or over $9000 if the colic is more serious. In terms of vaccines, you'll be paying somewhere between $50 and $100 every year, whereas floating teeth will cost approximately $200.
Then of course there's the call-out fee if you're not able to transport the horse to the surgery yourself. To some extent, these will be determined by how far from the vet you live, most vets will charge a mileage fee which is normally around $3.50 to $4 per km.
When it comes to your horse's feet though you might think that you can save some money by allowing your horse to go barefoot but, while this may be the best option for some horses, you should still have a farrier check and trim your horse's hooves regularly. Some horses have better, healthier hooves than others but as a rule, you should have their feet trimmed every 5 to 8 weeks. The cost for this is pretty consistent and will be somewhere between £35 and $45 each time.
If your horse wears shoes then you'll have to have them replaced regularly too, and like trimming, this should be done every 5 to 8 weeks. The cost will vary depending on whether your horse wears shoes on all feet or just two but will generally be in the region of $100 to $125 for two feet.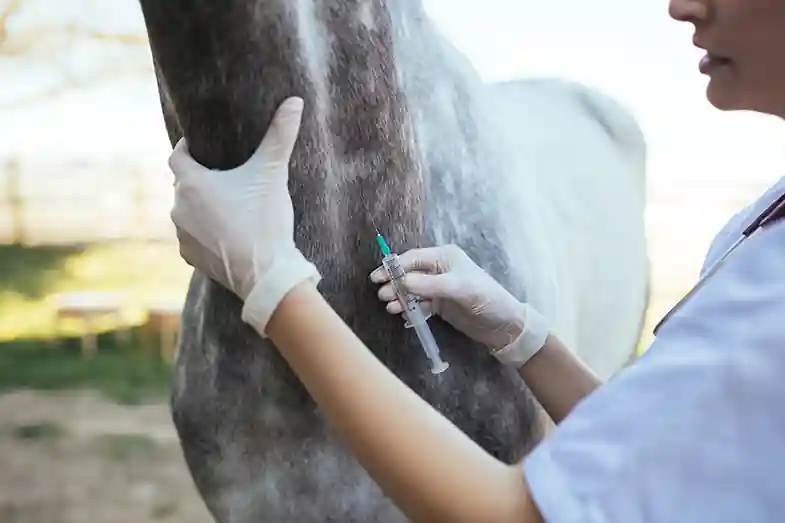 How much does it cost to insure a horse in Canada?
Insurance is one of those things that not every horse owner chooses to have but, in my mind at least, it's a no-brainer really. For less than $750 you can insure an average 'pleasure' horse which could save you literally thousands of dollars if your horse ever needed to have an operation or needed to stay in hospital.
There is a range of different types of cover depending on what you want to insure your horse against and all of these will affect the price. I've spoken to a number of different insurance companies to get quotes for a fictitious 8 year old Appaloosa mare that was bought for $5500 and only used for pleasure riding. These quotes averaged out at approximately $275 a year for major medical cover that provided the horse with $5000 of emergency colic cover and an additional $5000 of medical cover. If you want to know more about the different types of insurance available then you'll find this article I wrote helpful.
What about the miscellaneous horse costs in Canada?
As a horse owner, there will be an endless list of things that you hadn't taken into account or budgeted for, things such as first aid kits, fly spray, and possibly even blankets. This is why many owners will have a reserve fund that they can dip into if they need to replace anything in their first aid kit or if their horse manages to destroy their current blanket (and believe me most horses will at least try to do that).
It doesn't seem to matter how much money you put aside for miscellaneous things it will, to some extent, never be enough. Personally, I try to keep around $100 a month for such eventualities. I may not always need to use it but if not I keep it there so that when I need to buy a new bridle or have to pay a bill I wasn't expecting.
From my experience the main things you'll need to use this for are things like fly spray, masks, bandages, first aid kit top-ups, and even the odd summer sheet.
For fly spray I tend to spend around $100 a year on the stuff but, depending on how bad the fly problem is where you live, this may change. My horses seem to like destroying their fly masks so I have to buy around 5 a year per horse. They can cost anywhere from $10 for a basic mask to over $70 for a UV mask that covers the whole of the face.
With regards to my first aid kit I normally only need to replace one or two items at a time so the cost normally ranges from a few bucks to a few dollars every time I replace something. While I like to think the same can be said for bandages (both medical and exercise) I know that they have the ability to magically disappear so I probably buy new ones more often than I need to. That said though they tend to range from just over $2 to around $15 for a set so it's not too expensive.
While you probably won't need to replace anything in your grooming kit that often you will still need to buy shampoo, tail detangle, hoof oil, and sponges regularly. Of course, you should be using hoof oil regularly but how often you need to buy new shampoos and detangles will depend on how often you wash your horse. This is likely to be more frequent during the summer than it is during the winter though.
As far as my horses are concerned at least, treats are the most important thing I can ever spend my money on and I normally spend around $20 to $30 a month on them. This however is a personal choice and not everybody feeds their horses treats. If you're not sure whether or not you should be feeding treats you might find this recent article I wrote helpful. 
Thinking of buying your first horse?
Then check out my new digital book that's packed with advice and tips for new or aspiring owners.
Click here to bag your copy now!
Further reading
---
I hope you found this article helpful. If you did I'd be grateful if you could share it please as it would really help me.
Recommended products 
Over the years I have tried hundreds of different horsey products, from various blankets and halters to different treats. Some I've loved, others I've hated but I thought I'd share with you my top all-time favorite products, the ones I never leave the yard without. I've included links to the products (which are in no particular order) that I really think are great.
Shopping lists
I've also put together a few shopping lists of essential items that I've found helpful over the years. I've broken the lists down into different categories rather than put everything in one massive list 😉