If you're thinking about buying a horse then you'll know how important it is to properly budget for them but, I'm sure you'll also be aware of just how difficult it can be to find out exactly what that cost can be. Most people will tell you they're expensive, but that doesn't really answer the question which is why I decided to write this article. A quick internet search on horse costs will give you an idea of the costs if you live in the States, but if you're living in the UK that's not going to be overly helpful.
How much does a horse cost in the UK? The average cost of buying a horse is around £4,000 (while a pony will typically cost in the region of £3,000) with monthly livery costs averaging £2,600 for a full livery or £125 for grazing only, with feeding cost being around £100. Then there's the cost of riding lessons which is approximately £30 an hour.
Having spoken to a large number of horse owners across the UK I've put together a helpful table of the average monthly costs associated with owning a horse. The costs (which are in pound sterling) cover all aspects of horse ownership (except for buying the horse) and include major medical insurance.
Area
Board
Feed
Lessons
Farrier
Dewormer
Vaccines
Insurance
Southern England
£190 DIY
(inc. hay & straw)
£75
£160
(£40/hour)
£25 (trim)
£3*
£3*
£40
London
(inc. Home Counties)
£200
(outside)
£640
(indoor)
£120
£180
(£45/hour)


£4*
£3.50*
£60
Midlands
£310
(indoor)
£55
£120
(£30/hour)
£30 (trim)
£3*
£3*
£25
Northern England
£190
(outside)
£450
(indoor)
£80
£100
(£25/hour)
£90 (shoes)
£3*
£2.90*
£30
Northern Ireland
£392
(indoor)


£92
(£23/hour)


£3*
£3*
£25
Scotland
£134
(outside)
£525
(indoor)


£120
(£30/hour)


£3*
£2.90*
£25
Wales
£200
(outside)£480
(indoor)


£128
(£32/hour)


£3*
£3*
£30
*Annual cost divided by twelve to give the average cost per month.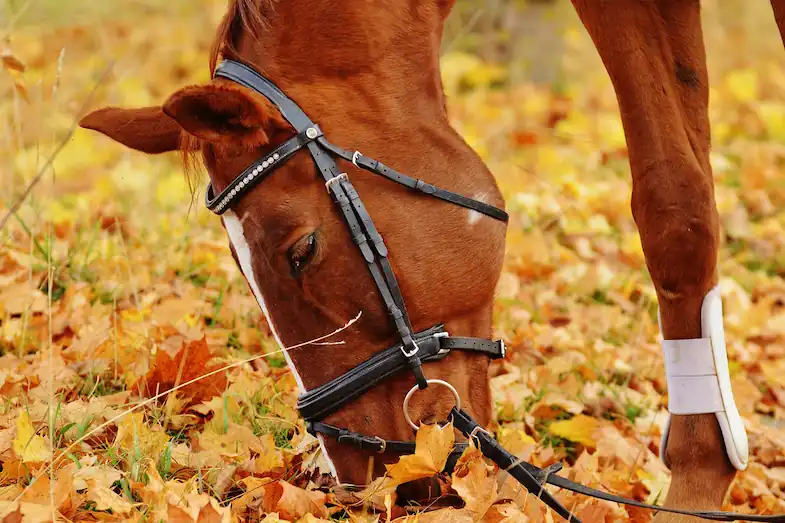 How much does it cost to buy a horse in the UK?
Many people think that buying a horse is the most expensive cost associated with horse ownership but, while the cost can be pretty high it can also be extremely low, and even zero in some cases. There are so many different factors that can all play a part in how much a horse costs. A horse's pedigree, age, training, temperament, and even their potential can all make a difference to the asking price.
When thinking about buying a horse it's better to consider what sort of horse you actually need rather than want. I know this might sound like an odd thing to say but many of us, especially if we're first-time owners, think about owning a dream horse that's 100% in every way, has a bloodline as long as time itself, and is a world-class competition horse. Yet if we're being honest we may never compete and only hack out at weekends, and horses that are perfect for this are a lot cheaper.
You might be surprised but a horse's age and level of training are probably the two most important factors in determining their cost. Young and old horses are often the cheapest to buy but while it's for two very different reasons it essentially boils down to their usefulness. A young horse may have decades of rideability ahead of it but an experienced trainer (and time) is needed to make the horse rideable in the first place. Old horses on the other hand, if they haven't already been retired, only have a very short amount of time where they can be ridden. This is why 'middle-aged' horses are often the most expensive.
If you're after a particular breed then its popularity (and availability) will also affect the price with popular breeds such as the Irish Sport Horse rarely costing less than £2,500 (and sometimes costing over £30,000). Cobs, on the other hand, can be bought for as little as £500.
Where you buy the horse from will also have a bearing on the final cost of the horse, if you rehome a horse from a charity such as the RSPCA then you could pay as little as £50 while buying one directly from a competition trainer could cost thousands instead.
The best way to answer the question of how much it costs to buy a horse in the UK is to say that the average riding and/or hacking horse will cost around £4,000 while the cost of a child-friendly pony would be in the region of £3,000 but if you're looking for a competition horse then you should expect to pay at least £20,000. This cost only includes the cost of purchasing the horse and nothing else, while it's not compulsory you should also consider having a pre-purchase vet check which can cost between £75 and £250 depending on how in-depth it is. If you don't have access to a horsebox then you will also need to factor this into the cost too.
If you're thinking about buying a horse but are on a limited budget then you should check out this article on the 8 cheapest breeds. You may also find these articles on what to look for when buying a horse as well as when the best time of year to buy a horse is helpful.
How much are horse livery costs in the UK?
Unless you're lucky enough to be able to keep a horse in your back garden or have your own land then you'll quickly find that livery costs are the single biggest regular cost any horse owner will have, the actual cost can vary a lot from area to area but also depending what type of board you choose. Having spoken to a huge number of livery yards, the cheapest price I've found is £90 a month for grass livery while the most expensive is just over £1,300 a month for full competition livery. This is country-wide though, regionally the price can often vary too with London and the Home Counties typically being the most expensive.
While it's all very well and good speaking to yards to get an idea of costs, it's the owners that know the real cost of keeping a horse as many of them have tailored their livery to suit their needs, with different add-ons and additional benefits. With this in mind, I spoke to a large number of owners to find out how much they were actually sending on livery costs and was surprised by what I found out. Typically though the cost of keeping a single horse at a livery yard in the UK is £248.11 a month. It also turns out that partial livery is the most popular with hay, feed, and bedding being included. Most horses on partial livery spend the whole of the summer outside but with access to a stable if necessary.
I recently wrote a couple of articles on the different livery options available and what to look out for that you might find helpful.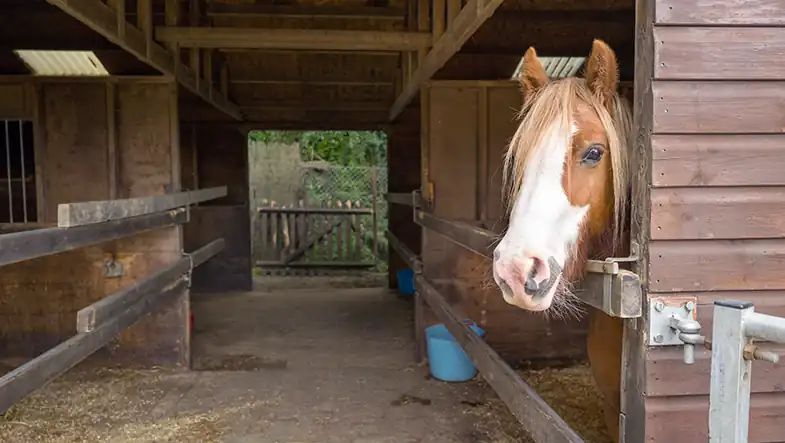 How much does it cost to feed a horse in the UK?
Unlike the livery fees which don't tend to change much, the amount you spend on horse feed every month will fluctuate a little depending on the time of year as well as what the weather has been like although this is more true of forage than it is of concentrates. The reason for this is largely due to how well the crop has grown that season. During a good season, hay can cost as little as £20 for a bale, whereas if the crop has been bad then it's not uncommon to spend £60 instead.
If you live in a rural area you'll probably find that forage is slightly cheaper too. This is largely because its more likely to have been grown locally, whereas in urban areas it needs to be shipped in from farms which will have a negative impact on the price.
When it comes to your horse's regular feed the cost of this will mainly be dependant on whether or not you buy ready mixed complete food or if you buy the ingredients loose and mix it yourself. As a general rule complete food is more expensive because it contains everything your horse needs (as well as plenty of things he doesn't) in one quick to serve formula. This makes it quicker but the downside is that it won't be tailor-made for your horse. Buying each ingredient separately and then giving your horse exactly what he needs is by far the cheapest way but it also has the advantage of allowing you to give your horse what he needs without giving him anything he doesn't need.
I've spoken to a large number of feed merchants and was able to put together the table below which should help to give you an idea of the minimum and maximum costs (for this year) of the most popular foodstuffs.
| Feed | Lowest Cost | Highest Cost |
| --- | --- | --- |
| Grain | £9 | £25 |
| Oats | £10 | £20 |
| Barley | £10 | £14 |
| Beet | £6 | £15 |
| Performance feed | £16 | £37 |
| Complete feed | £12 | £30 |
| Alfalfa | £9 | £16 |
| Hay (20kg bale) | £19 | £24 |
| Hay (4ft round) | £35 | £43 |
| Hay cubes | £13 | £20 |
As well as your horse's regular feed he may also need supplements or balancers which generally don't fluctuate in price. All horses are different and will need different supplements and different companies charge different prices but depending on your horse's needs you can pay somewhere between £30 and £100 for supplements. Balancers, on the other hand, will cost around £10 to £50.
If you're not sure how much feed your horse needs then you may find this article on how much you should be feeding useful.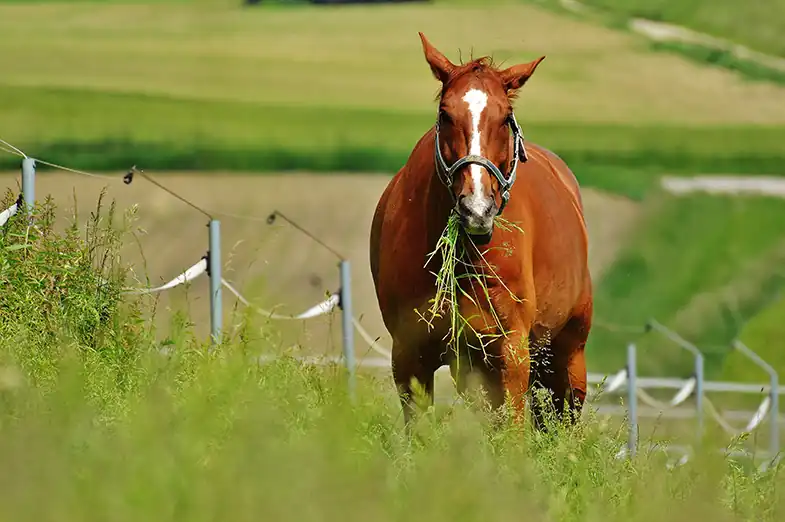 How much does bedding cost for a horse in the UK?
Unless your horse is kept at grass (or if bedding is included with your livery) you'll also need to include it in your monthly budget but the cost of this is dependent on a few facts such as what type of bedding you use, how thick it's laid, how often your horse uses it as well as how regularly you change it.
Whether or not your horse has rubber matting in his stable will also make a difference to the price, sometimes cutting the monthly cost in half. The trouble with rubber matting though is that, while it will reduce your costs in the long run it can be expensive to install with mats costing around £35 each, and with the average stable (12 x 12) typically needing 6 mats this means you're looking at over £200 to install them.
| Type of Bedding | Cost |
| --- | --- |
| Cardboard | £9 per bale |
| Shredded Paper | £13 per bale |
| Wood Flakes | £9 per bale |
| Wood Pellets | £6.50 per bag |
| Wood Shavings | £7 per bale |
| Wood Chip/Fibre | £5 per bale |
| Sawdust | £10 per bag |
| Hemp | £15 per bale |
| Flax | £9 per bag |
| Miscanthus Straw | £9.60 per bale |
| Oil Seed Rape Straw | £9.50 per bale |
| Treated Straw | £17 per bale |
| Straw | £4 per bale |
| Shells | £8 per bag |
| Rubber Matting | £35 per mat |
| Sand | £60 per metric ton |
How much does it cost to buy tack for a horse in the UK?
An increase in internet shopping has meant that the price of tack is now more or less the same regardless of where you buy it, although some companies may charge more for delivering to remote areas. Local, independent saddleries on the other hand may charge more because they have all of the costs associated with bricks and mortar stores. They also have the knowledge, expertise, and time to make sure you find exactly what you need.
Taking this into account you can expect to pay around £300 for a full set of tack (including saddle, bridle, reins, bit, and martingale) or if you're after Western tack approximately £900. Headcollars can range from £5 for a synthetic head collar to £110 for a leather one. Lead ropes typically cost between £4 and £90 depending on the material. These prices are only a guide and you can very easily pay way more.
If you're a new horse owner you may think that you need to buy everything your horse needs (or might need) immediately but that's not the case. This article tells you everything you need to be able to ride your horse.
How much do horse riding lessons cost in the UK?
The cost of a riding lesson is pretty much the same throughout the country with a half-hour group lesson costing around £25 and an hour-long group lesson being roughly £30. If you'd prefer private lessons then these can be anywhere between £50 for half an hour or £100 for an hour. Specialist lessons (such as jumping lessons) will cost more and can cost up to £130 an hour.
Read more: Are group or private lessons better?
Some riding centers may also charge you for hiring riding equipment if you've forgotten your own, but these are normally only a nominal amount, such as £4 for boots or body protectors or £6 for riding helmets.
What are the vet and farrier costs in the UK?
We all like to think that our horses are perfectly healthy and won't hurt themselves but unfortunately, this is far from the truth for many of us. Even if your horse never suffers from any ailments such as colic or gastric ulcers, or never injures themselves they'll still need regular checkups, vaccines, and dental checks.
Some vets offer an equine health plan that, for a fixed fee, will cover a range of services such as vaccines, examinations, floats, etc. These plans will vary depending on how extensive they are but they normally cost between £150 and £250 a year.
If your horse is insured you may find that your policy will cover the cost of some vet fees but it's rare that it'll cover the price of vaccines which usually cost around £35. Then of course there's the vet's call-out fee which is normally £35 but can be more, depending on how far you live from the surgery.
I found that most horse owners try to put £100 aside every year for vet bills but while they can exceed that in a typical year vet costs average £35 to £50 a month.
Even if your horse is barefooted you'll still need to pay for their feet to be trimmed every six or so weeks which can cost around £25 to £40 with an additional £10 call-out fee if you live outside of your farrier's normal area. If, however, your horse does need shoes you're looking at around £60 to £95 for a full set. Emergency callouts (such as for a thrown shoe), as well as weekend visits, often have an additional callout fee of £40.
Read more: Do horses really need shoes?
When it comes to having your horse's teeth checked you're looking at spending somewhere between £50 and £80 every six months. While this may seem like a lot it does include a full checkup (under sedation if necessary) as well as floating. 
In terms of worming most owners pay anything from £5 to £20 per treatment, depending on the active ingredients although this doesn't include an egg count which is approximately £9.50.
How much does it cost to insure a horse in the UK?
While it's not mandatory it's always advisable to have at least the basic level of cover for your horse. This would help with some of the unexpected vet bills you could incur if your horse was ill or had a serious bout of colic. The cost of this can vary drastically depending on the age of your horse, what you use them for as well as their medical history, but for an 'average' 15 year old horse with a clean bill of health that's only ridden for pleasure you could expect to pay as little at £20 a month.
In 2002 a court ruling stated that owners are responsible for any damage their horse causes, regardless of what or how the damage was caused. This means that you should also have public liability (sometimes called third-party) insurance but the cheapest way of doing this is by becoming a gold member with the British Horse Society. This will give you up to £30,000,000 public liability cover and costs £7 a month for adults and £5.25 for under 21s.
If you want to know more about the different types of cover for horses then you should read this article I wrote explaining how horse insurance works.
What about the miscellaneous horse costs in the UK?
Ask any horse owner and they'll tell you there's an endless list of things that you didn't even think about or budget for, things such as grooming supplies, treats, and even tack or rug repairs. This is why it's always a good idea to have a reserve fund that you can use whenever you need to replace or repair something, or when you have to pay a bill you weren't expecting.
How much money you put aside will depend on your total budget and how much you have leftover each month but most owners aim to keep between £50 and £100 a month to cover the unexpected. While this may not be needed every month letting it build up will help when there's a really big expense.
Buying products such as sponges, microfibre cloths and even nappies (to use as poultices) at your local Poundworld will often be a lot cheaper than buying specialist 'horse' items. If you want some more money saving tips then you should check out my recent article on household essentials.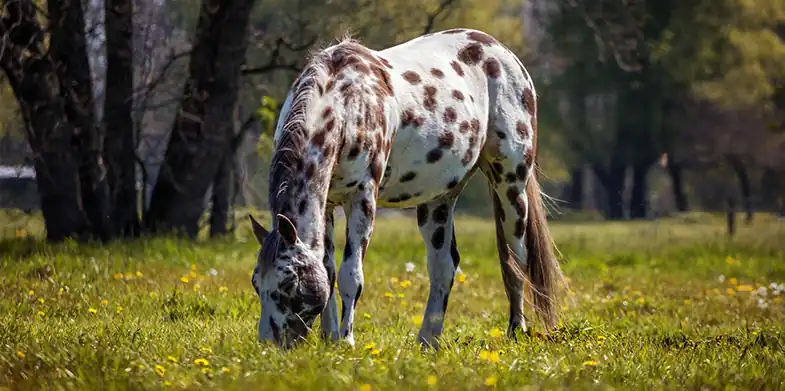 Thinking of buying your first horse?
Then check out my new digital book that's packed with advice and tips for new or aspiring owners.
Click here to bag your copy now!
---
I hope you found this article helpful. If you did I'd be grateful if you could share it please as it would really help me.
Recommended products 
Over the years I have tried hundreds of different horsey products, from various blankets and halters to different treats. Some I've loved, others I've hated but I thought I'd share with you my top all-time favorite products, the ones I never leave the yard without. I've included links to the products (which are in no particular order) that I really think are great.
Shopping lists
I've also put together a few shopping lists of essential items that I've found helpful over the years. I've broken the lists down into different categories rather than put everything in one massive list 😉