A guide to understanding your horse's teeth – what to look for and what you should know.
You might think that a horse uses its teeth for eating and possibly biting but nothing else but they're far more important than that, although let's be honest being able to eat is pretty important! You probably know that you can tell a horse's age by his teeth but did you know that not only do they use their teeth to communicate but you can also use them to gauge a horse's overall health.
In order to understand your horse's teeth better you need to know what's normal for him, that way you'll notice when something isn't right. For example what color are your horse's teeth normally, what does his tongue look like and do his lips have a spotted pattern?
Teeth – You might think that a horse's teeth should be white in color and be evenly worn but this isn't the case. The teeth should be a creamy color with dark patches or streaks on them.
Gums – Healthy horse gums are normally a paler shade of pink than ours but not too pale, they should also be moist to the touch.
Tongue – While a healthy tongue should be pink in color it's not uncommon for some plants to stain the tongue with darker pigments.
Mouth – Like the tongue and gums a horse's mouth should be pink in color but can be discolored by what they're eating.
Lips – While some breeds, such as the Appaloosa, have mottled skin around their lips, most horses will have pink lips that may also have some discoloration due to food.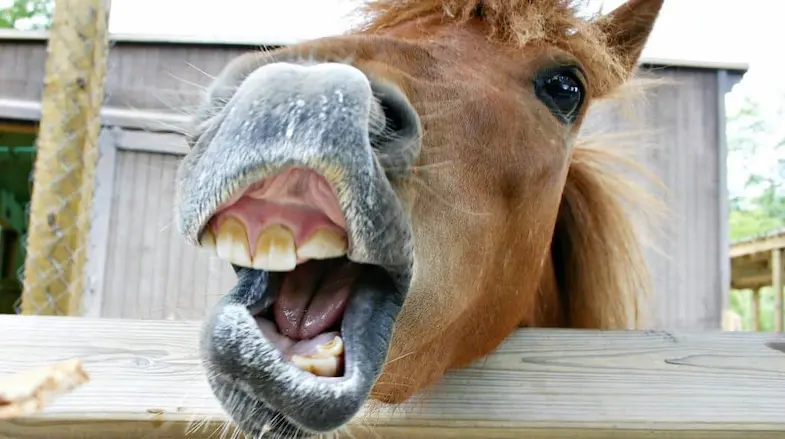 How do horses use their teeth to communicate?
Horses obviously can't talk so they have to find other ways to communicate with each other and let others know how they're feeling and if something's wrong but you might be surprised to know that as part of this they use their teeth as a form of body language. 
While a horse won't use its teeth solely as a communication aid and will combine it with other signs you can still tell a lot from how they're showing their teeth:
Baring teeth – If a horse is feeling agitated or aggressive then he will show all of his teeth as a warning. He'll also pin his ears back and you may be able to see the whites of his eyes. If this is the case it's best to keep out of his way as he's more than likely going to bite. 
Mouth open with teeth exposed – When a horse has his mouth open and his teeth exposed it's a sign that he's in pain, to understand what's causing the pain it's important to know when he's doing this. For example, if he's doing it when being ridden then it might be the bit is hurt his teeth or the saddle isn't fitted properly.
Showing teeth with the top lip being curled – Horses smell the air by raising their head, curling their top lip and then breathing air in and blowing it back out through their teeth. This is known as a flehmen response and is done to smell the scent of other horses, stallions do this a lot when they're trying to pick up the scent of females.
Clacking teeth – Up to the age of three horses click their teeth together. Known as 'clacking teeth' it's a sign that the horse isn't going to pose any threat, they're essentially saying 'I'm only your, please don't hurt me'.
Different teeth types
As well as the common incisors, premolars and molars that most mammals have, horses sometimes also have a few extra teeth.
Wolf Teeth
Wolf teeth are small teeth, often peg-like in appearance, that grow just in front of the cheek teeth. They're more common in male horses than they are in females (and are also more likely to grow on the upper jaw than they are on the lower jaw) and tend to start to erupt anytime from birth to 18 months. Unlike deciduous teeth though most wolf teeth don't fall out, although unlike permanent teeth they don't continue to grow.
While not all horses will have wolf teeth in their mouth at all, some who do will have blind wolf teeth. The only difference between these and regular wolf teeth is that they haven't erupted or haven't grown through completely and have formed just a small bump on the horse's gum.
It's thought that wolf teeth date back to a time when horses where small forest animals, rather like deer, and as such browsed their food rather than grazed so needed teeth to help with eating twigs and other brush. Due to this, some people choose to have their horse's wolf teeth remove but most of the time this isn't necessary. Generally, they're not a problem but if they've erupted on both the upper and lower jaw they may catch on the bit. If this is the case, or there are any other reasons why they may be causing discomfort to the horse then you should speak to either your veterinarian or equine dentist as they'll be able to remove them.
Canines
More commonly called tushes these teeth don't show until the horse is around 4 or 5 (in some cases though they won't show until the horse is around 6) and like the wolf teeth are far more common in males horses than they are in females. 
Canines have no benefit or use today but they are sometimes referred to as 'fighting teeth' due to the fact they were once used as weapons amongst fighting horses or as a defense against predators. The upper and lower canines never meet so they are unlikely to cause problems for the horse, however, they are prone to the build-up of tarter so regular cleaning and dental checks are vital to prevent gum disease.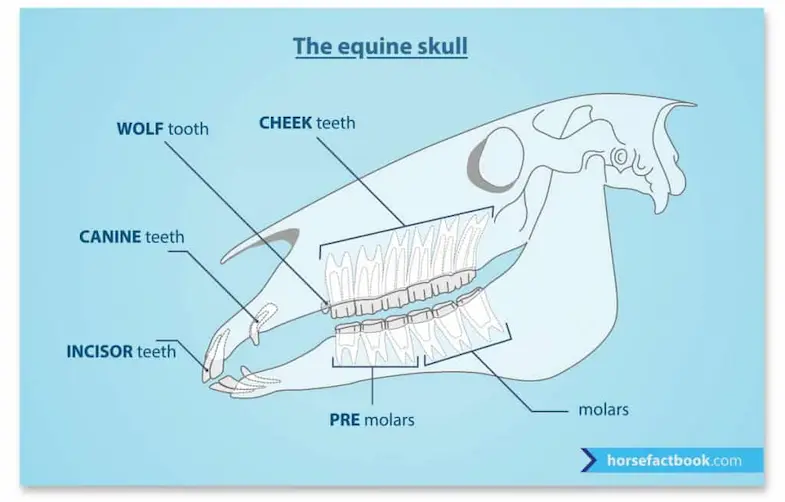 How can you tell a horse's age by his teeth?
It's not 100% accurate but if you want to age a horse by its teeth then there are a number of different things to look out for that will help you. It's not just the length or the angle of the teeth but also things like which teether are present. Just like us, horses have different teeth at different ages of their life.
Deciduous Teeth
Like us, the first teeth that a horse will have are known as deciduous teeth (they're also known as baby or milk teeth or caps) due to the fact that they will shed and give way too permanent teeth by the time the horse has reached the age of 4 1/2 to 5. A horse's teeth will always be shed in the order that they first developed which is why they're such a good gauge of a young horse's age.
Incisors
Most foals don't have any teeth when they're first born but within the first week of life, their central incisors will start to erupt. This is then followed, a week or so later, by the intermediate incisors and by the time a foal has reached six months all of his incisors will have developed.
Premolars
At the same time as the incisors are developing so are the premolars, these will start to appear when the foal is a few weeks old. These teeth will generally all come through at roughly the same time with there being 12 in total, 3 on the upper left jaw, 3 on the upper right jaw and then the same for the lower jaw.
Permanent Teeth
A horse won't get all of his adult teeth until he's around 4 1/2 to 5 years old but the process will start a few years before. By the time a horse has reached around 2 1/2 he'll start to shed his central incisors, this is followed by the intermediate incisors at the age of 3 1/2 and the corner incisors by the age of 4 1/2.
The exposed crown of horse's permanent teeth have no nerves or blood supply so when they're floated, or treated in any other way, the horse doesn't feel anything at all. Wouldn't that make going to the dentist much easier if we were the same!
Cheek teeth
The premolars will shed at around the rate, with the first set being going at 2 1/2 and the second being shed a year later and the last set being shed at around 4 years old. At the same time as the permanent premolars are developing the molars are also starting to come through. Collectively the premolars and molars are known as the cheek teeth.
Cups
When a horse first gets his permanent incisors they have a darker indented area in the center of each of them, these are known as cups. As a horse continues to graze he inevitably grinds his teeth together which starts to wear the cups down and they'll begin to disappear. They'll take years to completely disappear, but this tends to happen at set intervals.
6 years old – They disappear from the central lower incisors.
7 years old – The lower intermediate incisors lose their cups.
8 years old – They go from the lower corner incisors.
9 years old – The upper central incisors lose their cup.
10 years old – They disappear form the upper intermediate incisors.
11 years old – The last to disappear are the upper corner incisors.
12 years old – By the time a horse is 12 he's lost all of his cups, which is why they're sometimes referred to as 'smooth mouthed'.
Galvayne's Groove
By the time a horse reaches the age of 10 a small, dark-colored, groove has started to appear on the outer edge of his upper corner incisors. At first, it'll only be at the top of the tooth, by the gum line, but it slowly makes its way down the tooth and by the time the horse is 15 the groove will be halfway down his tooth until at 20 it stretches the length of the tooth. This will then start to disappear with it only being visible on the bottom half of the tooth but the time the horse is 25, having completely gone by the age of 30.
Angle of Incisors
We've all heard the phrase describing an older person as 'long in the tooth' but this expression actually comes from horse's teeth and this is because as a horse ages the angle of his incisors starts to decrease. They will start at around 170 degrees (give or take 10 degrees) but by the time they reach 30, the angle may have decreased to just 90 degrees.
How often should you have your horse's teeth checked?
You should check them regularly yourself but the jury is still out on how often you should have your horse's teeth professionally checked. For years the consensus was that you don't need to have your horse's teeth checked until he was 10 years old then they should be checked every 6 to 12 months. Today though it's generally thought that, from the age of 1, a horse should have his teeth checked regularly, at least once a year but more frequently if he has any problems.
How do you look after your horse's teeth?
A horse's teeth are vital to his health and digestion so it's important to make sure his teeth are healthy and keep a lookout for signs of anything being wrong or any change in his regular pattern of behavior. You should visually check your horse's teeth for food that is stuck every day, using a stiff toothbrush to remove any food that is left in his mouth. It's not essential but I always think it's a good idea to 'wash' his mouth out too. I do this every other week by using a large syringe (these are readily available on Amazon) to squirt water over the teeth.
You might not realize it but feeding your horse from the ground can also help to keep his teeth in good order, this is because its a more natural way of eating so the jaws are designed to work more effectively like this.
When it comes to looking for changes in your horse's behavior the things that are important to look out for are:
Is he finding the bit uncomfortable? – If your horse starts to toss his head it could be a sign that his teeth are causing him some pain or discomfort.
Is he quidding? – If a horse spits out chewed hay this is known as quidding. This could be a result of him not being able to chew his food properly due to problems with his teeth.
Loss of weight and or condition – Horses need to chew their food properly in order to obtain all of the nutrients they need. If they're not able to do this then it will often result in a loss of condition and even weight.
Slower at eating – If your horse has changed the speed with which he's eating, especially if he slower, then it could be because it's uncomfortable or painful for him to chew his food.
Does he bolt more than normal? – Like us, all horses have a different pain threshold and while some horses will just 'put up' with the pain others will start to bolt a lot. It's not known for sure why they do this but it's thought it could be an attempt to get away from the pain.
Messy eating – While there can be any number of reasons why a horse is a messy eater – one being they're just not paying attention – it's also possible that a horse is suffering pain when he eats which is making it difficult for him to keep the food in his mouth properly.
Bad breath – While horses don't often have the sweetest of breaths any change in smell can be a symptom of an infection in their mouth.
Head shy – While it's not the only reason for a horse being head shy, problems with the teeth can be a cause of it, especially if they're worse when you try to touch around their mouth.
Drinking less than normal – You know what it's like when you've got a toothache and drink something cold (or hot for that matter), well it's no different for horses. If your horse isn't drinking as much as normal then it might be due to a problem with his teeth.
What does it mean to float a horse's teeth?
Horses need to continually chew their food before they swallow it which means that over time because the upper jaw is wider than the lower jaw, the teeth become uneven with the outside of the upper teeth and the inside of the lower teeth being longer. This causes the horse to not be able to chew his food properly, therefore increasing the risk of digestive problems and ultimately weight loss. To prevent this from happening the teeth need to be filed or rasped, this is known as floating because of the name of the file used which is called a float. 
Floating a horse's teeth is relatively straightforward and some people will choose to sedate the horse beforehand, although this isn't always necessary. That said though it should only be undertaken by a veterinarian or licensed equine dentist.
Does a bit damage the horse's teeth?
Every horse is different so there's no one answer that will fit every horse but in the vast majority of cases a bit won't do any harm or cause your horse any problems but there will always be an exception to every rule. There are, however, a few circumstances when it's more likely that the bit will damage your horse's teeth.
Chewing the bit – Some horses will chew their bit which unfortunately can result in abnormal wear of the front cheek teeth. This wear can, on occasions, lead to toothache.
Wolf teeth – If a horse has wolf teeth on both his upper and lower jaw then it's possible that these could catch against the bit. If this is the case then its advisable to speak to your veterinarian or equine dentist about the best course of action.
Jargon busting
There's often a lot of jargon involved with equine dentistry and while you may not need to know what different terms mean, in my opinion, it never hurts to have a basic understanding of things.
Hypsodont – This is a general term for a horse's permanent teeth. It means teeth with high crowns that continue to emerge from the gum during the animal's life. On average a horse's teeth will 'grow' at a rate of 2mm – 3mm per year until around 20 when they'll slow and eventually stop growing.
Floating – As explained above this is when a horse's teeth are filed to a smooth and even level.
Performance Float – Sometimes called a 'Bit Seat', this is different from a normal floating because, in addition to a normal floating, with a performance float the teeth that are just behind where the bit sits are also filed. They're often rounded which some people believe makes the bit more comfortable for the horse.
Occlusion – This is the normal position of the teeth when the jaw is closed, the normal position is for the upper teeth to slightly overhang the lower ones.
Malocclusion – This is the opposite of occlusion in that the teeth aren't aligned properly or are abnormally aligned.
Mastication – This is the process of chewing food.
---
I hope you found this article helpful. If you did I'd be grateful if you could share it please as it would really help me.
Recommended products 
Over the years I have tried hundreds of different horsey products, from various blankets and halters to different treats. Some I've loved, others I've hated but I thought I'd share with you my top all-time favorite products, the ones I never leave the yard without. I've included links to the products (which are in no particular order) that I really think are great.
Shopping lists
I've also put together a few shopping lists of essential items that I've found helpful over the years. I've broken the lists down into different categories rather than put everything in one massive list 😉