A first aid kit is an absolute must for any horse owner but they can be expensive, with ready-made kits costing anything from $50 to around $300. While this cost is a one-off (with only the occasional expense of replacing items when they run out) it can be a very expensive way of buying your first aid kit, especially if you travel to shows a lot and need to take another kit with you too.
A basic equine first aid kit needs to contain items you're most likely to need for treating injuries, along with emergency contact numbers for people such as your veterinarian, farrier, and insurance company.
First aid kit for your horse barn
Instead of buying an off-the-shelf kit you can easily make your own with only the items you're likely to need, and best of all the cost will be far lower.
Storage
Most yards will have a medicine chest or cupboard for storing supplies in and these are great but I also like to have a smaller first aid kit that is full of everything I need and can easily be grabbed when I need it. What you choose to use is entirely up to you and your preference but I personally like to use a sturdy storage crate with a lid. The reason I like this is that I can also use it as a stool, which is a godsend if you're having to wash and dress a wound around lower areas such as the fetlocks. TIP: If you can avoid a purpose-built storage stool because, although it'll look big, they'll be a lot of wasted storage space in the legs.
Once you've got your container make sure you write your horse's name and your number on the top of it as well as the number for your veterinarian and farrier. You never know when your horse may need it and if you're not around it's always helpful to have the important information to hand quickly.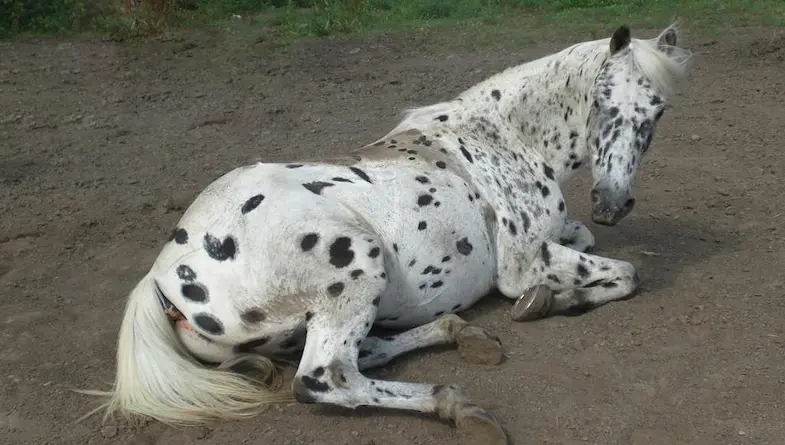 First aid kit essentials
When it comes to ready-made, off the shelf, first aid kits many of them contain useful items but not only do they contain a lot of things that you'll never need, they'll also leave out many things that are important. Over time you'll find that you accumulate many things but a basic kit should always contain the following (not in any particular order):
Vetwrap or other self-adhesive bandages
Soffban padding that you can use for dressing wounds
Knit-Fix or other conforming bandages 
Melolin (or Telfa pads) non-stick wound dressing
Tail bandage so that you can keep the tail out of the way
Scissors rounded first aid scissors are essential for cutting padding, bandages, etc
A digital rectal thermometer will help you to monitor your horse's temperature
Stethoscope so that you're able to check your horse's pulse, heart, and breathing
Diapers make perfect poultices and can be used to reduce swelling or draw out poison
Plastic bags can be used to wrap around the poultice before dressing it
Micropore tape is great for securing dressings when you can't use a pin
Antiseptic cream such as Sudocrem can be used to protect a wound before dressing
Small syringes are perfect for cleaning wounds
Tweezers are perfect for removing things like splinters
Betadine can be diluted with water and can be used to clean the wound
Cotton wool to clean wounds (don't use it dry though)
Latex gloves to prevent the wound from becoming contaminated
Prescription medication or at least of a list of what your horse needs if they need to be administered by a veterinarian  
Smart items to include in your first aid kit
You might think that all you need to include in your kit are items that will help your horse and, of course, that's important, but there are a few things that I like to include too:
Band-Aids you'll always end up cutting yourself more than you realize so keeping some in your first aid kit is always a good idea
Paracetamols ideally ones you can take without water because you'll never know when you'll need them
A pocket sewing kit can help with so many things, not least securing dressings
Safety pins are always useful and can be used to fasten pretty much everything from bandages to emergency repairs of rugs etc
A headlamp is much better than a flashlight because you can keep both your hands-free
Horse first aid kit for trail riding
If you do a lot of trail riding then you'll know how important it is to carry a first aid kit with you. With any luck, you will never need it but my theory is 'better to be safe than sorry' so I never leave the yard without one when I'm on a trail ride. You don't need to take a massive kit with you and only really need the basics so that you can treat any emergencies that might arise while you're out. Things such as minor cuts and grazes as well as bites. While some things will be equine specific most items can be used for both you and your horse.
Storage
Most of the time a small saddlebag is all you'll need to keep your kit in, this will give you plenty of storage space, and because it's a saddlebag you don't need to worry about carrying it at all.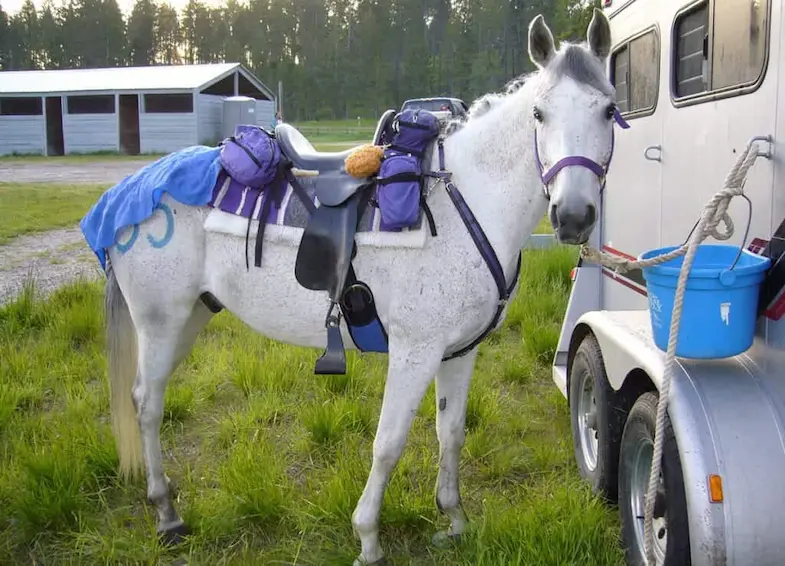 First aid kit essentials
The good thing about a trail riding kit is that you can put in it only what you need that day, so if the sun is blazing you can take sunscreen but if you know there could be snakes around then you can take a snake bite kit and some tubing. The only thing I would say about a trail riding kit is to make sure you have a fully charged cell phone with you, I know there's no way you can class this as a first aid time but in an emergency, it could prove to be as much as a lifesaver as any other item.
Sterile gauze pads can be used to keep antibiotic ointment against the wound while also allowing air to flow, non-sterile ones can also be used under wraps as padding
Vetwrap is stretchy and sticky so is perfect for keeping dressing and poultices in place
Diapers will keep the wound clean but can also be used to reduce swelling and draw out poison
Sterile saline and syringe for washing wounds and can even be used to flush out eyes if they have debris in them
Betadine (also known as Bactine) is an antiseptic wash that can be used to clean out most wounds, especially if there's dirt in them
Disposable tongue depressors are cheap and ideal for applying ointment to the wound and can double as a finger splint if you hurt your finger(s)
Alcohol wipes can be used to quickly clean a small area if you don't have any water, they can also be used to sterilize items
Duct tape can be used to wrap around bandages but can also be used as an emergency repair of loose shoes, broken tack, etc
Sunscreen is important for both you and your horse if your riding on hot, sunny days
Insect repellent is important if you're riding during the biting season
Band-Aid because you never know when you'll need to use one yourself
Ibuprofen can be used as a pain killer if you need it but can also help to reduce swelling if you injure yourself
Emergency blankets come in small packs and can be used to keep you or your horse warm if you're stuck during cold, wet weather or are suffering from shock
Neosporin or Sudocrem can be applied to the wound prior to dressing it to help aid the healing process but also to prevent infection
A snake bite kit is an absolute must if you're riding in an area known to have snakes
6″ rubber tubing will help to keep your horse's airways open if he is bitten by a snake
Baling twine is good because you can use it for repairs but can also be used as a lead rope to tie horses together if a rider is injured
Hoof boots can be bulky but if your horse injures his hoof they'll help to keep any bandage in place. They can also be used if your horse throws a shoe
Small clean towels can be used to wipe the sweat away but can also be used to wrap large wounds
Latex gloves will help to keep the wound clean and prevent cross-contamination
Thermometer
Large resealable freezer bags can be used to hold water if you don't have anything else but can also be used to put any rubbish in
As well as the saddlebags I like to carry a few items with me too.
Hoof pick, ideally a foldable one so you can carry it with you safely 
Swiss Army knife with at least a knife, file, tweezers, and pliers. It'll cut through most things and doesn't take up much space
Cell phone make sure it's fully charged and that you have all the emergency numbers stored on it
A windup flashlight will help you to see in the dark but because its a windup you won't have to worry about taking spare batteries with you
First aid kit for your horse trailer
If you travel a lot, whether it be to shows or vacations, it's essential that you take a first aid kit with you but when you're limited on space you don't want to be lugging a bulky kit with you which is where your travel kit comes in handy.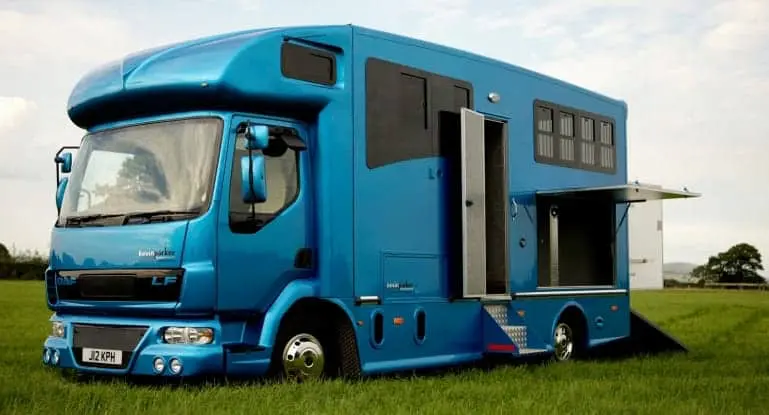 Storage
When it comes to travel, space is vital and you want to take up as little as possible so combining items together is ideal. You could take a first aid kit with you and a separate container to wash wounds with or you could combine them into one and use a bucket to store your first aid essentials in. I've tried lots of storage solutions for traveling and have found that a large bucket (somewhere around the 5-gallon mark) with a lid is perfect. It's big enough to store everything I need but can double up as a container to help wash wounds. TIP: If you don't have a large bucket with a lid hen why not ask at your local deli, many of the wholesale foods they buy will come in large buckets. When they've finished with the bucket they'll have to dispose of it so may be willing to give it to you instead.
First aid kit essentials
Now that you've got your container you need to start to fill it with the items you're most likely to need while on the road. Depending on how long you'll be on the road for you probably don't need to take full-sized items and can also get away with smaller quantities. 
Vetwrap can be used to keep dressings in place but can also be used, with padding, to keep wounds clean
Melolin or Telfa pads can be used as dressings to keep ointment against the wound but also as padding
Disposable tongue depressors can be used to apply topical medication then disposed of to prevent cross-contamination
Small syringes are great for washing out wounds
Thermometer
Scissors make sure they're rounded first aid scissors
Tweezers can be used to remove foreign objects such as splinters
Duct tape is great for so many uses, it can be used to secure bandages but for minor repairs
Gloves will help to keep wounds clean and free from contamination
Diapers are great for packing around hooves and are very absorbent
Rubber tubing can be inserted into your horse's nostril to keep his airways open if his is face swelling, typically in the case of a snake bit
A headlamp will allow you to see properly in low light or dark areas while still having both hands free
Alcohol wipes can be used to sterilize things like tweezers
Betadine can be diluted with water and is good for flushing out wounds
Sudocrem can be used as an antiseptic cream to keep wounds like and free from infection, as well as helping to speed up the recovery process
Large bottle of mineral water will help you to wash wounds out
Sterile saline if you don't have access to clean water or run out then you can use sterile saline to wash out wounds instead
Buying your first aid kit essentials
When it comes to buying things for your first aid kit you can pick many of the items up at your local grocery store or from Amazon. Personally, I buy most of my kit from Amazon so I thought it would be helpful to create a wishlist so you can buy everything you need in one place.
Alternatively, I've also added a few of the links below too.
If your horse has any prescription medication then you should speak to your veterinarian about whether or not you're able to include them in your travel first aid kit, some medication can only be administered by a veterinarian.
Further reading
---
I hope you found this article helpful. If you did I'd be grateful if you could share it please as it would really help me.
Recommended products 
Over the years I have tried hundreds of different horsey products, from various blankets and halters to different treats. Some I've loved, others I've hated but I thought I'd share with you my top all-time favorite products, the ones I never leave the yard without. I've included links to the products (which are in no particular order) that I really think are great.
Shopping lists
I've also put together a few shopping lists of essential items that I've found helpful over the years. I've broken the lists down into different categories rather than put everything in one massive list 😉