The time of year has come again when you start thinking about getting ready for pony camp, you can't wait but before you leave you know you've got to pack yet you haven't made a start. Not only that but you haven't even started to make a list of what to take so you call your buddies to ask them what they're taking only to find that they're in the same boat as you and don't have an idea either! Don't worry though we've all been there before, in my case too many times to mention, which is why I thought I'd put together the ultimate pony camp packing checklist. I'll cover all of the essentials as well as some of the more useful items you might not have thought about plus a few things that you might not be allowed to take. From the pony to the glitter you'll be fully prepared whether it's a summer pony camp or a seasonal Christmas camp.
Essential pony camp checklist
Most camps will give you a list of things to bring but it'll only be a basic one. The list below is extensive and covers all of the essential items you'll need to enjoy to time at camp all neatly grouped together to help you.
Pony
If you're taking your pony to camp with you then the following is a must but you'd be surprised how many times the obvious is left behind in the excitement.
Your pony – Okay this might be a silly thing to include and I'm sure you won't forget him but let's be honest your pony is essential! 
Certificate of vaccinations – To protect all equine residents from a number of diseases most camps require you to have a recent certificate of vaccinations. 
Medication – If your pony has any prescribed medication then make sure you label it with your name, your pony's name, the vet's details as well as instructions on how and when your pony needs it.
Halter & lead rope – You may be stabling your pony while you're away but that doesn't mean you won't still need his halter and lead rope.
Tack – Don't think that if you leave your saddle behind you can just ride bareback, most places either won't let you stay or will let you stay but won't allow you to take part if you've left any of your tack at home.

Saddle
Saddle pad
Spare girth
Bridle
Saddlebag
Brushing boots

Rug (depending on the time of year) – During the summer you'll probably only need a cooler rug but if you're going to a winter camp then something like a stable or turnout rug is important. If you're not sure which rugs you might need this article may help.
Grooming kit – This might be the last thing on your mind when packing you it'll be the first thing you realize you've forgotten if you don't take it with you.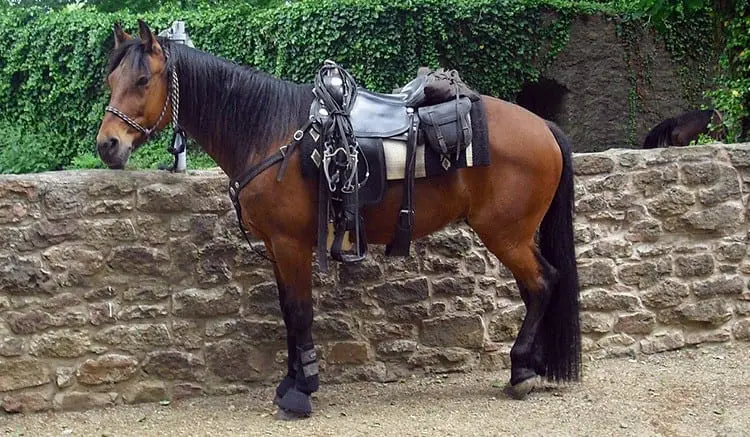 Riding
You might ride in a t-shirt and shorts most of the time but you may not be allowed to do this at camp so it's important to make sure you've got everything.
Water bottle – Make sure it's got your name on it but a water bottle you can hang from your saddle is crucial, you need to keep hydrated.
Boots – If you don't have riding boots don't worry any pair of boots will do as long as they're tough and have a heel.
Riding helmet – Most camps, regardless of state or country laws will require you to wear a riding helmet that has met with the latest safety standards. If you don't have your own riding helmet the camp may have one you can borrow or, if not, I wrote an article on choosing a riding helmet that will help you.
Jeans, breaches or jodhpurs – Any pants will do as long as they're not too baggy and won't flap about and scare the pony while you're riding.
Yourself
While you're thinking about what your pony may or may not need it can be all too easy to forget about yourself but to make sure you don't I've included everything YOU will need below.
Insurance card/certificate – While your camp will have its own insurance you'll also be required to provide your own insurance too. Some camps will offer you discounted insurance for the duration of your stay but if not your insurance company will be able to add that to your policy.
Medication – If you take any medication (regardless of whether it's prescribed or not) make sure it's marked with your name and when you take it. Some camps will also require a doctor's letter to say you need to take it.
Clothing – Make sure you've got enough clean clothes, as well as a spare set of clothes, in case you get wet. It's always a good idea to check the weather a few days before you leave to give you a more accurate idea of what you need, that said it's always a good idea to pack a sweater, even if the weather is going to be hot, just to be on the safe side.

Shorts
Pants
Underwear
Socks
T-shirts
Sweater
Hoodie
Spare clothes

Nightwear – I know I could have included this as part of the clothing you need to pack but if you're like me you skim read which is why I thought it was better to add it to the list separately.
Bedding – If you're camping then you'll need to bring your own sleeping bag and pillow.
Sneakers – When you're not in the saddle comfortable footwear is a must-have.
Toiletries – Make sure you don't forget your toothbrush/paste, soap, shampoo/conditioner, brush, deodorant and any other toiletries you might need. If you need a verruca sock don't forget to bring that as well.
Towel – A washcloth, hand towel and bath towel are all you need.
Miscellaneous
Below is a list of essential items that don't fit into any of the categories above.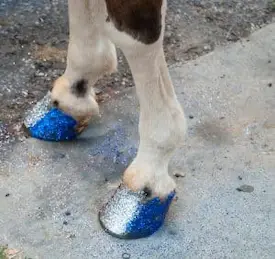 Glitter – Okay so you don't need to take it at all but glitter gel doesn't take up much space and can be used on both you and your pony and if your camp has a party then it's always good to have a bit of sparkle!
Camera – If your camp allows cellphones then you don't need to worry about a separate camera but if not then don't forget to pack one so that you can capture all of the fun.
Sunscreen – Even if the sun isn't very bright or hot it's still important to take sunscreen with you, you'll be spending most of the day outside so you need to protect your skin.
Bug spray – Bugs can become a real pain if you don't have any spray to keep them at bay. If, however, you're not keen on bug sprays you can easily make your own to take with you. Simply put a sliced lemon (including the rind) in a saucepan of boiling water, bring it to the boil then leave it to stand for around 10 hours. When it's cooled down you can put it in a spray bottle and use it as a normal bug spray. You can safely use it on your pony too.
Flashlight – If your camp doesn't have its own power supply then you're going to be glad that you brought a flashlight with you. Even if the camp does have power the flashlight is still a must-have – especially if you need to pop to the toilet after lights out then a flashlight is an absolute must.
Beach towel and swimsuit – You might think that because you're not going to be camping anywhere near the beach you don't need to swimsuit but some camps will organize trips to the local swimming pool. 
It's also important to check with the organizers whether or not they provide buckets (both for feed and water) and haynets as well as if you're expected to provide your pony's feed and bedding. 
(You can download a free handy printable PDF packing list at the end of this article)
Page 2 – Everything else you'll need