When it comes to choosing a good name for your horse it can be difficult to know where to start, sometimes the horse will dictate the name (whether it's their color, personality, or breeding) but other times it can be much harder to think of the right name which is why I thought this list of the most popular names would be helpful. I've grouped each list to make it easier to find the perfect name for your four-legged friend, you could even combine two names together to come up with a unique combination.
How to choose your horses name
Everybody has their own way of naming their horse(s), some will choose it based on the horse's parentage or breed while others will wait to see what sort of personality the horse has before deciding on a name. However, you choose your horse's name you want one that fits your horse perfectly, one that sums him up completely and says everything you want people to know about him.
The most popular horse names
Horse Clicks (the leading online marketplace) added up all of the 15,000+ adverts on their site to find out what the most popular names were. It took them a while but they eventually came up with a list of the top 20 most popular horse names. In order of popularity the names are:
Ace
Pending
Turbo
Stella
Hank
Dixie
Blue
Bigfoot
Mac
Peaches
Rain
Paisley
Apache
Ginger
Dan
Sky
Scarlet
Babie
Pixie
Shadow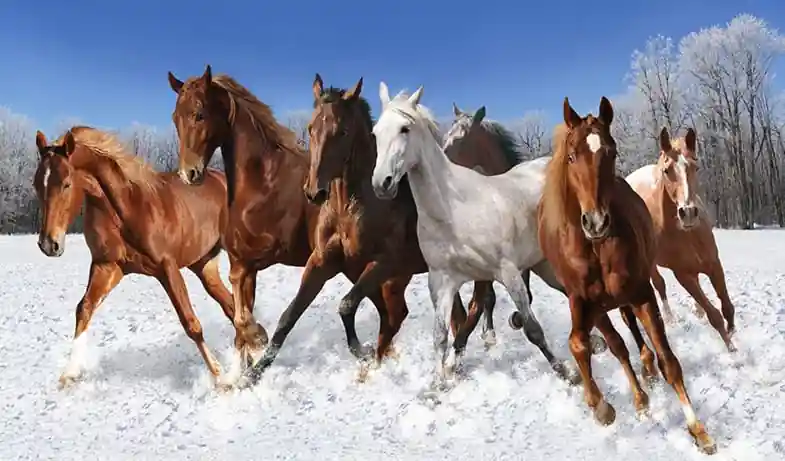 Famous horse names
If you like names that have been inspired by famous horses then you can't go far wrong with any of these.
Blueskin – A gray Arabian cross that was owned and ridden by George Washington during the American Revolutionary War of 1775 to 1783. A lot of portraits of George Washington also depict Blueskin.
Bucephalus – A black horse owned by Alexander the Great, ridden in the Battle of the Hydaspes in 326BC, was said to have been an Akhal Teke. The City of Alexandria Bucephalous in Pakistan was named them both.
Cincinnati – Ulysses S. Grant's favorite horse and the horse he chose to ride during the American Civil War of 1861 to 1865. It's believed that the chestnut horse was an American Saddlebred (or American Saddle Horse as they were known as at the time).
Comanche – Ridden by Captian Myles Keogh at the Battle of Little Bighorn in 1876, this bay horse was the only survivor and is now on display at KU Natural History Museum.
Copenhagen – Lord Arthur Wellesley, the Duke of Wellington's famous warhorse, Copenhagen carried the Duke to victory at the Battle of Waterloo in 1815.
Eclipse – The 18th century racehorse was never beaten in his 25 year career and had a big impact on the Oldenburg, with most of them being able to trace their pedigree back to him.
Milton – A gray Dutch Warmblood cross that was the first horse outside of racing to win over a £1,000,000 in prize money.
Red Rum – Born with a debilitating and incurable bone disease, the bay gelding is the only horse ever to have won the Grand National three times, having done so in 73, 74, and 77 (coming second in 75 and 76). He's now buried at the winning post of Aintree where the Grand National is held.
Secretariat – Probably the most famous racehorse of all times, he was the first horse to win the Kentucky Derby from last place, setting a track record of under two minutes at the same time.
Sefton – The cavalry horse survived the 1982 IRA bombing in London's Hyde Park and, after an eight hour operation, went on to symbolize defiance against terrorism.
Warrior – The real-life warhorse that inspired Michael Morpurgo's epic book. Warrior survived the First World War and then went on to have a successful point-to-point career.
Whistlejacket – While you may not have heard of this beautiful horse owned by the Marquess of Rockingham you've probably seen Stubbs's famous lifesize painting of him.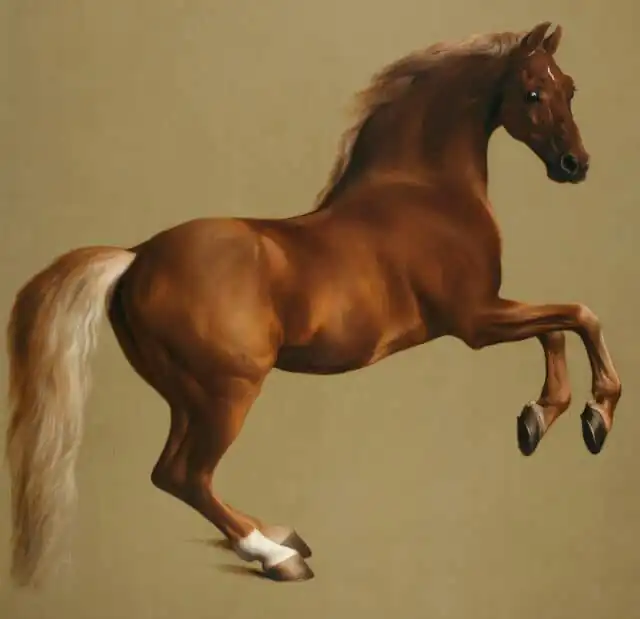 Horse names for mares
Angel
Annie
BB
Beauty
Bella
Belle
Connie
Daisy
Dixie
Ellie
Fancy
Ginger
Gypsy
Gracie
Honey
Hope
Jewel
Lady
Ladybug
Lacey
Lilly
Lucy
Luna
Maggie
Maya
Millie
Missy
Misty
Molly
Penny
Princess
Rosie
Sadie
Stella
Sugar
Willow
Horse names for geldings
Apache
Bandit
Black Jack
Boomer
Buddy
Cash
Chance
Charlie
Cisco
Cody
Dakota
Doc
Fly
Freddie
George
Jack
Jackson
Jake
Jasper
Ranger
Levi
Magic
Milo
Rebel
Red
Rocky
Romeo
Sampson
Scout
Shadow
Smoke (or Smoky)
Spirit
Sunny
Toby 
Tucker
Whiskey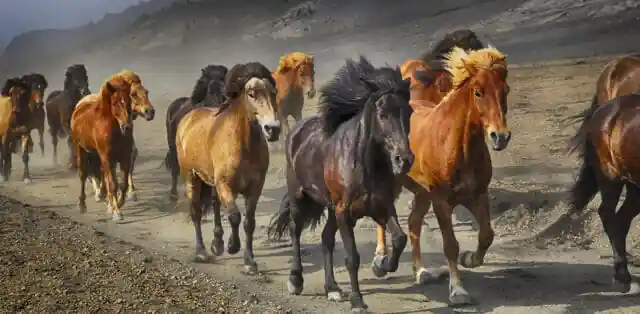 Horse names by color
Some names only work well with certain colors such as the ones below.
Black
Coffee
Crow
Ebony
Galaxy
Jet
Midnight
Nero
Noir
Phantom
Raven
Satin
Twilight
Chestnut
Brandy
Cherry
Chilli
Clover
Cracker
Ember
Firecracker
Ginger
Poppy
Red
Ruby
Sundance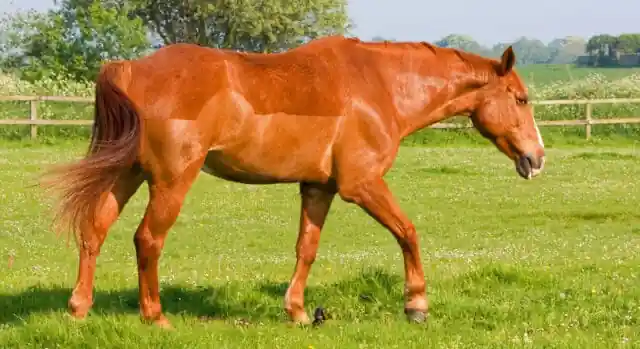 Brown
Autumn
Brownie
Chipmunk
Chocolate
Cinnamon
Java
Latta
Mocha
Pepper
Gray
Ash
Blizzard
Dawn
Dust
Moondancer
Silver
Skye
Squirrel
Sterling
White
Cloud
Cotton
Crystal
Marshmallow
Moon
Orchid
Pearl
Snowball
Snowdrop
Snowy
Sugar
Vanilla
Palomino 
Ace
Amber
Aztec
Daffodil
Dune
Goldie
Goldilocks
Jubilee
Mystic
Phoenix
Syrup
Topaz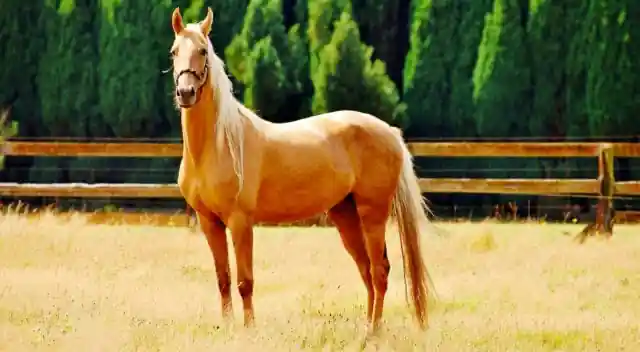 Spotted
Apache
Arrow
Comanche
Constellation
Dakota
Harmony
Navajo
Scout
Snowflake
Spot
Starburst
Stardust
Paint
Chief
Jigsaw
Illusion
Paint
Penguin
Puzzle
Rain
Rebel
Socks
Spartan
Splash
Tuxedo
Any color with white face markings
Badger
Blaze
Ermine
Snip
Star
Starlight
Stripe
Tiara
Unicorn
Horse names by type
Some names suit some types of horses better and while the ones listed below aren't specific to a particular type of horse they do go better with some types than with others.
Draft horse
Bacardi
Bronze
Dynamite
Hercules
Highlander
Magnum
Napoleon
Max
Rambo
Tank
Thunder
Viking
Sports horse
Bomber
Bolt
Challenger
Champion
Domino
Ferrari
Flash
King
Jet
Queen
Rocket
Victory
Horse names by personality
Some horses have such strong personalities that they, to some extent, dictate the horse's name. The names listed below demonstrate that personality.
Elegant horses
Beethoven
Belladonna
Debutante
Gucci
Isabella
Leonardo
Marquis
Mozart
Paris
Picasso
Randolph
Rembrandt 
Bossy horses
Admiral
Atlas
Bear
Dollar
Merlin
Spartan
Stone
Tuff
Venus
Daft horses
Breeze
Buster
Chance
Charm
Dreamer
Elf
Puzzle
Riot
Wildfire
Fantasy horse names
Whether it's from your favorite film or video game, fantasy names can make a great, if somewhat unusual choice.
Artax – Atreyu's horse in The Neverending Story.
Black Beauty – I'm sure the horse from Anna Sewell's famous 1877 book of the same name doesn't need any explanation.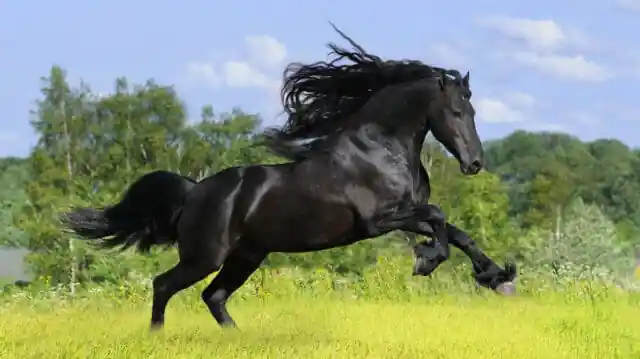 Comet – If you're a comic book fan you'll know that Comet is from the Superman series.
Epona – From the Legend of Zelda.
Goliath – Rutger Hauer's horse in Ladyhawke.
Hwin – A talking horse from the Chronicles of Narnia series by C.S. Lewis.
Maximus – Rapunzel's horse in the Disney stories.
Shadowfax – Gandalf's horse in the Lord of the Rings trilogy.
Skywalker – Even non Star Wars fans will know that the surname of the main character is Skywalker.
Mythological horse names
If you like your horse's name to mean something and like old names then you can't go wrong with a name inspired by an ancient mythological creature or god.
Apollo – Along with his twin sister, Artemis, Apollo is the strongest of all gods.
Chaos – The Greek god Chaos ( was said to have grown out of the nothingness that existed before the world began.
Chiron – In Greek mythology, Chiron was the wisest and justest of all centaurs (a creature with the head, arms, and torso of a man but the body and legs of a horse). Chiron, who died to save Prometheus as the tutor of Jason and Achilles.
Gandalf – You're probably thinking of the all-powerful wizard from J.R.R. Tolkien's books, but the name is inspired by the Elf of the Wands (or Wand Elf) from Norse mythology.
Hrímfaxi – In Norse Mythology, Hrímfaxi is a horse with a frost mane and tail that pulls a chariot belonging to Nótt (or night) across the sky.
Kelpie – Celtic legend tells of a supernatural water horse called Kelpie. The name Kelpie is derived from the Scottish Gaelic word cailpeach which means heifer or colt.
Loki – Linked with magic and fire, the Norse god Loki is a playful trickster who's known for playing practical jokes on his fellow gods.
Odin – Also known as Odin the Wandered, he was the Norse god of everything and was often accompanied by his eight-legged horse, Sleipnir.
Pegasus – Probably the most famous of all mythological creatures, Pegasus was said to have been pure white. Later on, Zeus transformed the winged Pegasus into a constellation that can still be seen today.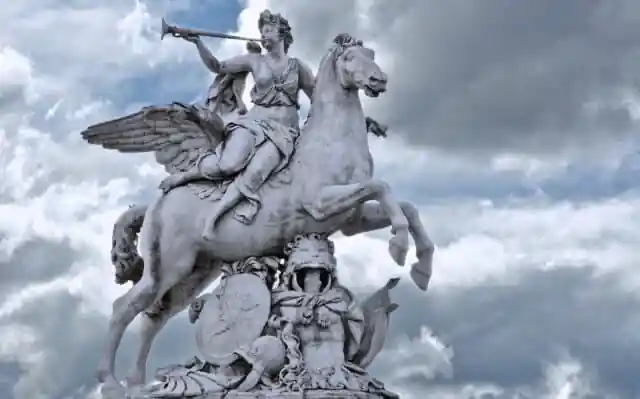 Poseidon – Widely known as the god of the sea, Poseidon was also the god of horses and is said to have introduced them to Greece. He fathered many horses himself, one of which was Pegasus.
Skinfaxi – The twin of Hrímfaxi, Skinfaxi has a shining mane and tail and pulls a chariot owned by Dagr (or day), the son of Nótt, across the sky.
Sleipnir – Said to be the greatest horse of all horses, Sleipnir was Odin's own horse. He was also the fastest horse and nothing on earth or in heaven could ever slow him down.
Thor – The eldest son of Odin, Thor was the god of thunder and lightning and is associated with strength.
Valkyrie – Sometimes spelled, Walkyrie, they're a group of female warriors who serve Odin and would bring warriors slain in battle back to Valhalla.
Zeus – The ruler of Mount Olympus was the king of all gods as well as being the god of thunder and lightning as well as order and justice.
Names for horse pairs
If you have two horses and want them to have names that go together then hopefully some of these will help.
Abbott & Costello
Aces & Spades
Babe & Ruth
Batman & Robin
Bert & Ernie
Bonnie & Clyde
Bubble & Squeak
Cagney & Lacey
Charlie Brown & Snoopy
Cookies & Cream
Duke & Dutchess
Ebony & Ivory
Fred & Barney
Fred & Ginger
Florence & Nightingale
Hansel & Gretal
Holly & Ivy
Jekyll & Hyde
Lennon & McCartney
Pride & Prejudice
Prince & Princess
Punch & Judy
Romeo & Juliet
Salt & Pepper
Sonny & Cher
Stars & Stripes
Starsky & Hutch
Wallace & Grommet
Winston & Churchill
Zig & Zap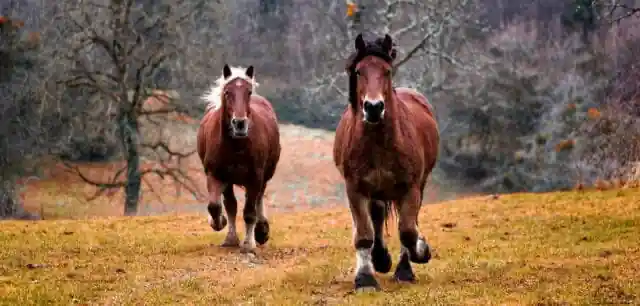 ---
---
I hope you found this article helpful. If you did I'd be grateful if you could share it please as it would really help me.
Recommended products 
Over the years I have tried hundreds of different horsey products, from various blankets and halters to different treats. Some I've loved, others I've hated but I thought I'd share with you my top all-time favorite products, the ones I never leave the yard without. I've included links to the products (which are in no particular order) that I really think are great.
Shopping lists
I've also put together a few shopping lists of essential items that I've found helpful over the years. I've broken the lists down into different categories rather than put everything in one massive list 😉