Let's be honest we all like a luxurious stable but, when money's no object, the best barns in the world go way beyond just pure luxury. Whether it's hundreds of years of history, solid marble pillars, or state of the art equine spas, the coolest and most stylish barns have got it all. I've scoured the world (well the digital one anyway) to bring you the coolest 14 barns that money can buy.
Al Quoz Stables (UAE)
Founded by His Highness Sheikh Mohammed, Al Quoz is part of an international group of racing stables known collectively as Godolphin Racing after the famous Godolphin Arabian, one of the founding sires of the Thoroughbred. Al Quoz itself is in Dubai and sits in the shadow of the Burj Khalifa, the world's tallest building.
The stables include several American barns, an equine swimming pool, a sea walker, and an equine spa and treadmill as well as a nine-furlong all-weather track. And if that wasn't enough, the stables also acts as a base for the world's richest race – the Dubai World Cup.
Want to know more about the Al Quoz? Check out their website.
---
Blue Hors Stables (Denmark)
The most famous of all of Denmark's stables, the Blue Hors stable is one of Europe's most important stallion stations and has everything a horse could want. Covering over 330 acres, the stables also trains top class dressage horses, many of which have competed at the European Championships, the World Championships, and even the World Cup and the Olympics.
As well as being a state of the art training facility and stables, Blue Hors also have a line of quality horse care and grooming products.
Want to know more about Blue Hors? Check out their website.
---
The Royal Mews, Buckingham Palace (England)
Any stables that also has a Gold State Coach has my vote already, but seriously the Royal Mews has been in the grounds of Buckingham Palace (home to the British Royal family) since 1825 when the then King, George IV, moved the mews from what is now Trafalgar Square.
As you'd expect the mews (which means a row or courtyard of stables with living quarters above) are built with the finest materials, including tiled loose stalls that are big enough to allow the horses to turn round and lie down. The stables also boast their own saddlers who are responsible for looking after all of the leatherwork, some of which is over 300 years old and still used – all I can say is they must be great at their jobs!
Want to know more about the Royal Mews? Check out their website.
---
Caballerizas Reales de Córdoba (Spain)
Royal Stables of Córdoba, as it's known in English, is a beautiful military style stables that was commissioned by King Felipe II in the 1560s. After formalizing the breed standards for the now-famous Andalusian he wanted a stables that matched the magnificence of his horses and the architect, 1st Marquis of El Carpio, didn't disappoint.
The main stables have a high cross-vaulted roof that's supported by beautiful sandstone columns and houses smaller stalls. The military-style complex has multiple areas (both inside and out) and has a permanent equestrian display team.
Want to know more about the Royal Stables? Check out their website.
---
Calumet Farm (USA)
Originally built, in 1924, by William Monroe Wright (the owner of Calumet Baking Powder) to breed and race American Standardbreds. It wasn't until 1934 when, his son took over, that the business started to move into Thoroughbred racing. In 2012 the Farm was taken over by reclusive billionaire Brad M Kelley whose collection of horses now totals some 300 broodmares, 200 young horses in training, and hundreds of stallions, weanlings, and yearlings.
The picturesque complex in Lexington sits in the heart of Kentucky's horse country and has a luxurious white walls barn with everything a horse could want (or need).
Want to know more about the Calumet Farm? Check out their website.
---
Cantitoe Corners (USA)
More commonly known as Martha Stewart's Stables, it was bought by the businesswoman back in 2000 with the idea of turning it into a self-sufficient American farm, something she's definitely done will style. The 1784 farm in Bedford, New York boasts four miles of carriage roads within its 153 acres.
Home to Martha's stunning Friesians, Cantitoe Corners (which she named after the wife of an Indian chief by the name of Katonah) is an amazing European style barn that houses 8 horses in the sort of luxury you can I can only dream of. The stables even have their own built-in gourmet kitchen.
Want to know more about Cantitoe Corners? Check out Martha's website.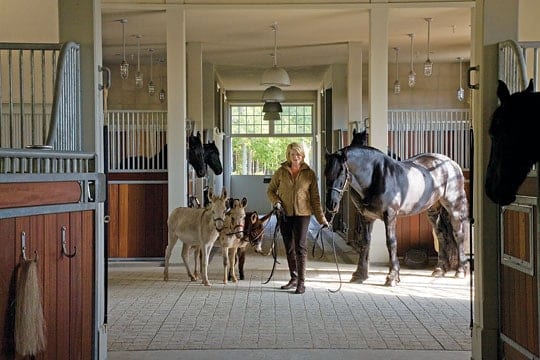 ---
Great Stables of the Chatêau de Chantilly (France)
Now, this has got to be one of the coolest stables ever, having been built in the 18th century, the breathtaking Great Stables even possesses a living museum of the horse. As well as having over a thousand paintings, sculptures and drawings depicting all aspects of horsemanship it also houses over 30 different horses of various breeds including Percherons, Andalusians, and Lusitanos.
You can get an idea of the grandness of the stables when you realize that Louis Henri, Prince of Condé thought he'd be reincarnated as a horse so asked for a stables to be built that would be suitable for somebody of his rank.
Want to know more about the Great Stables of the Chatêau de Chantilly? Check out their website.
---
Christiansborg Palace Stables (Denmark)
Built in the mid-eighteenth century, Christiansborg Palace is now part of the Danish parliament, although the royal family still keeps the horses that they use for state events and festive occasions there. The stables include a massive outdoor riding area that's surrounded by a stable complex and an indoor riding school. The stables themselves are exquisitely detailed with some even having the original marble pillars.
At its peak, the stables housed over 250 riding and carriage horses but today there's only around 20 left. Mainly Danish Warmbloods and Kladrubers from the Czech Republic, they're exercised on the grounds but also on the streets of Copenhagen.
Want to know more about the Christiansborg Palace Stables? Check out their website.
---
Heilan Horse Culture Museum (China)
Described as the most luxurious stables in the world and, when you consider that every stall is made of polished marble, it's easy to see why. On top of the exquisite stalls, the stables are also decorated with chandeliers, gold ceilings, and a carpeted grand staircase.
Being a living museum the stables houses over 300 horses, representing over 40 individual breeds (including zebras), and 30 different countries. The museum also has a riding school that host regular displays, even being awarded a Guinness World Record in 2015 for the largest horse dressage, the display included 30 black horses and 30 white horses and an all-female riding team.
Want to know more about the Heilan Horse Culture Museum? Check out their website.
---
Lipizzaner Stud Piber (Austria)
We've all heard of the Spanish Riding School and its famous Lipizzaner horses but you may not have heard of the federal Lipizzaner Stud Piber where all of the horses begin their life. Open to the public, the beautiful stud is home to nearly 300 horses with two stallions being brought from the Spanish Riding School in Vienna every breeding season.
The stud, which stands in the middle of 555 hectares of lush grazing, is overlooked by Piber castle and visitors are able to go for carriage rides around the grounds.
Want to know more about the Piber Stud? Check out their website.
---
Park House Stables: Kingsclere (England)
One of the most beautiful and best-equipped private training stables in the world, Park House Stables, which is located in Newmarket, England, was built during the 1860s and has been constantly added to ever since. The yard is home to over 220 horses that are housed in the nine yards that range from traditional European style brick stalls to American barns.
The facilities at Park House include a digital weighbridge, an outdoor lunge pit as well as an indoor one, three horse walkers, a swimming pool and treadmill, and a two-furlong circular indoor track so that the horse can be exercised whatever the weather.
Want to know more about Park House Stables? Check out their website.
---
Rallywood Farm (USA)
This privately owned ranch in The Plains, Virginia is as luxurious for the horses as it is for the human residents. Worth almost $4.5m, the 115 acre estate has 12 stalls with everything a horse enthusiast could dream off, from a massive indoor arena with an observation room, and a classy tack room.
Rallywood Farm also has a unique feature where the horses are able to dine with their owners, in the actual house.
Want to know more about Rallywood Farm? Check out their website.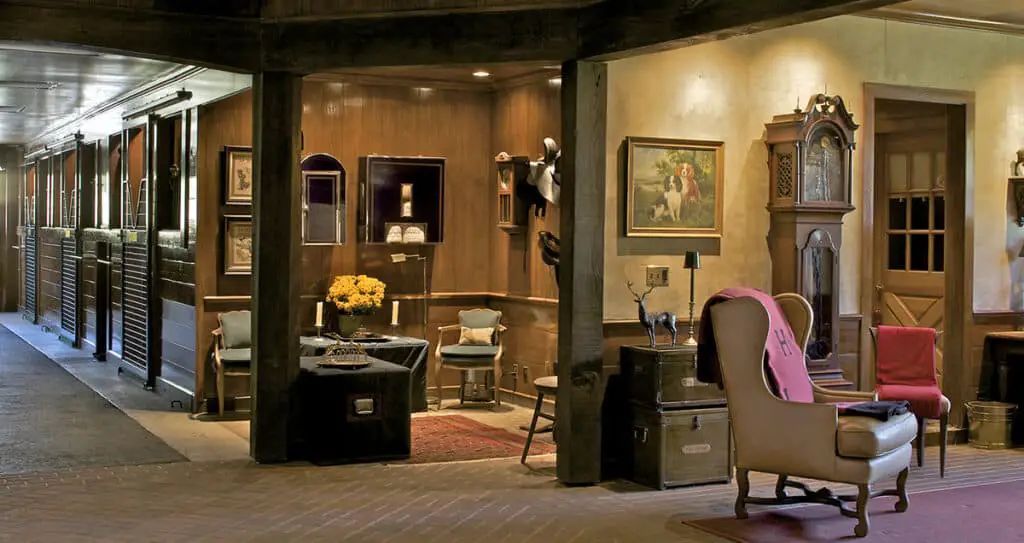 ---
Selman Hotel & Stables (Morocco)
In the heart of Marrakech, Morocco, this 5 star hotel is like no other, the accommodation is first class but on top of that, the hotel's biggest appeal (at least to me) is the stables that house their purebred Arabians. The horses live lavishly with the freedom to graze whenever they want, they also have five star grooming service.
As well as having a range of bars, restaurants, and an 80 meter swimming pool, the hotel also allows its guests to ride these beautiful horses around the hotel's 6 hectare grounds.
Want to know more about the Selman Hotel & Stables? Check out their website.
---
Royal Stables at the Palace of Versailles (France)
Part of the Palace of Versailles the stables, which are actually two separate stables, the Great Stables, and Small Stables, is said to be the greatest royal construction project for horse stables ever undertaken. Its architecture is so breathtaking that the National School of Architecture of Versailles is now based there.
In it heyday, it was home to over 2,000 horses (along with 1,500 workers), today however it's used by the Equestrian Academy of Versailles who regularly put on shows for the public.
Want to know more about the Royal Stables at the Palace of Versailles? Check out their website.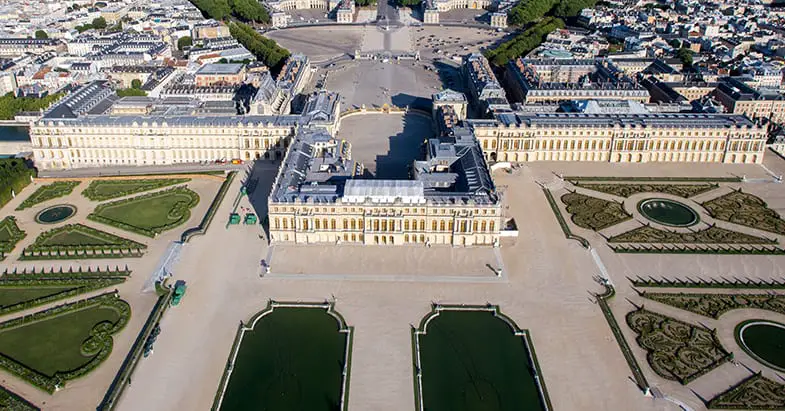 ---
Further reading
---
I hope you found this article helpful. If you did I'd be grateful if you could share it please as it would really help me.
Recommended products 
Over the years I have tried hundreds of different horsey products, from various blankets and halters to different treats. Some I've loved, others I've hated but I thought I'd share with you my top all-time favorite products, the ones I never leave the yard without. I've included links to the products (which are in no particular order) that I really think are great.
Shopping lists
I've also put together a few shopping lists of essential items that I've found helpful over the years. I've broken the lists down into different categories rather than put everything in one massive list 😉