Signing up for our mailing list is the best way of staying on top of everything horse-related. We promise to NEVER send you spam, nor will we sell, share or give your details to anybody.
Sign up to receive:
Our COMPLETELY FREE 12-page printable horse record kit
Occasional alerts about new articles
Horse care advice
How to guides
Riding tips and tricks
Discover breeds of the world
And much more
Guaranteed NO spam EVER!
Your privacy is important to us, and we will never sell, rent, or give your details to anyone. You're free to unsubscribe at any time. Your kit will be emailed to you as soon as you confirm your email address.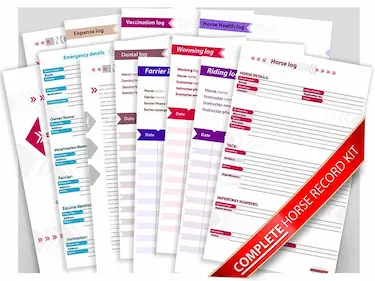 Your FREE 12 page printable horse record kit contains:
Cover page
Emergency contacts
Horse log
Horse Health log
Vaccination log
Deworming log
Dental log
Farrier log
Riding log
Expense log
Two pages for notes