When you start to get more serious about horseback riding you'll probably want to think about investing in it a bit more and buying clothes that are designed with riding in mind but what should you buy? While there may be some items you won't need, there will also be a few things that will definitely be worth the money.
In this article, we'll look at exactly what you need for horseback riding and why. We'll also look at what you might need if you're riding for pleasure and what is required if you're competing or showing your horse.
English horseback riding attire
Unlike Western riding which evolved as a working sport, English riding is based on pleasure and recreation. Originally it was a sport for the rich which is something that's still evident in the show attire of many disciplines. Regardless of whether you're competing or riding for pleasure, safety and comfort are the most important factors. The only difference in pleasure and show attire is the formality of them both, with pleasure riding focusing on more informal clothing.
Helmet
Riding helmets have been used by English horseback riders for centuries so there's an almost endless choice when it comes to styles and colors. That said there are two main types of riding helmets, riding helmets (sometimes referred to as hard hats) and skull caps. 
When it comes to safety they're both the same but when it comes to appearance they're very different. Riding helmets are your typical velvet-covered black or brown helmets with a peak. That said these days they're not necessarily covered in velvet and are available in other colors, such as blue and gray.
Skull caps on the other hand don't have a peak or a covering of any kind. The appeal of them is that you can get covers (known as silks) for them that give you literally an endless choice of colors and designs. Some silks have fun additions like wooly bobbles or moving eyes. As you can imagine some of these silks are aimed more at kids but they're also great for the young at heart.
Shirt
When you first start learning to horseback ride you probably won't worry about what sort of shirt you wear but as you progress you might decide to invest in a 'horse riding' shirt. Generally, any shirt that's white (or pastel colored) and has a collar that allows for a tie (or bow tie) is suitable for riding. That said though, proper riding shirts are normally made of breathable, comfortable materials and don't tend to have sleeves. The reason for this is to allow the rider to move their arms fully and without restriction.
Jacket
A warm, waterproof jacket is an absolute must for pleasure riding in the colder (and often wetter) winter months but if you're looking for a more formal show-type jacket then you can't go wrong with a well-cut black or tweed jacket with buttons and lapels. That said though, if you compete, some events will require a particular color jacket.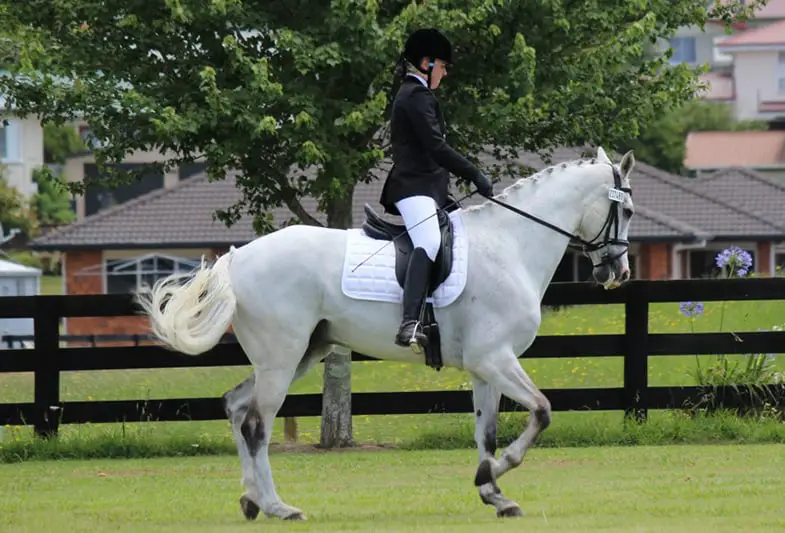 Pants
When I first started learning to ride the choice for riding pants was jodhpurs or breeches and nothing else. While these days there are far more options out there (such as riding tights) if you're taking horseback riding seriously (especially if you want to compete) you'll need either a pair of jodhpurs or breeches. 
The main difference between jodhpurs and breeches is the length, jodhpurs come down to your ankle and are full length while breeches are mid-calf in length. They're both often made with textured fabric on the inner leg and seat area which will help to give you extra grip in the saddle. Some also have knee patches which are designed to give you even more grip and a little bit of extra comfort.
Want to know more about riding pants? What pants are okay to wear and what should be avoided.
Belt
Belts are often overlooked and certainly aren't essential but if you do wear one it can help to keep your pants in place. It can also give you somewhere to put your keys if you don't want to leave them lying around at the barn.
The style of belt you go for is up to you although when it comes to competition a black or brown belt is normally allowed while other colors often aren't.
Boots
When it comes to horseback riding boots there are two choices, riding boots and jodhpur boots (sometimes called paddock boots or dress boots). Which one you go for is largely down to personal preference as well as whether you're wearing jodhpurs or breeches. 
Riding boots are full length which means they finish around the knee (some will be below while others will finish above) while jodhpur boots are ankle length and very rarely have a zip. While the boots you choose to wear is up to you, when it comes to showing black or brown jodhpur boots are a must.
Whatever style of boots you opt for the most important thing is that they have a heel that's between 1 and 1.5 inches.
Not sure what footwear is okay? Can I ride in sneakers?
Chaps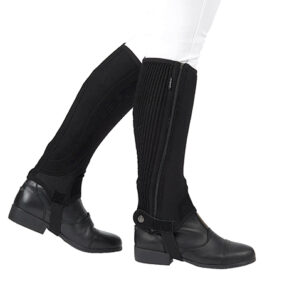 The use of chaps when horseback riding is very much a personal choice and certainly not essential there are some real advantages to wearing them, especially if you ride in the open a lot. To start with chaps will help to keep you warmer during the winter but more importantly, they'll protect your legs from branches, brambles and even brushing against rocks. Another added advantage of chaps is that they also offer more grip, albeit only a little bit more. 
While full chaps are more common in Western riding, half chaps (which come up to just below the knee) are far more popular amongst English riders.
Body protector
While body protectors are compulsory in some disciplines (such as eventing) they're not essential and many riders don't even think about using one but I personally think they're a must. Of course, nobody gets on a horse thinking they're going to fall off but it's one of those things that unfortunately can easily happen, but with a body protector you'll drastically reduce your chances of serious injury.
A lot of people think that they're uncomfortable and restrictive but this definitely isn't the case, especially with today's technology. Not only are they lightweight and comfortable to wear but they won't restrict you at all.
Still not sure if you need one? Why body protectors are a must when riding or is horse riding dangerous?
Undergarments
Most people don't think about undergarments at all when riding and if you're only having an hour long lesson once a week there's no real need to. If, however, you're planning on spending a lot longer in the saddle then wearing comfortable underwear will make a big difference.
In most cases, sports underwear is ideal for long hours in the saddle. Generally, they're designed for comfort so don't have seams in awkward places, offer plenty of support, and are breathable. You can get special underwear that has been designed with horseback riding in mind, but personally I've not found them to be any better, just a lot more expensive!
Gloves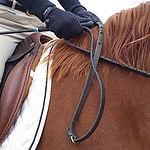 Gloves aren't compulsory at all when it comes to horseback riding but I think they are essential and personally never ride without them. In the winter they'll keep your hands warm while also keeping them cool in the summer, but more importantly, they can help protect your hands against blisters if you're riding for a long period of time or are riding a headstrong horse.
On top of this, they also give you extra grip without tiring your hands.
Hair 
Unless you're competing there are no rules about how you should or shouldn't wear your hair when horseback riding. Some people like to have their hair loose while they ride while others prefer to tie it back or use a hair net.
Whether you leave your hair down or keep it out of the way is up to you but, personally, I think it's better to tie long hair back (or use a hair net). I admit this is a completely personal choice but I prefer to tie my hair back when I ride. I find that this keeps it out of my face and stops it from obstructing my field of view.
While the use of hairnets is a personal choice, when it comes to showing, you may be required to wear a hairnet that's a similar color to your hair.
Takehome message
When it comes to riding for pleasure, what you wear is, to a large extent, up to you, although there are a few things that are a must. It's important to make sure you're wearing the right type of footwear and that your pants are comfortable and won't get caught in the saddle or stirrups. 
While it's not a legal requirement, a riding helmet and body protector should also be considered part of your essential horseback riding attire.
---
I hope you found this article helpful. If you did I'd be grateful if you could share it please as it would really help me.
Recommended products 
Over the years I have tried hundreds of different horsey products, from various blankets and halters to different treats. Some I've loved, others I've hated but I thought I'd share with you my top all-time favorite products, the ones I never leave the yard without. I've included links to the products (which are in no particular order) that I really think are great.
Shopping lists
I've also put together a few shopping lists of essential items that I've found helpful over the years. I've broken the lists down into different categories rather than put everything in one massive list 😉